Unpaid Wages, Arrears: RMG workers still out on streets
Stage protests in capital, Ctg; state minister warns owners of action for failing to pay wages by April 16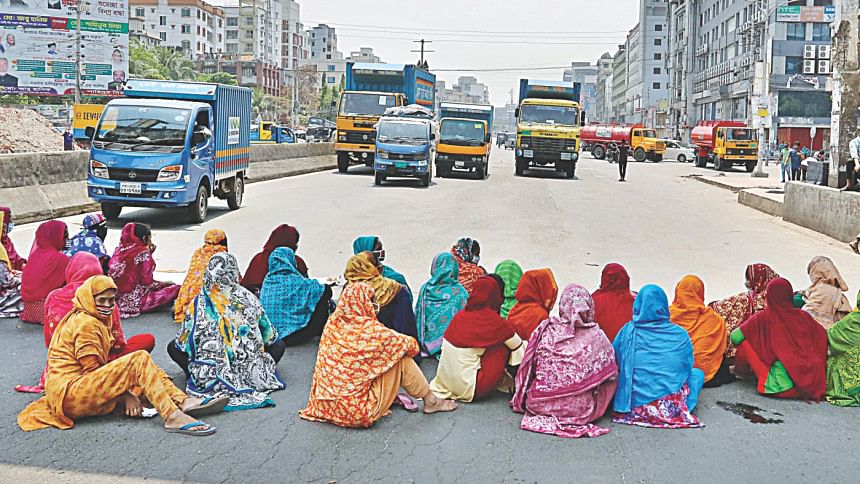 Garment workers continued their protests yesterday in several areas in the capital, on its outskirts and Chattogram amid the ongoing shutdown, demanding payment of wages for March, and protesting termination and layoffs of workers.
They took to the streets for the third consecutive day in Uttara, Savar, Ashulia, Gazipur and Tongi, and some parts of the port city.
Meanwhile, Begum Monnujan Sufian, state minister for labour and employment, urged the apparel factory owners to pay all workers by April 16 their wages for March.
In a statement, she warned that stern legal action would be taken against the factory owners who will fail to pay workers within the deadline.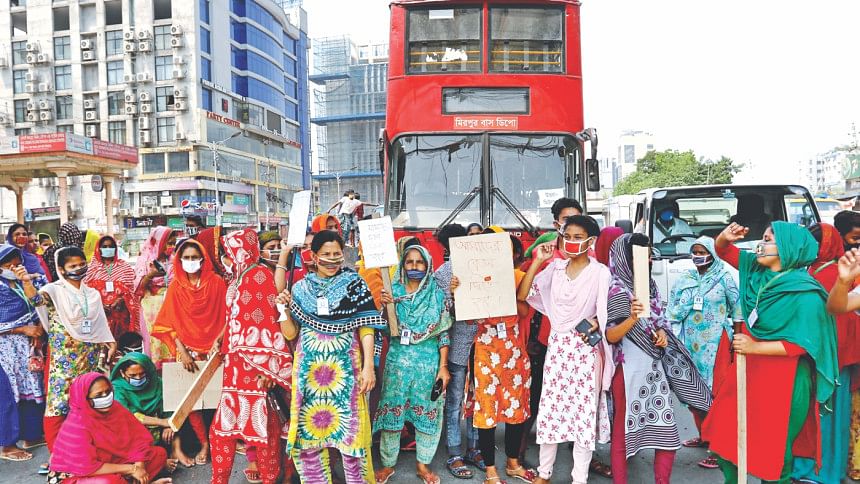 In Savar and Ashulia, several thousand workers of four garment factories blocked the Hemayetpur-Singair road in Tetuljhora area, demanding payment of wages and arrears.
Three of the factories were closed on February 20 without paying workers and staffers several months' wages.
The management of the factories had promised to pay the workers but they didn't, said a number of staffers and labour leaders.
"We have no money to buy food. If we do not get our arrears, we will die along with our family members," said Md Fazlu, a worker of Raquef Apparel that runs three units in Savar.
Talking to this newspaper, Kabir Hosen, vice president of the National Garment Workers' Federation, said the authorities of the factories had informed them that they would pay arrears to the workers on April 30.
But the workers are going through a very hard time as they have not been paid wages for several months. They have threatened to continue protests until the arrears are cleared, he mentioned.
Contacted, Ziaur Rahman, spokesperson and project manager of Raquef Apparel, said, "We shut down our factories in February as we had no work order for March."
"We reached a decision at a meeting, attended by officials of the Department of Inspection for Factories and Establishments, the BGMEA and the Industrial Police, that we will pay January's wages to workers and staffers by February 27, and February's wages by March 29. 
"But it was not possible to make the payments due to the coronavirus outbreak. The company will pay the workers by April 30," Ziaur said.
Around a hundred workers of World One Denim and Washing Ltd demonstrated in front of the garment factory in Ashulia's Unique area, demanding payment of three months' arrears.
Contacted, Janne Alam Khan, assistant superintendent of police of Dhaka Industrial Police-1, said they were trying to resolve the problem.
Additional policemen were deployed in the factory area to avert any untoward incident, he added.
As of yesterday, some 467 out of 1,356 factories in Savar, Ashulia and Dhamrai areas paid workers wages for March, industrial police said.
Around three thousand workers staged protests in different areas in Gazipur, demanding payment of wages.
Workers of Oxford Garments Ltd blocked the Dhaka-Mymensingh Highway in Gazipur's Salna area around noon, demanding payment of wages, reports our Gazipur correspondent.
Md Jalal Uddin, additional superintendent of Gazipur Industrial Police, said the workers called off their sit-in around 2:00pm after the factory authorities assured them of paying wages.
Shyamoli Akter, a sewing operator at a garment factory in Tongi BSCIC area, said the factory management was supposed to pay them wages yesterday, but they found the factory gate locked in the morning.
In the meantime, around 1,000 workers of a garment factory staged demonstrations over payment of wages, blocking a road at Azampur in the capital's Uttara area.
In Chattogram, at least 15 factories in two export processing zones announced layoffs for 30-45 days.
According to data from Chattogram EPZ (CEPZ) and Karnaphuli EPZ (KEPZ), at least 70 factories of the two EPZs have applied for layoffs. Around 1.5 lakh workers are employed by these factories.
The 15 factories, permitted by Bangladesh Export Processing Authority (BEPZA) to go for layoffs, include Regency Garment Ltd, Canpark (BD) Ltd, Univogue Garments Company Ltd, New Era Ltd and Bangladesh Spinners and Knitters (BD) Ltd.
The workers of these factories were notified of the layoffs through messages on their mobile phones.
Alamgir Hossain, an employee of Regency Garment Ltd, said, "I don't know what to do now. How will I run my family with only half of the salary?"
Contacted, Khorshed Alam, general manager of the CEPZ, said the layoffs had been approved under section-11 of Bangladesh EPZ Labor Act.
"Many factories are applying for layoffs every day," he said.