Muzzling Investigative Journalism: It's all to exert political clout
Say speakers at a webinar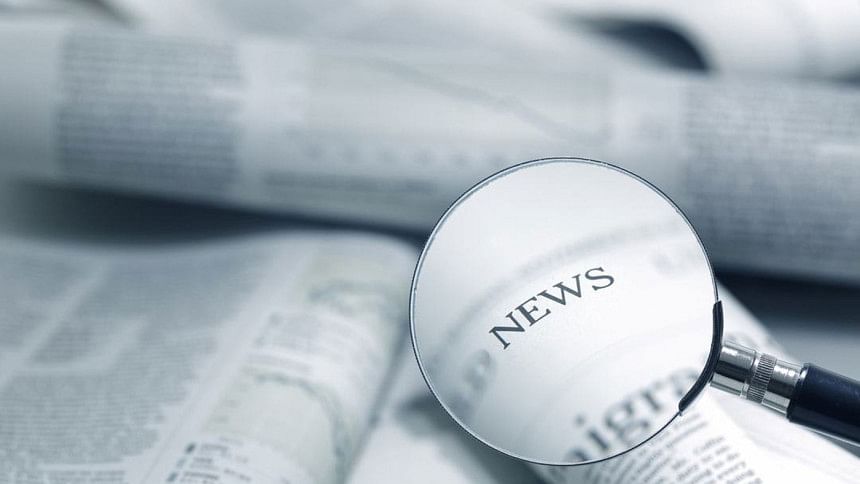 Both external and internal pressure on investigative journalism was amplified with the view to establishing a supreme level of unilateral political influence, said discussants at a webinar yesterday.
Investigative journalism should be carried out by maintaining journalistic ethics and facing external and internal pressure, they said at the webinar styled "Challenges of investigative journalism and things to do", organised by the Transparency International Bangladesh (TIB).
Media houses should ensure the professional safety of journalists maintaining internal ethics and integrity, the speakers said.
If mass media unilaterally or unitedly maintains ethics, it is possible to handle the internal challenges, said Iftekharuzzaman, executive director of TIB.
The atmosphere of investigative journalism depends on political perspective and it is applicable for different countries of the world including Bangladesh, he said.
In Bangladesh, the political parties have the attitude of winning or staying in power at all costs.
"They first defeat the political opponents and when they are in power, they consider a portion of the government a part of the civil society and journalists as their enemy even though they want to work as a helping hand of the government identifying their errors," he added.
Journalists show a lack of interest in learning new things, said Afsan Chowdhury, a researcher and columnist.
"In our country, reporters do not do the structural analysis on corruption in their reports. Rather, they talk about who is involved with the corruption. We are failing to say why corruption or stealing is going on," he added.
Maintaining ethics is imperative for all kinds of journalism, said Julfikar Ali Manik, planning consultant of Boishakhi Television.
If anyone does journalism violating ethics it means he/she is stigmatising the profession.
"We cannot collect information by force and purchase information from anybody. We cannot take away anything without informing a person from his/her room and these things will violate the ethics of journalism," Manik added.
Doing investigative journalism in Bangladesh is very challenging, said Gitiara Nasreen, a professor at the department of mass communication and journalism of Dhaka University.
The journalists' job is to talk and write, but in the last year they have seen their rights of journalists compromised all over the world, she said.
Talking about fake news in social media, Nasreen said during the pandemic mainstream media also gave wrong information.
Reducing sources of gathering information, torturing journalism physically and mentally and curtailing freedom by enforcing new laws are giving scope to fake news, said Masum Billah, assistant coordinator of outreach and communication division of the TIB.
Fake websites got four times more hits than 10 first-grade newspapers' websites, according to the World Health Organisation and the Centre for Disease Control and Prevention of the US.
Of them, only 16 percent of the content got warning signs from Facebook, he said in his keynote paper.
It is claimed that 86 percent of the coronavirus cases in China would have been avoided if there were assurance of freedom of speech and accurate flow of information, he said.
"We are all responsible for the stagnation of current journalism in Bangladesh. This situation has arisen due to the government, the political parties, the administration, the owners of mass media, working journalists, journalist unions, and above all our tendency to accept and adopt and in some cases compel," he said.
In the keynote paper, TIB demanded a policy considering media as an assistant in ensuring the free flow of accurate information during the coronavirus pandemic.
This will be helpful for independent journalism.
They also demanded a repeal of the controversial sections of the Digital Security Act 2018 and declare the Official Secrecy Act 1923 extinct.
They also demanded bringing the subject of wholesale termination of journalists under the supervision of the government and different journalist organisations will have to take steps in this regard.
TIB also demanded necessary steps by the authorities concerned to ensure the security and health protection of journalists.
The local chapter of the global anti-graft watchdog also demanded making the press council more effective than the information ministry.
At the webinar, three journalists were given the TIB Investigative Journalism-2020 award. The recipients are Abu Rayhan Tanin, staff reporter of daily Chattogram Pratidin in print media (regional) category; Saikat Bhoumic, senior correspondent of Sarabangal.net in print/online media (national) category; and Mufti Parvez Nadir Reza, Ekattor Television's senior correspondent, received the award in the electronic media category.