Covid-19 Vaccine: The first batch to be here in early January
Says health minister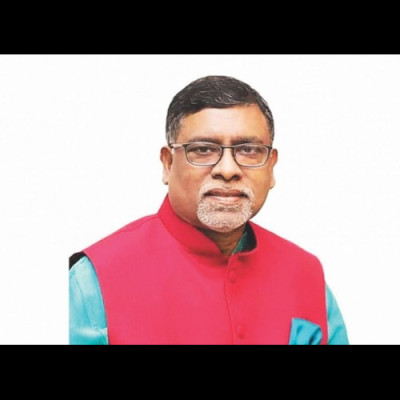 The first consignment of Oxford-Astrazeneca Covid-19 vaccine will reach the country by early January, said Health Minister Zahid Maleque.
He made the statement while addressing the inaugural ceremony of countrywide measles-rubella vaccination campaign as the chief guest. Some 3.4 crore children, aged between nine months and 10 years, would get measles-rubella vaccine through the campaign.
"We expect to get the vaccine by the beginning of the next month [January]. We have managed three crore shots of Oxford-Astrazeneca [Covid-19] vaccine through Inida's Serum Institute," the minister said.
Giving credit to Prime Minister Sheikh Hasina, the health minister also said, "There are many countries that could not manage the [Covid-19] vaccine yet."
Meanwhile, with the latest 37 deaths from coronavirus in the past 24 hours till 8:00am yesterday, the total number of deaths reached at 6,967, according to the Directorate General of Health Services (DGHS).
The death rate was 1.43 percent of the total infection.
In the same 24 hours, a total of 1,861 new infections were recorded, taking the total number of infections to 485,965.
Against a total of 16,600 tests in those 24 hours, the positivity rate was 11.44 percent while the overall positivity rate stood at 16.60 percent.
Meanwhile, new 4,486 Covid-19 patients have recovered in those 24 hours.
The total number of recoveries rose to 410,452 and the recovery rate at 84.46 percent.
Among the 37 dead, 28 were men and nine women.
Three aged between 31 and 40 years, three between 41 and 50, eight between 51 and 60, and 23 were above 60 years.
'NEED SUPPORT FOR BIO-MEDICAL DEVICE INVENTION'
The government is not systematically supportive to the local initiatives to develop and introduce bio-medical devices for medical sector, speakers at a discussion said yesterday.
The government should patronise the local genius or technology as if country's need for different bio-medical devices can be meet locally, they urged in an online discussion on coronavirus socio-economic challenges organised by the alumni association of Bangladesh University of Engineering and Technology (BUET Alumni).
Engineer Qazi M Arif, publication and communication secretary of BUET Alumni, said they innovated PPE sterilisation box and personal respirator for doctors to give a hand in fighting Covid-19 emergencies.
"We approached; but neither the government nor the private sector showed eagerness to promote these," he said in response to the call by Prof Mohammad Shahidullah, president of the National Technical Advisory Committee (NTAC) on Covid-19.
Urging the BUET Alumni, Prof Shahidullah said, "Covid-19 has unfolded the weaknesses of our health system… It has shown how we are incapable of meeting our need of medical devices. I would like to urge BUET Alumni to take initiative to come forward in this regard."
He also praised the government for implementing their recommendation on ensuring supply of oxygen and PPE to the hospitals. "But sorry to say [the government] has not heeded our recommendation on public health issue."
He stressed on ensuring nobody entering country without Covid-19 negative certificate.
"Another problem is the DGHS does not provide real-time information on hospital bed vacancy for people," he added.
About vaccination, he said there is good progress, but it is not known "what should be done if adverse effects arise two or three months later."
In a presentation, Engineer Qazi M Arif highlighted their charitable activities including distribution of medical equipment, financial support to poor BUET students and staffs, food aid to poor villagers, development of medical equipment by BUET faculty, 24-hour telemedicine service for all and awareness campaign.
Presided over by Engineer Muniruddin Ahmed, acting president of BUET Alumni, Prof Satya Prasad Majumder, vice-chancellor of BUET, DNCC Mayor Atiqul Islam, Director General of DGHS Prof ABM Khurshid Alam, President of BGMEA Rubana Haque, Rotary International's Bangladesh Governor Rubayet Hossain, President of the Editors' Guild Mozammel Babu, Bangladesh Scouts' Senior Leader Prof Nizamuddin Ahmed, BRAC's Director Liakath Ali, Asian Development Bank's Senior Project Officer Farhat Jahan Chowdhury, and UNDP's Program Specialist Arif Abdullah Khan spoke at the seminar among others.