Bangladesh- India Relations: Progress Made and the challenges Ahead, Dialogue organised by The Daily Star & The Institute for Policy, Advocacy and Governance (IPAG)
Hope stems from vibrant ties
Analysts, diplomats call for reaping benefits of improving Indo-Bangla ties thru' closer connectivity, trade, investment
Relations between Bangladesh and India are graduating to a new level as the two countries have come closer over connectivity, ending years of distrust, said top government functionaries, trade analysts and diplomats yesterday.
The new level of cooperation helped the two countries harness the benefits of bilateral and sub-regional trade and investment, they said.
India now allows duty-free benefits to all Bangladeshi goods, except 25 alcoholic and beverage items. Both the countries have been able to implement the landmark land boundary agreement and India accepted the judgment of an international court on maritime boundary disputes with Bangladesh. All this helped open a new chapter in bilateral relations. 
 "The relationship between Bangladesh and India is at its best now," said Finance Minister AMA Muhith at a dialogue -- Bangladesh-India Relations: Progress made and the challenges ahead -- at The Daily Star Centre in Dhaka.
The Daily Star and the Institute for Policy, Advocacy and Governance (IPAG), a private think-tank, jointly organised the dialogue to discuss issues such as security, terrorism, bilateral trade and investment between Bangladesh and India.
"Bangladesh is now a very attractive area for foreign direct investment," said Muhith, calling on Indian companies to invest more in Bangladesh.
 "Today we operate in a completely different atmosphere. Signs are positive," said Prof Rehman Sobhan, chairman of the Centre for Policy Dialogue (CPD).
"The conversation on connectivity, which was opposed in principle through the 1990s, is now accepted by all sides. The main political conversation is not about the usefulness of connectivity, but about the terms and conditions on which it should take place," he said. 
This is absolutely a sea change from the 1990s when the political conversations put out the most fanciful argument that connectivity would bring a security threat to Bangladesh, Sobhan noted.
"These sorts of ideas were floated by the serious, educated people. No-one talks like that anymore," he said.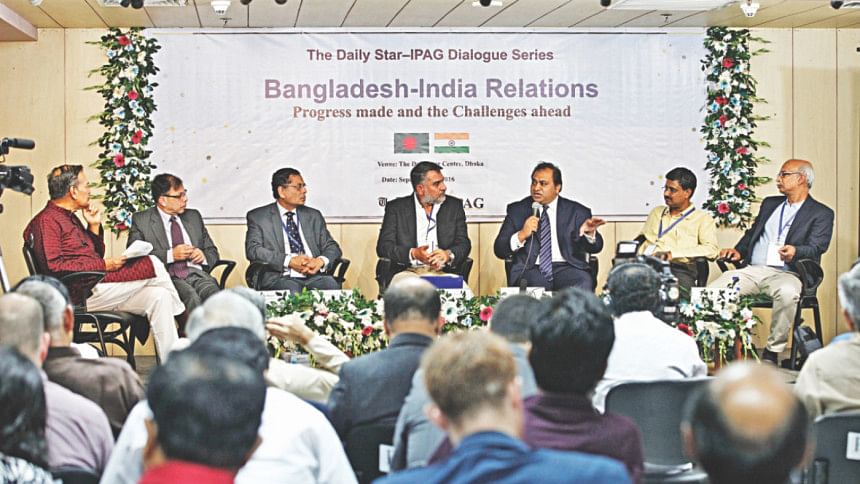 Sobhan called for a multiparty and multi-stakeholders' dialogue between Bangladesh and India for continuation of the process even in the case of change of government in both countries.
During the first tenure of Sheikh Hasina in 1996, a significant breakthrough was made in the status and depth of Indo-Bangla relationship, he said and suggested including the members of the civil society, businessmen and media in the dialogue.
Muhith said Bangladesh was going to invite India and China to work together on the development of the country's southern coast.
"In the development of the southern coast, I think cooperation from both India and China is needed. I am going to call both of them for an open discussion on what can be done there," said Muhith.
Attending the dialogue, Mashiur Rahman, economic affairs adviser to the prime minister, called for higher cooperation in three important sectors -- education, health and trade.
The adviser also suggested liberalising the eligibility of the sellable goods at the four border haats between Bangladesh and India so that more people can benefit from the trade.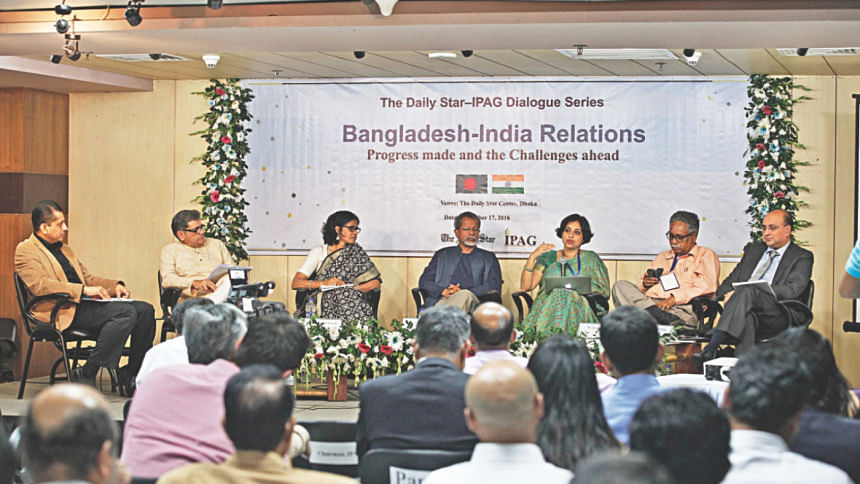 The Daily Star Editor and Publisher Mahfuz Anam moderated the dialogue.
Some significant positive changes in bilateral relations were also reflected in the remarks made by Adarsh Swaika, Indian deputy high commissioner in Dhaka.
"India-Bangladesh relationship today is a relationship that is vibrant and growing, one that is based on a shared history and common heritage, linguistic and cultural ties but increasingly marked by a commonality of developmental interests and prosperity for its people," said Swaika.
"The relationship has expanded significantly to include newer vistas of cooperation. With Bangladesh, India shares not only a common history of struggle for freedom and liberation but also enduring feelings of both fraternal and familial ties."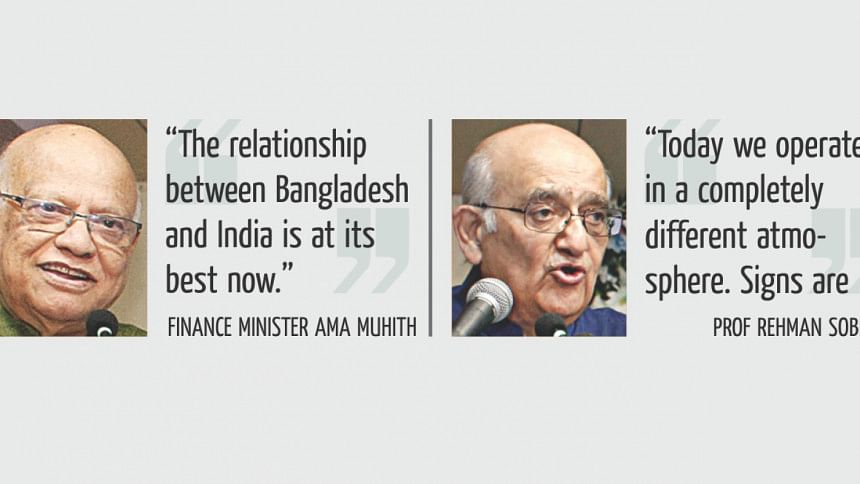 As for an example, Swaika said Prime Minister Narendra Modi's visit to Bangladesh in June last year could easily be counted among one of his most successful visits abroad.
As many as 77 decisions were then listed in the Joint Declaration "Nuton Projonmo -- Nayi Disha (New Generation, New Direction)," which laid down the roadmap of future cooperation. Twenty-two bilateral agreements were signed in areas as diverse as blue economy, energy, connectivity, security cooperation, economy and trade, infrastructure and transportation, people-to-people contacts, he said.
"In many ways, the year 2015 was a watershed year in our bilateral relations. The conclusion of the Land Boundary Agreement during the visit of the Prime Minister of India was truly historic," Swaika said.
The issues of un-demarcated boundary, enclaves and adverse possessions were resolved forever.
The settlement of the land boundary, as also the maritime boundary, has ushered in greater amity between the people of the two countries and opened up the possibility of initiating new and hitherto unparalleled cooperation in keeping with the true potentials of relationship, the Indian envoy said.
Blue economy cooperation is one such emerging area where both countries are jointly exploring avenues of cooperation in areas such as marine biotechnology, green tourism, hospitality, deep-sea fishing, and response to disasters.
Swaika said India and Bangladesh shared many synergies like both countries were today among the fastest growing nations of the world. With young populations, both seek high growth rates, employment generation, poverty eradication, energy access and faster economic development.
"Today, India and Bangladesh are partners in progress and development and our destinies are being increasingly intertwined," according to the Indian envoy.
This is a manifestation of India's "Neighbourhood First" policy that stems from the realisation that for India's continued growth and development, the entire region needs to prosper.
In the last two years, major initiatives have been taken to further strengthen India's relationship with neighbouring countries, including Bangladesh.
"Among India's neighbours, our relationship with Bangladesh today could be a paradigm for cooperation between neighbouring countries. Enhanced economic engagement and connectivity are the main elements of our 'Neighborhood First' policy and we are steadily making progress in these areas," he said.
In the area of trade and investment, he said India provided full access to Bangladesh to its market of 1.3 billion people by extending duty free facilities on its export items except for a select list of 25 items.
As a result, Bangladesh's exports to India increased in recent years, around 30 percent more in fiscal 2015-16 compared to the previous fiscal year.
On the other hand, Indian exports to Bangladesh have been declining for the last two years. India's exports to Bangladesh declined by about 4.5 percent in 2015-2016 fiscal.
In the long term, the bilateral trade has registered a substantial increase. The experience of the four operational border haats has been encouraging and both sides intend to open more border haats in future.
The $2 billion Line of Credit (LoC) extended to Bangladesh during Modi's visit will supplement the existing $1 billion LoC in strengthening infrastructure development in Bangladesh.
While the first LoC was mainly focused on infrastructure development, in particular the railway sector, projects under the second LoC cover diverse sectors ranging from IT, health, education, public transport to Indian Economic Zones. More importantly, under the Indian LoCs, the projects are chosen and decided by Bangladesh as per its developmental needs and priorities.
The two prime ministers inaugurated the Petrapole Integrated Check Post (ICP), which will facilitate cross-border movement of goods.
The Agartala ICP has been operational since November 2013. The next Land Customs Station to be upgraded will be Dawki in Meghalaya where land acquisition has been completed. Also, the inauguration of the Phulbari-Banglabandha immigration post opens up new opportunities in Bangladesh's connectivity with north-eastern India.
Connectivity also improved in the waterways with the signing of the coastal shipping line agreement in June last year. The first cargo ship sailed from Chittagong to Vishakhapatnam in March this year.
The Motor Vehicle Agreement between Bangladesh, Bhutan, India and Nepal (BBIN), which is expected to come into force in a couple of months from now and for which trial runs have also been conducted for some sectors, will provide a new paradigm in connectivity with easier movement of vehicles.
Export of internet bandwidth from Bangladesh to Tripura; export of power from Tripura to Comilla and from West Bengal to Bheramara; cross-border gas pipeline; proposed LPG terminal in Chittagong; Indian economic zones in Bangladesh are some of the new facets of this growing relationship.
In the power and energy sector, both countries are working closely on a number of projects including the Rampal project, LPG plant in Chittagong and expansion of Eastern Refineries in Chittagong.
Terrorism poses a challenge and the very aim of terrorist groups is to undermine any positive development. India fully supports Bangladesh government's policy of zero-tolerance towards terrorism as it itself espouses the same policy.
"Long ago I wrote for an Indian paper that India had two neighbours -- Pakistan and China and the rest of us are just geographic entities sometimes to be praised, reprimanded and even punished as the situation would call for," Mahfuz Anam said.
"Now I can assess that Bangladesh has graduated to the level of a neighbour in the Indian scheme of things. There has been a significant shift in political will on both sides," he added. 
Mustafizur Rahman, executive director of CPD, called for comprehensive sanitary and phytosanitary agreements between the two countries under single window so that both countries accept the certification for more trade.
"It is a major barrier to trade between Bangladesh and India," he said.
"If you really want transit and motor vehicle agreement to work, you have to build infrastructures for more trade between the two countries."
He said although India allowed duty free access of most Bangladeshi goods, there are some provincial and other development duty on export of Bangladeshi products to India.
Currently, Bangladeshi garment exporters have to pay 12.5 percent countervailing duty to enter Indian markets.
Rajeet Mitter, former Indian high commissioner to Bangladesh, suggested operationalising the proposed motor vehicle agreement or the Bangladesh, Bhutan, India and Nepal transit agreement for a higher sub-regional trade growth.
"This is our future," Mitter said as a panel discussant.
Bangladesh also needs to diversify its export products to reduce over dependency on garment items. Also, the non-tariff barriers in trade between the two countries should be removed, he added.
"Both the countries should also work to promote the joint-venture investment," Mitter said.
M Tamim, a former adviser to the caretaker government, said political willingness is a major barrier to trade between the two countries. "Things have progressed a lot in terms of cooperation, although mistrust is still there."
He said the lack of primary energy is a common problem for both the countries. Trade and cooperation has to be there for balancing the regional prosperity.
SECOND SESSION
In the second session, speakers emphasised on enhancing cooperation to bring down to zero the killing of Bangladeshi nationals by the Indian border force.
IPAG Chairman Prof Syed Munir Khasru moderated the session.
Brig Gen (retd) Shahedul Anam Khan, editor, Op-Ed and strategic affairs of The Daily Star, said despite steps taken by both the governments the problem of border killing still persists.
He also pointed out the serious problems of smuggling of small arms and drugs through Indian border into Bangladesh.
Suhasini Haider, diplomatic and strategic affairs editor of The Hindu of India, said despite steps taken by both the governments to secure the border, the number of people being killed in the border by the BSF did not come down.
In India, nobody questions about the killings in the border. Rather, the media houses write the government version without any independent verification, she said.
On water sharing issue, Suhasini said the Teesta has become a symbolic and an emotional issue and there is an attention deficit on Teesta.
Ashoke Malik of the New Delhi-based think-tank Observer Research Foundation suggested that Bangladesh also talk with the West Bengal government to resolve the Teesta water sharing issue.
Smruti S Pattanaik of the Institute for Defence Studies and Analysis of India said there had been a significant improvement in coordination between India and Bangladesh regarding the border.
Noted environmentalist Prof Ainun Nishat called for a regional cooperation on hydropower generation.
He also suggested developing riverine navigation, which is the cheapest mode of transport and can solve many of the environmental problems.
Prof Imtiaz Ahmed of the international relations department of Dhaka University said, "We can easily become Bangladeshi or Indian but it is very difficult to become South Asian. You need to go out of your thinking pattern if you want multi-lateralism."