Glimpses into 'jihadi' minds
Audio clips three Kalyanpur militants recorded before they were killed reveal their twisted understanding of Islam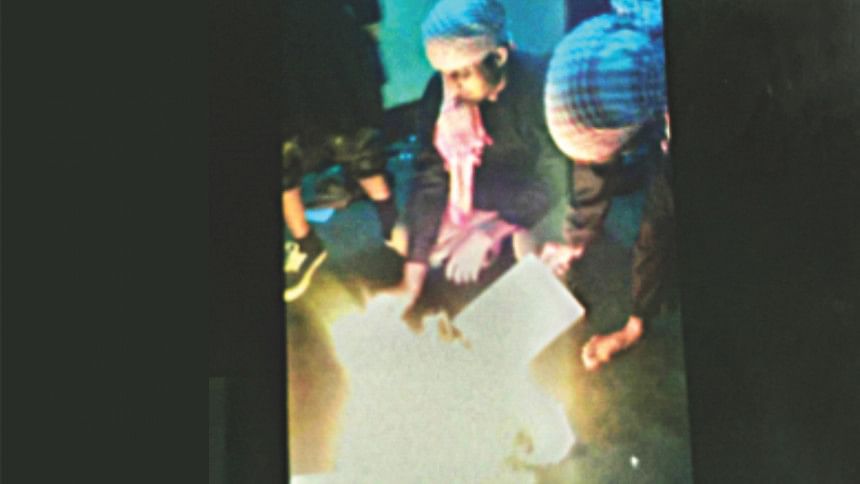 When they saw their deaths coming on Tuesday morning, the Kalyanpur militants made final preparations to fight back the law enforcers.
They wore black panjabis that are symbolic of Islamic State terrorists and recorded statements addressing their family members and the Muslim world as a whole.
Their statements reveal how thoroughly they had been brainwashed with wrong interpretations of Islam and with hatred for the general people and even their own kith and kin.  
Amid the nerve-racking situation, two militants in the audio messages asked their families to seek forgiveness of Allah and "come to the fold of Islam". 
One even went on to denounce his family members as "murtads" (apostate) for supporting democracy and Prime Minister Sheikh Hasina.
The Daily Star has obtained the audio files of three out of the nine militants killed in the operation. The three are Jubayer Hossain, Shazad Rouf Orko and Taj ul Haq Rashiq. Jubayer spoke in Bangla while Shazad and Rashiq in English. 
Each of them stated their names in the recordings. 
Police sources said the nine also had had their group photos taken after getting ready to take on the law enforcers at Taj Manzil, also known as Jahaj Building.
They then burned all their documents and destroyed various devices in their possession. However, detectives have been able to put together some devices and recover their statements. 
Shazad, 24, gave his entire statement against his family, his father Towhid Rouf and also those who "support Sheikh Hasina" and everyone who does not support Sharia Law.  
He said he gave everything up for jihad and citing a holy verse to justify his action, he said, "Either you kill [us] or get killed, paradise is for us."
"You guys support Sheikh Hasina … you support democracy… that is why I am happy to call my family all murtads... all kafirs [atheists]. So repent… before it's too late so that you can be saved.
"We are getting instructions from Allah … we are going to defeat you," he said in English.
As he spoke, some kind of noise from metallic friction was heard in the background. He is then heard saying: "We are ready with our weapons right now. All the kafirs can come anytime and we are ready to kill them."
He added, "Inshallah, we are ready with weapons right now. The police and the Rab whoever it is ... all the groups that come in first to attack ... we are ready to kill them."
Taj ul Haq Rashiq, 25, used all of his 2:20-minute recording to rationalise his jihadist actions, urging people to join his "caliphate" but did not mention anything about his family.  
Terming general people "kafirs," he said: "This is just the beginning… as you have seen that war has started on your land…. This is a message from your brother Taj ul Haq… may Allah accept me as a Shaheed [martyr]."
Jubayer Hossain, 20, in his recording mentioned terror group IS chief Abu Bakr Al Baghdadi as his "Khalifa" and urged him to "gouge out the eyes of those sinners who laid their eyes on true Muslims."
He also urged his parents to come to the fold of "religion," saying that he would prefer someone showing his parents the path of Islam over anything else.
Monirul Islam, chief of Counter Terrorism Unit and also additional police commissioner of Dhaka Metropolitan Police, said that amid the raid the militants sent photos and audio-video clips to several places in the country.
Police are still investigating to whom those were sent, but Monirul thinks the masterminds will try to use these materials to brainwash new recruits.
One video clip shows that the militants are setting fire to some papers.
At this point, one of them said, "These certificates have no values whatsoever. These certificates can only serve to make [you] someone's servants."
They then invited all to come to the fold of Islam and shouted slogans in one voice: "Allahu Akbar."  
Son of military equipment supplier Towhid Rouf, Shazad had a US passport. His grandfather, Abdur Rouf, was former chief of military intelligence. Shazad returned to Bangladesh in 2009 and then studied MBA at North South University while living in Bashundhara residential area. 
Towhid Rouf said he filed a general diary with the Bhatara Police Station after his son had gone missing in February. 
According to police, Jubayer had gone missing from Noakhali on May 25.
He was a second-year student of political science at Noakhali Government University College. After he remained missing for two months, his father Abdul Quayum filed a general diary with the Sudharam Model Thana on July 12.
Quayum told the press that his son was an activist of Islami Chhatra Shibir, student wing of Jamaat-e-Islami.
Taj ul Haq Rashiq was a student of electrical and electronics engineering department at North South University. He is the youngest son of Rabiul Haq from Dhanmondi. Rashiq had passed O-level from Academia and A-level from Mastermind.