Fighting terror tops agenda
Kerry's 9-hour visit today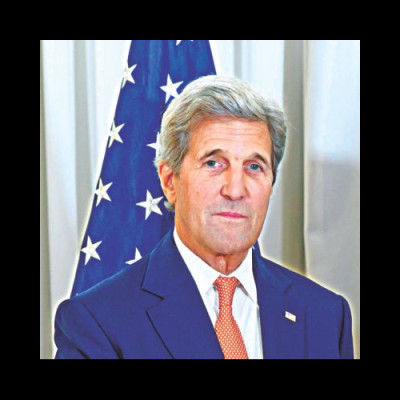 In the wake of militant attacks in Bangladesh, US Secretary of State John Kerry arrives this morning to discuss the global challenge, preventing the rise of militancy and violent extremism in Bangladesh and the region.
Kerry is heading to Bangladesh and India for talks on regional strategic issues with top government officials in Dhaka and New Delhi.
"Combating terrorism will be a top item on the agenda when Secretary Kerry meets Prime Minister Sheikh Hasina and Foreign Minister AH Mahmood Ali in his first official visit to Bangladesh today," a highly placed diplomatic source told The Daily Star.
Even though Kerry is coming to Dhaka towards the end of the tenure of the Obama administration, diplomatic sources said the visit is quite "extraordinary" and carries "special significance" as the US government is giving importance to Hasina's government after giving it the cold shoulder for years.
Talking to reporters yesterday, US Ambassador in Dhaka Marcia Bernicat said the visit was timely during ongoing efforts in cooperation with law enforcement agencies, and cooperation on effectively countering terrorism and violent extremism.
Foreign Minister AH Mahmood Ali will receive Kerry at Hazrat Shahjalal International Airport on his arrival around 9:30am.
Kerry will visit Bangabandhu Memorial Museum at 11:30am.
As per his visit schedule, he will call on Hasina at the Prime Minister's Office at noon. Kerry will have a working lunch with his Bangladesh counterpart Mahmood Ali at state guesthouse Padma at 1:10pm.
He is supposed to deliver a speech to youngsters at the EMK Centre in Dhanmondi. He will then visit K-Tex Industrial Company Ltd in Mirpur.
He will hold a meeting with US embassy staff at 5:00pm and leave for the airport.
Before leaving Kerry may meet BNP Chairperson Khaleda Zia at the residence of US ambassador to Dhaka.
His Dhaka visit is supposed to be nine hours long.
In New Delhi he will hold meetings with Indian External Affairs Minister Sushma Swaraj and Minister of State for the Ministry of Commerce & Industry Nirmala Seetaraman and other government officials. India-Bangladesh-US cooperation in countering terrorism and violent extremism would get priority in the talks there.
After the brutal killings of 22 people, including one American of Bangladesh descent and an Indian, during the attack at the Holey Artisan café on July 1, the US and India offered full support to the government of Bangladesh and wanted to work together for peace and stability and countering violent extremism.
Since the attack, "there has been an intensification of dialogue and deepening of the partnership with law enforcement and the military" and the US is seeking to see what more it can do with Bangladesh, said a senior state department official in Washington recently.
Diplomatic sources said Bangladesh, India and the US are constantly exchanging intelligence about terrorism related activities and this cooperation is credited with halting potential attacks.
They said Kerry in his conversation with the leadership in the two neighbouring countries will put emphasis on strengthening their intelligence and cooperation of law enforcement and militaries to confront militants and protect people from the poisonous ideologies of the extremists.
In addition to focusing on terrorism threat and ending the ongoing political turmoil, diplomatic sources said Kerry in his discussion with high government officials will also focus on strengthening bilateral partnership on democracy, development, security of US diplomats and human rights.
Credible sources said Kerry will also focus on finding a long-term solution to the political stalemate in Bangladesh, a solution that works for all parties, and one in which the Bangladeshi people can freely and peacefully exercise their rights of political expression and participation.
"What Secretary Kerry should make clear to Sheikh Hasina is that unless there is political dialogue between the government and the opposition, it's going to make it nearly impossible to develop a national consensus against extremism, which is really what is threatening the country," Voice of America (VoA) quoted Curtis, a former CIA analyst, as saying.
"We will be there in the ongoing fight against violent extremism and terrorism, which threaten Bangladesh, the United States, and many other societies that cherish basic human freedoms," said US Assistant Secretary of State for South and Central Asian Affairs Nisha Desai Biswal.
Richard Hoagland, principal deputy assistant secretary, Bureau of South and Central Asian Affairs, in a recent statement, said the US recognizes that government is in the right direction in improving factory safety in Bangladesh but a lot more needs to be done, particularly on labour rights. "We have still not seen the change in attitudes, enforcement, and incentives that the garment sector needs to succeed."
Talking to The Daily Star yesterday, official sources at the PMO and foreign ministry said an important item on Dhaka's agenda during the talks with Kerry is Bangladesh's request for the US to reinstate duty-free entry of the country's textile products.
"We feel that the US is fair and looks kindly towards Bangladesh, and we hope it will do this as a matter of justice and fair play," said a high official in Dhaka.
Bangladesh lost the privilege, known as the Generalized System of Privilege (GSP), in 2013 amid concerns about dangerous conditions in the country's garment factories.
The sources also said deportation of AM Rashed Chowdhury, a fugitive convicted killer in the Bangabandhu murder case, will be discussed during Kerry's talks with the PM and the foreign minister.