Dhaka Deluged
One hour's downpour stops traffic dead on its tracks, leaves people to deal with untold sufferings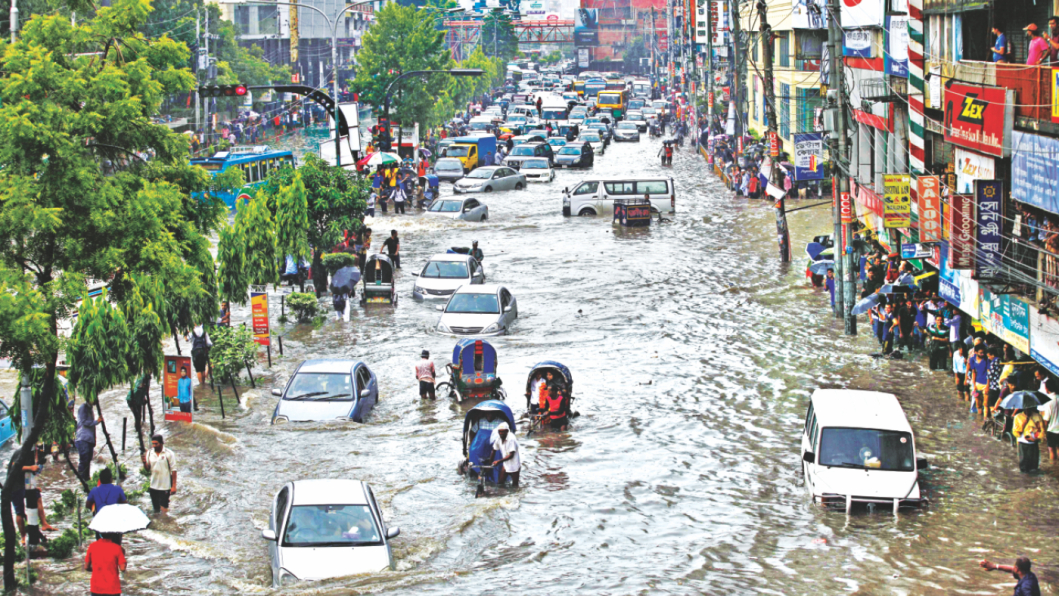 Dhaka city people had a terrible day yesterday as heavy rains left most of the roads, lanes and bylanes inundated and vehicles stranded for hours in unprecedented traffic jams.
The city's transport system virtually came to a halt due to waterlogging, triggered by hardly over-an-hour rains that began shortly before noon.
Many passengers had to walk miles after getting off buses stuck in nearly unending tailbacks in major thoroughfares, including Kazi Nazrul Islam Avenue, Mirpur Road, Manik Mia Avenue and Pragati Sarani.
"It was 12:00pm when I got on the bus at Mirpur-14 and it was 2:45pm when I got down at the Suhrawardy hospital near Agargaon. I decided to walk," said Shahin, who was seen walking with his shoes in hands.
Many bus passengers told our reporters that they had to spend up to six hours to reach their destinations; private car users and bikers had worse experience as they could not leave their vehicles.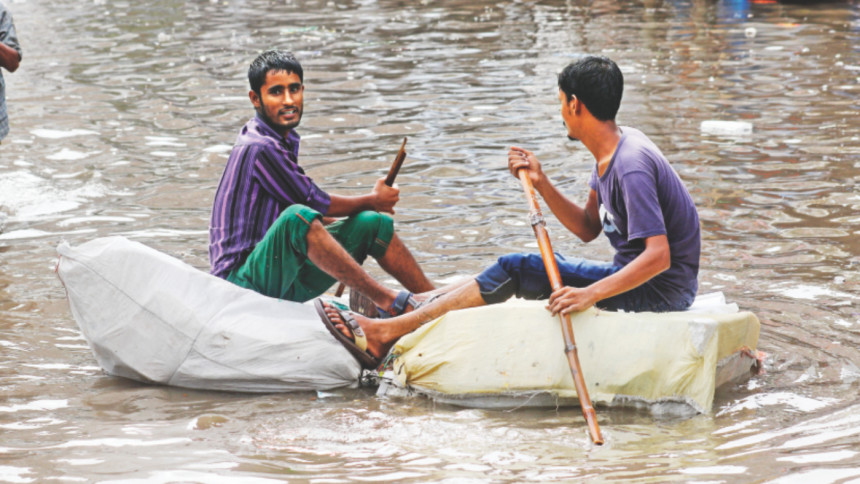 "I drove my motorbike through the alleys, which were under knee-deep water, with danger lurking," said a biker named Sharif, referring to uncovered manholes and potholes.
Amrin, a housewife from Dhanmondi, reached home from her son's school in Bashundhara in five hours. Usually it takes her not more than two hours by her private car. 
Farhana Nasrin, manager (customer) of a private mobile phone operator, said, "I was feeling sick because of suffocating heat and odour from wet seats. I wish I could run away from the bus."
She boarded a bus from Khilkhet Bus Stand around 2:15pm. She reached the Prime Minister's Office around 4:10pm. There the bus remained struck for about an hour.
Due to the torrential rains yesterday, Rajabazar, Kathalbagan, Bhutergoli, Kalabagan, Tallabagh, Sukrabad, Manik Mia Avenue, Tejkunipara, Karwanbazar and Green Road areas went under knee to waist-deep water.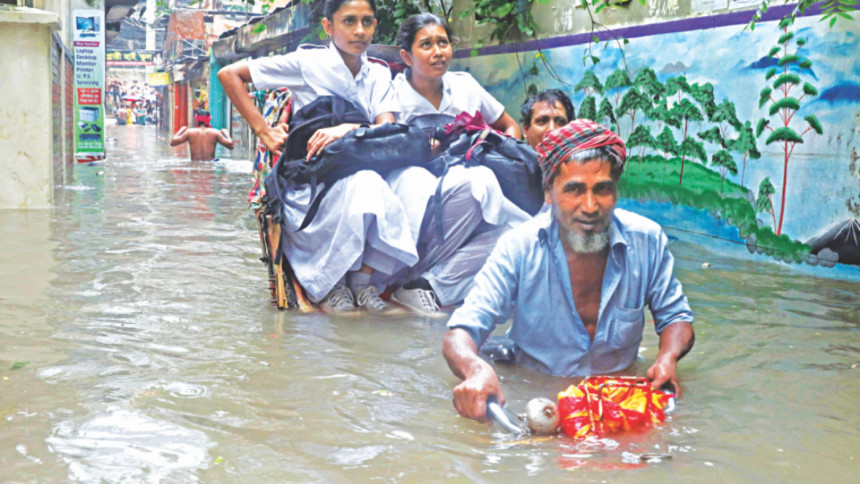 Alleys in East Rajabazar and West Tejturibazar area turned dangerous as the ongoing repairs were yet to be completed. People had to wade through the murky water to get to work. Many garages in the area were submerged in the rainwater, leaving some vehicles in the garages out of gear.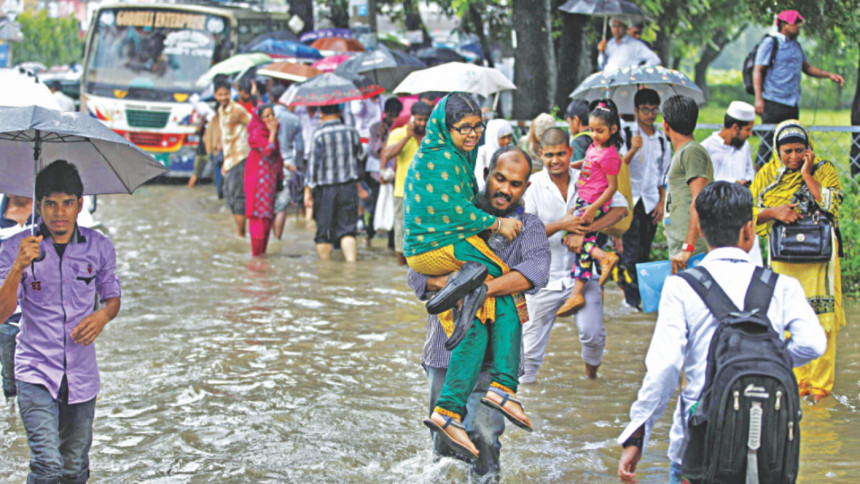 "The water is murky and stinky as well. The sewage line remained clogged for all the time and whenever it rains the waste gets mixed into the water," said Sumon, a resident of Indira Road near Rajabazar.
Many were seen wading their way through the waterlogged roads, and also braving the rain. Many guardians were seen carrying their children on their laps or shoulders to reach home from schools, reports news agency UNB.
During a visit from Jatiya Press Club to Mouchak in the afternoon, a correspondent of the agency found may commuters struggling their way out while wading through the submerged road. Stinks from drains mixed with the stagnant water added to the woes of the pedestrians.
A commuter said when his rickshaw came to the Panthapath signal and got caught in a severe gridlock, he got off and started walking towards his office.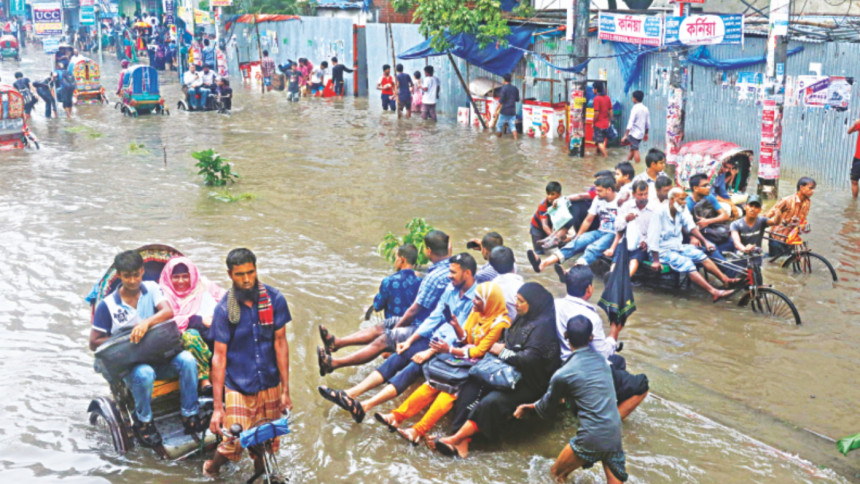 "When I reached in front of Green Super Market, I saw almost waist-deep water. I found an auto-rickshaw almost submerged in water," he said.
"A school boy in uniform was walking on the road divider with his heavy school bag on the back.  At one stage, the boy fell into water. Some passersby came to his help and put him on a rickshaw."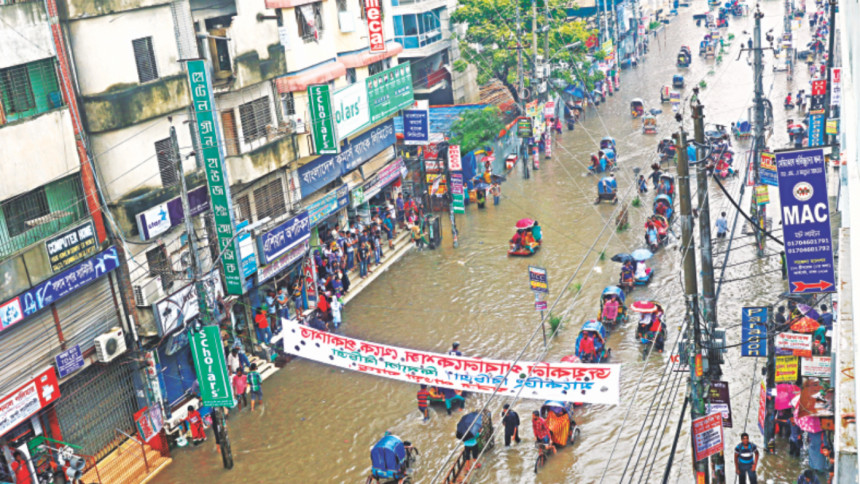 Rickshaw-pullers and auto-rickshaw drivers were charging excess fares.
In the afternoon, students and home-bound people from office faced problems in reaching their destinations due to huge traffic jam.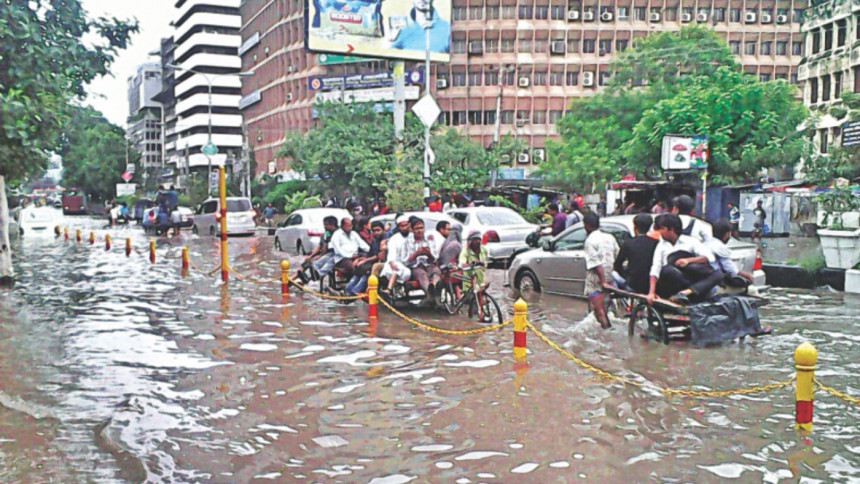 A middle-aged driver of a CNG-run three-wheeler spent almost six hours in his first trip -- from Shahbagh to Mirpur-10 intersection. "I started at 10:30am and reached Mirpur at 4:30pm," said the man.
Many auto-rickshaw drivers were seen pulling their vehicles in waist-deep water as the engines got damaged. Bus drivers too were left helpless.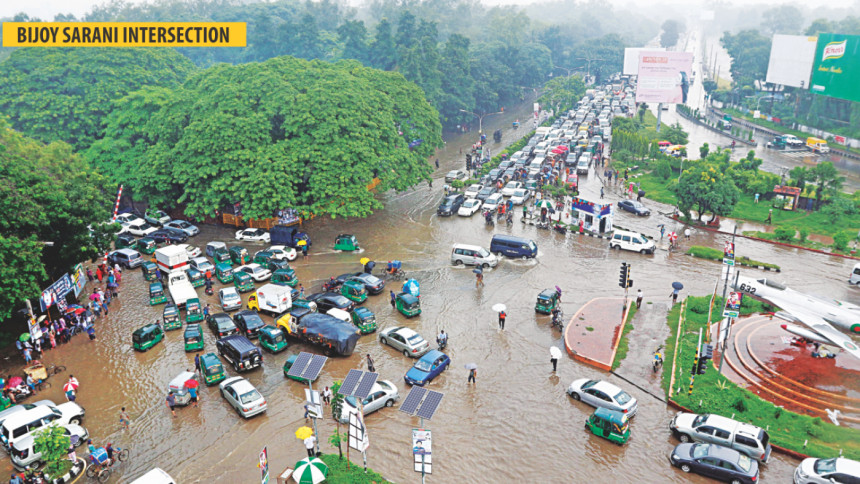 "What should I do?" said a bus driver of Mirpur Mission Paribahan as passengers repeatedly asked him to change the route. "You have the option to get off but I have to reach station," he told passengers. 
His bus reached Shahbagh from Motijheel via Dhaka University campus after three hours.