Kurigram, Lalmonirhat flood situation worsens further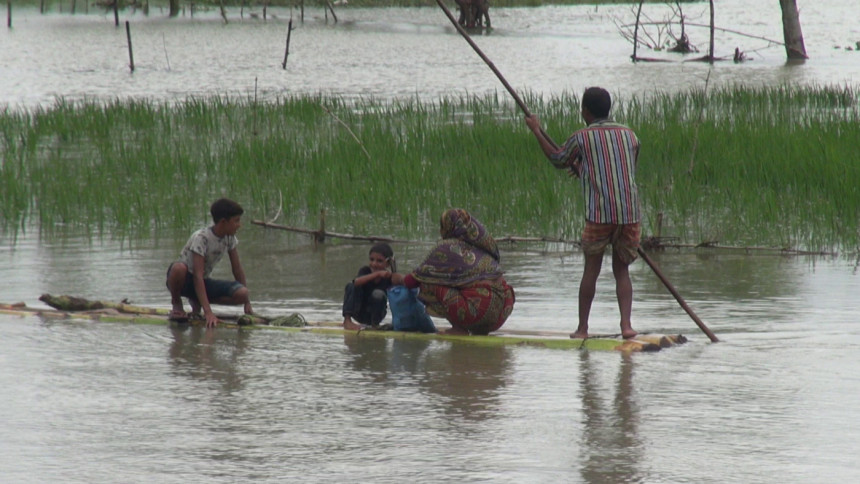 Flood situation in Kurigram and Lalmonirhat has deteriorated further as water of Dharla river is still flowing above the danger level.
However, floodwater has started receding in the flood-hit Teesta shoal areas as Teesta river water is flowing below the danger level, reports our Lalmonirhat correspondent.
More than 35,000 flood-affected people have been suffering immensely as over 100 villages and chars at 25 unions of nine upazilas in Kurigram and Lalmonirhat have been hit by the fourth phase of flood.
Officials at Water Development Board (WDB) in Lalmonirhat and Kurigram said water of Dharla river water is flowing 12 cm above the danger level at Lalmonirhat's Shimulbari point and 26 cm above the danger level in Kurigram's Dharla Bridge point since 6:00am today.
Houses and roads in these areas have gone under knee-deep water. Aman paddy and vegetable fields have also been submerged.
Many flood-hit families with their livestock and furniture have taken shelter on the roads and embankments. But they are having a very difficult time in their make-shift structures, made of polythene, due to incessant rains for the last few days.
Sharbat Ali (65), a flood-affected farmer of Shiberkuti, a village of  Dharla river shoal in Lalmonirhat Sadar upazila, said he left his house and took shelter on the government road after floodwaters gushed in. Due to the rains, they have not been able to sleep properly, he said.
Mofazzal Hossain (56), another farmer from Char Kharuya area in the same upazila, said his house is now under knee-deep water. They have to use rafts made of banana trees as transport due to the roads in the village being submerged, he said.
Another farmer of Sardob village in Kurigram Sadar upazila, Azgar Ali (62) said he has cultivated aman paddy on five bighas of land and vegetables on one bigha of land taking a loan.
But the crops on his land are now under water. If the water does not recede quickly, he will incur a huge loss, the farmer said.