Nor'wester may sweep over several districts in next 24 hours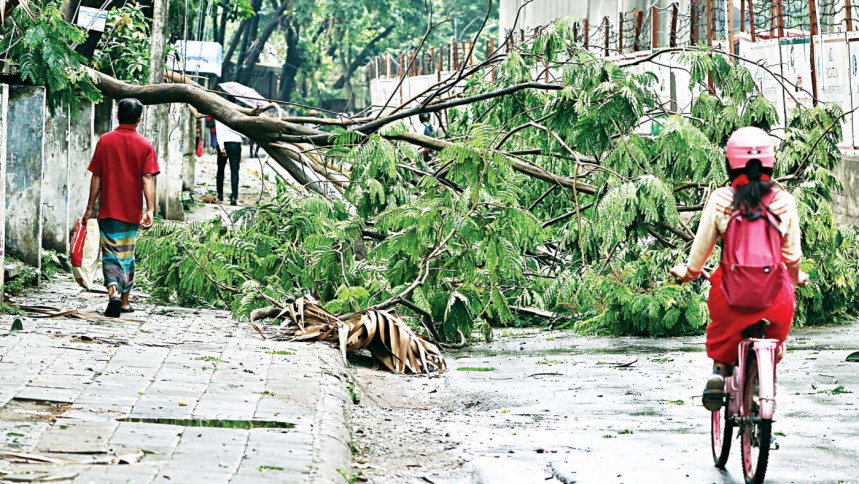 Nor'westers may sweep over several districts of the country in the next 24 hours, said the weather office yesterday (April 29, 2022).
Riverine ports of the country are asked to hoist local cautionary signal no 2.
Rain or thundershowers with intense lightning flashes and temporary gusty or squally wind is likely to occur at a few places over Mymensingh and Sylhet divisions and at one or two places over Rajshahi, Rangpur, Dhaka and Khulna divisions and the region of Cumilla, according to met office bulletin.
Around 60-80km/hr squally wind may sweep over Rangpur, Dinajpur, Rajshahi, Pabna, Bogura, Tangail, Dhaka, Mymensingh and Sylhet, said AKM Nazmul Hoque, a meteorologist at the Bangladesh Meteorological Department.
Besides, storm with 45-60km/hr squally wind is about to hit Jashore, Kushtia, Faridpur, Madaripur, Khulna, Barishal and Cumilla, he added.
Weather may remain mainly dry with temporary partly cloudy sky elsewhere over the country.
Generally, heatwaves lead to nor'westers, thunderstorms, and rains, said the meteorologist
Meanwhile, a mild heat wave is sweeping over Khulna division and the districts of Tangail, Gopalganj, Faridpur, Madaripur, Rangamati, Rajshahi and Pabna and it may continue, reads the bulletin.
Day and night temperature may remain nearly unchanged over the country, it added.
The highest temperature was recorded at 37.8 degrees Celsius in Jashore yesterday, while the minimum temperature was 23.4 degrees at Tetulia in Rangpur division, according to the bulletin.
The trough of westerly low lies over Sub-Himalayan West Bengal and adjoining area. Seasonal low lies over South Bay.