Bird poaching in Sylhet: Is public awareness the answer?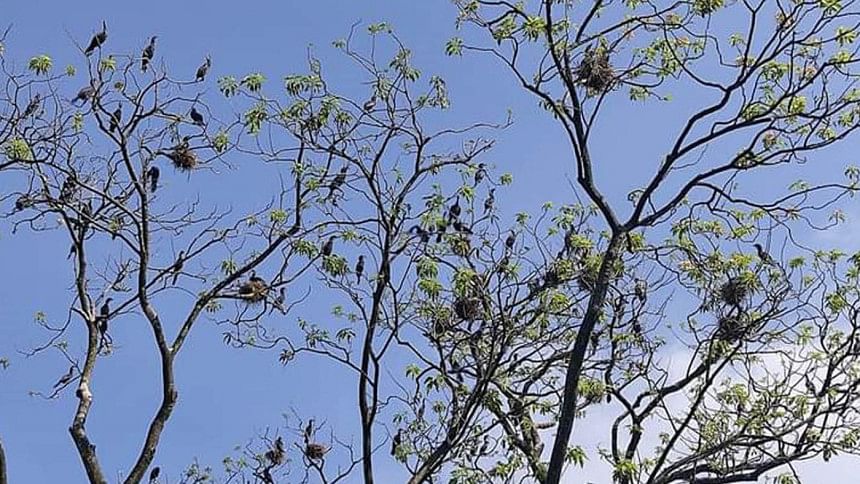 The movement of migratory birds in early winter captivates everyone, from the seasoned birdwatcher to an unassuming passer-by who simply looks up to the sky to maybe catch a flight of northern pintails.
But the flights of these birds on their migratory routes are just a trigger-press away from being cut short. Poaching has turned out to be a massive threat to avian biodiversity.
In Sylhet division which sees a yearly migration of thousands of migratory birds, the problem shows no signs of abating despite continued raids by mobile court, fines and efforts to raise awareness.
According to the Department of Wildlife Management and Nature Conservation, the prevalence of bird hunters is highest in Hakaluki Haor, Hail Haor and Baikka Beel in Sylhet region and various haor-beels and field-ghats.
The hunters, it seems, know and target the hot spots when it comes to bird hunting. Other than seasoned hunters, locals and villagers too partake in the hunting.
One issue behind the unabated hunting seems to be a lack of awareness among the public. Either people do not know a species is protected and therefore illegal to hunt, or in many cases the hunters do not know there is a steep fine and jail term if they are caught poaching.
What do the experts have to say, what is at stake?
Moniruzzaman Chowdhury, site officer of Centre for Natural Resource Studies (CNRS), who worked for the protection of Hail Haor under a project titled 'Climate Regional Ecosystems Livelihood', said they were able to seize several poison traps from Baikka Beel when they had seven staffers at their disposal before the project ended in 2018.
Birds are being hunted by poison traps, or by traps hung up in different areas especially during dawn and dusk.
Just a fortnight ago, a man named Khaja Mia was caught with birds from the West Bharaora area of ​​Srimangal upazila. At least five migratory birds and hunting equipment were seized from his possession. The mobile court fined him Tk 3,000.
Biswajit Bhattacharjee Bapon, spokesman of Mita Foundation, a voluntary organisation for biodiversity conservation said they had information that Khaja Mia is involved in hunting various species of birds in Hail Haor area. Based on that information, locals
Section 38 (2) of the Bangladesh Wildlife Conservation and Safety Act 2012 states that any person who procures, sells or transports the flesh of any bird or migratory bird mentioned in Schedule 1 and 2 shall be deemed an offender and shall be liable to the maximum penalty for the said offence.
Imprisonment up to six months or fine up to Tk 30,000 or both. If the same offence is repeated, he can be punished with imprisonment for a maximum of one year and a fine of Tk 50,000 or both, he added.
On September 25, the mobile court sentenced another man Abdus Shaheed Raju to 15 days in prison and fined him Tk 5,000 in Moulvibazar Thana Bazar and seized eight birds from his possession.
Earlier on August 30, the forest department released 32 birds that were seized from Parua market in Sylhet's Bholaganj.
Nurul Mohaimin Milton, general secretary of Moulvibazar Environmental journalist Association said birds are being hunted from different places and are being sold in secrecy. The journalist also opined that awareness is a big barrier as many people in the villages still do not know that hunting and selling of protected species of birds is a criminal activity.
Sandeep Talukder, Assistant Commissioner (land) of Srimangal land office told The Daily Star,
"We usually get to know about bird poaching based on tip-offs. The hunters stay put inside the haor with their boats. We have been conducting raids in different areas of the haor since last week.
Meanwhile Rezaul Karim Chowdhury, Divisional Forest Officer of Sylhet Department of Wildlife Management and Nature Conservation, said that if they find any information of bird hunters, appropriate legal measures are taken immediately.
He also said that the Forest Department is continuing work to increase public awareness through regular campaigns on these issues.
The question remains, what exactly will work in putting a stop to bird poaching? Are steep fines the answer? Or will public awareness come to the rescue?