Barapukuria coal mine: Production resumes after 3 months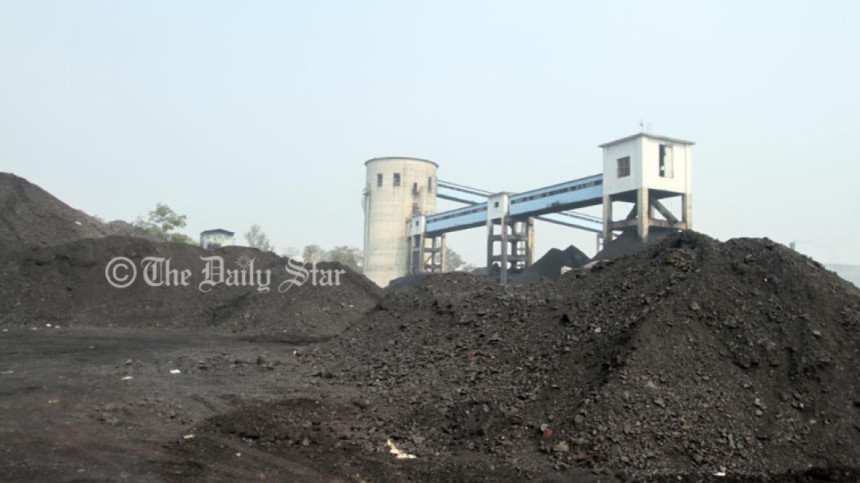 Coal production at Barapukuria Coal Mining Company Limited (BCMCL) resumed today (July 27, 2022) after a three-month long suspension.
Barapukuria Coal Mining Company Ltd (BCMCL) Managing Director Saiful Islam Sarkar confirmed the development to our Dinajpur correspondent.
Nazmul Ahsan, the Chairman of Bangladesh, Oil, Gas and Mineral Resources Corporation, Petrobangla, inaugurated the production this morning after being connected to the programme virtually, said the BCMCL MD.
The early start of coal production comes as a relief for the nearby 525MW Barapukuria Coal Fired Power Plant, which had been facing a coal crisis.  
The production was supposed to resume at the end of August this year.
Saiful Islam Sarkar further said production started from the 1306 Phase this morning after finalising the Phase development, equipment and shifting machinery from Phase 1310 to 1306.
The trial production run will continue for the next seven days, said the managing director.
He added that production will increase after a week, and all the produced coal will be supplied to the power plant to keep the power generation running.
Around 2.5 lakh metric tonnes of coal were at the stockyard when the mine's production was shut down on April 30. The nearby power plant of PDB has been using coal for generating power, which has been supplied to the national grid.
The plant needs around 3,000 to 3,500 metric tonnes of coal every day.
Early this month, a top official of the power plant told The Daily Star that the powerplant can be operated till July with the existing coal stock. Md Kamruzzaman Khan, the outgoing Managing Director of BCMCL, said the coal production was supposed to resume from the end of August.
The Daily Star ran a report on the issue on July 7.
Later, a team of Petrobangla, led by its Director (Admin) Md Altaf Hossain, had visited the BCMCL and nearby power plant on July 13. He had attended separate meetings with the officials of BCMCL, its contracted company CMC-XMC Consortium and the power plant officials.
Sources said the director of Petrobangla strongly emphasised resuming production as early as possible.
Coal production resumed today within 15 days of his visit.