Disasters affect women, children more: speakers
UN Women Bangladesh launches 'From Where I Stand'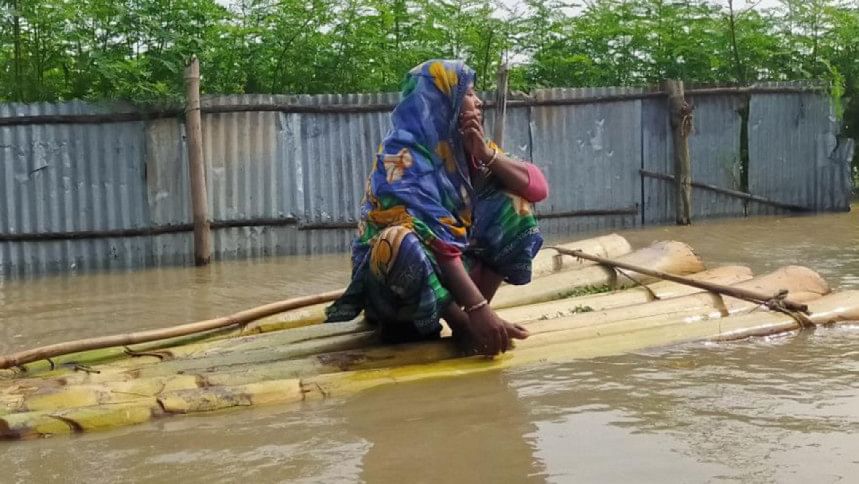 UN Women Bangladesh today (November 9, 2022) launched a storybook titled "From Where I Stand", paying tribute to the exemplary efforts and leadership of women in tackling climate change-induced disasters from the ground.
They also inaugurated a three-day photo exhibition at the Sculptor Novera Exhibition Room, following a ceremony held around noon at Bangla Academy in the capital. It will remain open from 11:00am to 8:00pm, till November 11.
Speakers at the programme said when a crisis strikes, individuals are more likely to be destitute and have fewer options for expressing their needs and goals. Disasters usually affect women and children more adversely than men due to pre-existing gender inequalities.
For the last five years, UN Women has been working with the government under the National Resilience Program, to sustain human and economic development from disaster-related shocks.
Remarkable and substantial changes have been brought in terms of the role of women in disasters -- from being victims to powerful agents of change in preparedness, response and building resilience, said speakers.
"From Where I Stand" was launched to bring out the stories of these women's journey towards resilience.
Attending as the chief guest, Secretary of Disaster Management and Relief Ministry Kamrul Hasan said one of the most pressing concerns confronting the globe in the twenty-first century is climate change, followed by gender inequality.
He said without gender equality, a sustainable and equitable future remains out of reach. Collaboration initiatives will ensure that health-assisted living facilities are implemented with gender equality in mind.
"Our government works hard to increase resources for women," he added.
Matt Cannell, development director, Foreign, Commonwealth and Development Office, said, "I believe that our ongoing efforts to promote sustainable development will help reduce several barriers for women who are directly affected by climate change."
UN Women's Deputy Country Representative Diya Nanda said the National Resilience Programme is essential for ensuring women's empowerment, leadership, and long-term growth.
"If the policy is gender-responsive, then gender humanitarian activities can be ensured," she added.
Ambassador of Sweden Embassy Alexandra Berg Von Linde, Programme Specialist of UN Women Bangladesh Dilruba Haider, also spoke at the ceremony, while Diya Nanda presided over the programme.