HC seeks report on air pollution from DoE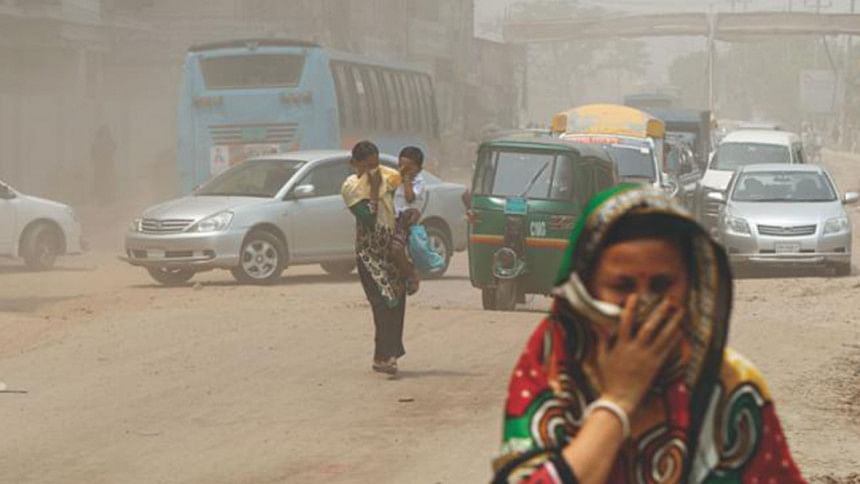 The High Court today directed the director general of Department of Environment (DoE) to submit a report on what step the organization have taken to prevent air pollution in Dhaka.
The court also asked DoE director Ziaul Haque to appear before it on April 10 with the report.
Read More: Air pollution causes 8.8m early deaths every year
The HC bench of Justice FRM Nazmul Ahasan and Justice KM Kamrul Kader passed the order while hearing a writ petition filed by Human Rights and Peace for Bangladesh (HRPB).
The court also asked both Dhaka north and south city corporations to submit reports before it on their steps taken to prevent air pollution in Dhaka.
While hearing the petition, the court said they are disappointed as "the authorities did not take proper action for preventing the air pollution".
Earlier in the day, the DoE and city corporations placed some reports before the HC in line with its January 28 order.
In the report, the DoE said it has conducted mobile courts against the persons who are responsible for air pollution. But the court said that the DoE's action is not adequate as the air pollution was not reduced in Dhaka city.
The court further said the reports of the city corporation authorities are not clear and in line with the HC's earlier order.
The city corporation authorities have been asked to submit further reports after complying with its January 28 order, writ petitioner's lawyer Advocate Manzill Murshid told The Daily Star.
On January 28, the HC ordered the DoE DG to take steps to conduct mobile court twice a week against those responsible for air pollution in Dhaka.
When the court started today, Manzill Murshid placed before it a report on air pollution published in The Daily Star today.
After going through the report, the court decided to ask the DoE director general to appear before the court.  
WHAT DOES THE REPORT SAY?
Air pollution causes 790,000 premature deaths every year in Europe and 8.8 million worldwide, doubling recent assessments, according to a study published in the European Heart Journal Monday.
Between 40 and 80 percent of those excess deaths are caused by heart attacks, strokes and other types of cardiovascular disease underestimated up to now as a driver of smog-related mortality, researchers reported.