Film Review
A powerful story about an unafraid woman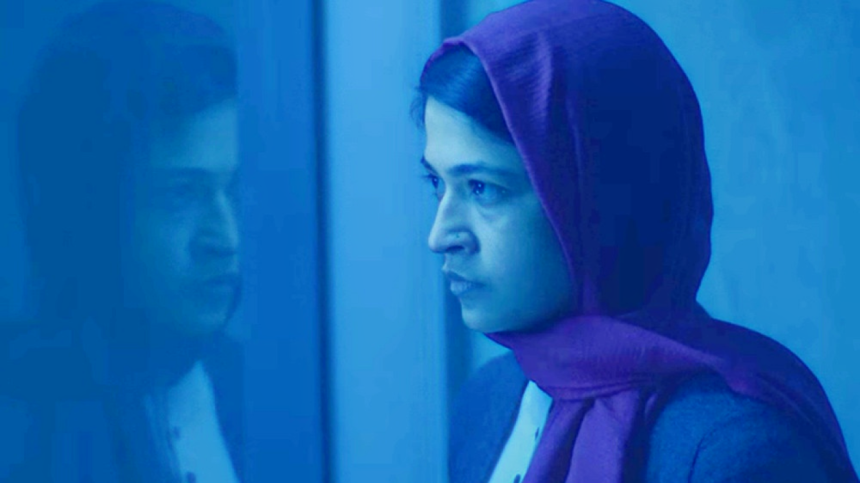 "Fine, you can stay silent if you want. But, I can't keep quiet for days on end."
These words may sound uncharacteristic of a Bangladeshi woman living in a society that is plagued with power imbalance. However, it is not just one dialogue, Rehana Maryam Noor is a movie that feels almost uncharacteristic of itself. It is entirely based in a Bangladeshi society, somehow, with Bangladeshi characters that feel too close to home. The single mother-next-door who lives with her parents, the somewhat sleazy colleague, your seemingly caring supervisor at work who cannot help but conform, and overly critical neighbours with their unsolicited advice. This film is more than just something that came out of Bangladesh and struck a chord, it is the middle-class Bangladeshi society in a nutshell. 
Abdullah Mohammad Saad's brainchild revolves around the titular character, a medical professional and single mother who comes across a gross case of power dynamic exploitation. Her moral compass refuses to budge as she forges ahead, doing whatever possible within her area of influence to ensue impact. The disparity she finds at work bleeds into other aspects of her life, too, requiring her to make necessary calls for herself and her daughter.
This film serves you, on a silver platter, what we tend to deliberately overlook. However, there are no fake promises made in the process. It merely helps lay bare what we see veiled as the protagonist makes an attempt at ripping the very veil off. Rehana, our protagonist, is almost always chastised, no matter what she chooses to do. Much like every other woman who might expose even one "anomalistic" quality, all her actions are closely scrutinised and harshly critiqued. Her concern for her daughter is questioned as she fails to fit the generic bill of good motherhood that exists within the society, despite her relentless toil to spend as much time with her daughter as possible. Not once do we ever see her incorporate corporal punishment as her daughter acts out.
Of course, Rehana is not without her own share of follies that almost border on impulsivity. Rehana's character is one of contradictions. On one hand, she exhibits qualities expected of a good Bengali woman; a "modestly" dressed, honest and hardworking medical professional. On the other hand, vices women are frowned upon are rampant in her characterisation: outspoken, rebellious, unafraid, and stubborn. You will find the people around her wanting to like her for what she presents, but getting irked by who she truly is.
Despite being a movie that is so culturally resonant, it is a relatable work of art in almost every nook and cranny of the world. The movie throws at you terminologies like "pseudo feminism" and "pseudo liberal", but not in a vacuum. Whatever the movie presents, along with it comes materials for the audience to ponder upon.
The entire movie is shot with a handheld camera, following Rehana around as she restlessly navigates the mess behind the closely doctored "reputation". The initial scenes in the movies are almost inconclusive, jumping from one to the other. The blue tint omnipresent on the screen is often associated with sadness and gloom. However, blue is also associated with focus, trust, intelligence; qualities that can be well attributed to Rehana.
Whilst Abdullah Mohammad Saad's crisp dialogues are impactful in its colloquialism, Azmeri Haque Badhon's performance is what brings the movie to life. There are yet to be enough movies even in Hollywood that boast a rich script, an immersive cinematography, and a solo female lead. However, Rehana Maryam Noor sets a glorious example that many can follow.
The author is a freelance journalist.