History will forever remember 'Damal': Mim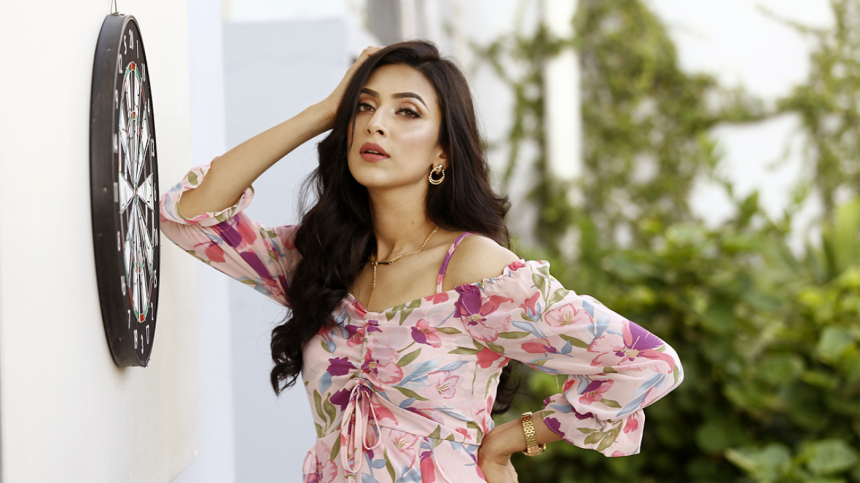 Raihan Rafi's upcoming film "Damal", starring Bidya Sinha Mim, will be released on October 28. The movie is based on true events and follows the story of two football teams from different eras: the legendary Shadhin Bangla Football Team and a similar team from the present. The trailer for "Damal" is already out and the "Poran" actress cannot contain her excitement.
As "Poran" successfully runs for its sixth week in the theatres, the gorgeous Mim spills the beans on her upcoming projects, and much more.
"Damal" will be releasing soon. After the response you have got from "Poran", what are your expectations from this film?
I cannot put into words how excited I am after hearing this news. "Damal" is unlike anything that I have worked on so far. It has a unique plotline, and I am simply in love with my character in the film. History will forever remember "Damal". Whenever a new release comes along, I really can't sleep or eat properly. I start to feel butterflies in my stomach and am now eagerly awaiting the release of this film.
"Poran" is running successfully for its sixth week. How has social media reacted to the film?
"Poran" has brought a new wave of hope to the film industry. Its massive success has propelled more producers to invest in Bangla movies. The film is still running houseful in some theatres, and many people have commented on Facebook that they have watched the movie 4-5 times. Recently, I met a fan who has watched "Poran" five times. The movie is doing great in Australia and will soon be released in Europe as well.
How many times have you watched "Poran"?
I have watched "Poran" a total of four times. Once, I went with my parents and my husband. Another time I went to the theatres with my wonderful in-laws. The third time was really fun, as I went with my friends, and the other time was during the special premiere.
After the tremendous success of "Poran", have you signed on for any new movies?
No, I am taking my time right now, as I really want to be selective about the type of script I take on. I want a good plot and an interesting character, which will entice me as an artiste. I have been offered a lot of scripts and I will take the time to go through all of it.