REVIEW: NONFICTION
Habibur Rahman's 'Thar': Unpacking the language of the Bede community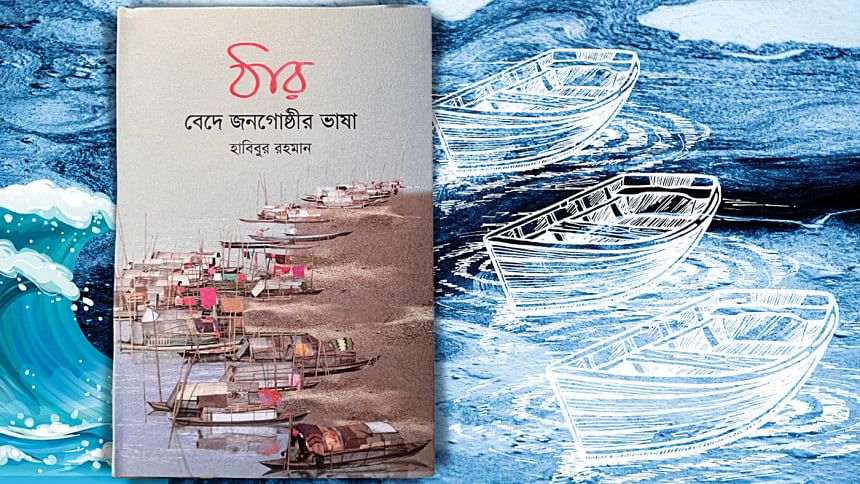 The Bede, or water gipsies, represent a community of nomads in the Indian subcontinent who care little about a permanent settlement and move from one place to another. In Bangladesh, the Bede community live collectively in boats on rivers and canals or in temporary shelters on the plain land and along the banks of rivers. They are dispersed across Bangladesh—mainly at Savar in Dhaka, Kaliganj in Jhenaidah, Munshiganj, Sunamganj, Joydevpur in Gazipur, Mirsarai in Chattogram, Cumilla, and Sonagazi of Feni. According to a survey by the Department of Social Welfare, 99 percent of the Bede population are Muslims and a similar percentage of them are unlettered. Therefore, the nomadic way of life has made the Bede community almost remote from the mainstream of society, underprivileged, poverty-stricken with little or no access to services or privileges as citizens; they are often subject to human rights violations along with discrimination. Significantly, they have their unique and distinct language—Thar, which has remained elusive, with no written form and only used among themselves.
Author Habibur Rahman, like an avid social researcher, has looked in depth into the community life of the Bede population and written a well-researched book titled Thar: Bede Jonogoshthhir Bhasha (Panjeri Publications, 2022). In 11 chapters, Rahman defines the Thar language and its characteristics, origins, and variations and the ethnic identity of the Bede people, applying Noam Chomksy's theories to the language's grammar and sentence construction. He also presents sufficient examples of transformations, forms of social, economic, cultural, and environmental terms used in the everyday vocabulary. He has shown that this language is the mother tongue of a few, but its vocabulary and potential for development are enormous, which requires permanent existence alongside other languages. 
Additionally, the author not only depicts the distinct endangered language of the Bede people but also follows established, accepted conventions from a modern linguistic point of view with a sense of inquisitiveness. His loving and affectionate engagement with the fieldwork in the Bede community and his painstaking, insightful research lends depth and analysis to the book, which permeates page after page. The book, as a result, sheds light on various aspects of nomadic life, including the ethnographic and cultural aspects of the community. Studying this endangered language can be a good supplement to understanding archaeological excavations because the language is a reflection of the life of a community.
The Bede community is exposed to poverty and vulnerability. They struggle to earn a living, yet they have not much regret. These are the tales the author wanted to share with his readers and help them understand the pains and joys of Bede people—often seen as snake charmers or vendors of indigenous medicine or entertainers of monkey game and magic—more humanely. I admit that before reading this book, I did not take much interest in the life of this community and was not aware that they have a matriarchal society. This book has not only introduced readers to their language, but it also has made a bridge between them and the distinct social fabric of this community.
Serajul Islam Quadir is former Bureau Chief and Chief Correspondent of Reuters, Bangladesh. He is currently Executive Editor of the American Chamber's Journal.