BOOK REVIEW: GRAPHIC NONFICTION
'Wendy, Master of Art': The life of the artist in graduate school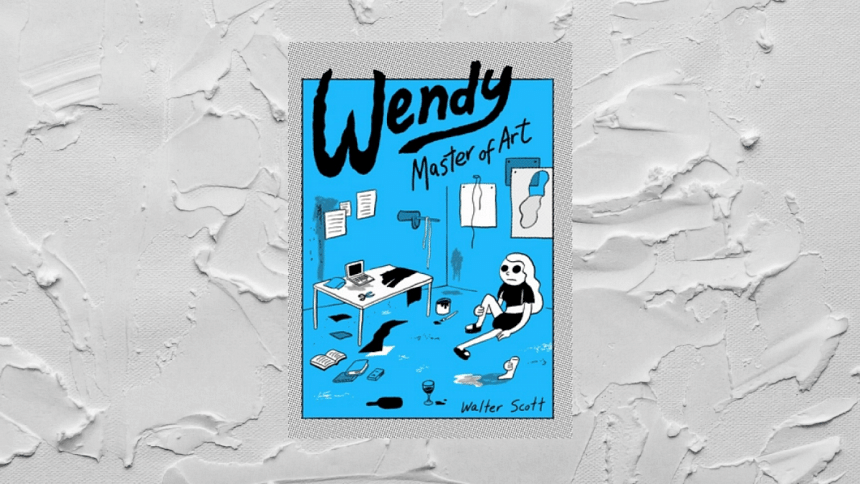 No one said earning a Masters in Fine Arts (MFA) would be easy. After all, art is anything but a linear process of creation. It zigzags through tumultuous periods of unease, delicate uncertainties, and perpetual anxieties, along with quite a mouthful of self-induced negativity. Wendy, the titular character of Wendy, Master of Art (Drawn and Quarterly, 2020), remains its most vivid personification in both content and art work.
The Wendy series chronicles the ups and downs of an emerging female artist, and Wendy, Master of Art is the third book, which sees our heroine going to art school at the fictional University of Hell. Drawn and written by interdisciplinary artist Walter K Scott, the graphic novel is semi-autobiographical, borrowing elements from Scott's experiences of completing his own MFA.
We see Wendy going to a graduate school set in the fictional town of Hell, Ontario. Wendy is chosen amongst an elite few to attend a prestigious degree with a select number of students. What follows is Wendy's trysts with fellow artists, falling-out with old friends, dabbling in a relationship with someone already in a polyamarous relationship, mild substance abuse, existentialism, and questioning of life choices. In what seems like a mouthful, the graphic novel, at 276 pages, is the largest and most playful in Scott's series, with new and old characters juggling their space and characterizations in a streamlined sequence, which allows the reader to understand the nuances of their relationship to the protagonist.
The book gives the reader an all-encompassing look at Wendy's struggle in art school through her thesis project, which she describes as "teasing out the conundrum of autobiography through some kind of writing AND drawing essay." Apprehensive about life and job prospects, the book offers a fascinating portal into the world of art at the graduate school level, as rebellious students try to make a name for themselves and push the boundaries of "art". Not to forget, there are tender moments in which students and teachers talk about the relationship between art and Lacan.
What is perhaps the most beguiling aspect of the graphic novel is the authorial voice and artistic synergy. Drawn in shades and lines of black and white, the artwork is simplistic, with ink blot eyes, gaping mouths, and distilled facial expression—all of which add different layers of comical  experiences. The artwork is funny and touching at the same time. It follows a trail of command that alternates between rhythmic emotion and outright craziness.
Acutely engaging and thoroughly funny, the book can be relatable for many, but especially for those who are still in university and transitioning to choices pertaining to "adulting" or graduate school. Whether you are an artist or not, the graphic novel holds the potential to carve a special place in your heart due to its endearingly honest storytelling. In all the struggles Wendy faces, you find an image of yourself and an extension of the gentleness of the comic which universalises our experiences.
Israr Hasan is a research assistant at BRAC James P Grant School of Public Health.