Nazrul, Rabindranath, and Their Admiration for Each Other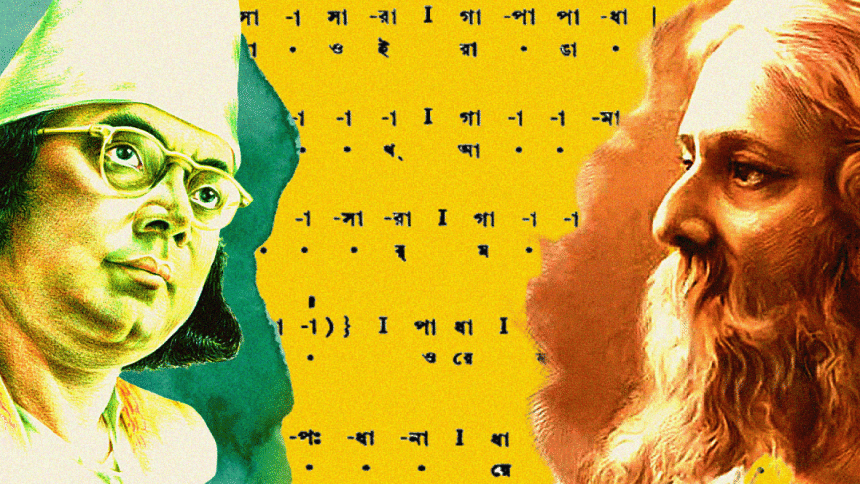 PART I 
Rabindranath Tagore and Kazi Nazrul Islam share interesting similarities in the Gregorian calendar. They were both born in the month of May; Rabindranath on May 7, 1861, and Nazrul on May 25, 1899. They also died in the same month; Rabindranath on August 7, 1941, and Nazrul on August 29, 1976. 
The two also shared a mutual admiration for one another. This admiration often gets clouded when debates arise. 
Today is the 45th death anniversary of the younger of the two icons. It is a wonderful moment to reflect on this special relationship. 
PART II 
In 1938, film director Naresh Chandra Mitra decided to adapt Tagore's 1909 novel Gora for the screen. The tricky part: who would do the music? Rabindranath was alive. He would be watching the film at some point. 
After some thought, Mitra thought of approaching Nazrul. The moment Nazrul heard he would have the honour to direct the music in a film adaptation of his Gurudev, he was over the moon.  
As the film was ready to launch, an off-stage drama unfolded. Visva-Bharati was the authority of Rabindranath's music. Permission from them was required for the commercial use of his works. The thought of taking permission from Visva-Bharati did not cross Nazrul's mind. He thought, since he was the music director of a Rabindranath adaptation, why would he need to seek permission? Surely, Gurudev would understand. There were reasons for Nazrul to think so.
In 1938, Nazrul was at his peak. It was also public information that Rabindranath had a soft corner for Nazrul. There was no shortage of jealousy amongst their followers, though. 
Whether that was the cause behind this reaction, nobody can prove now, but Visva-Bharati declared that the Rabindra Sangeet used in the cinema were faulty. They declined to authorise the music of the cinema.
The heartbeat of Naresh Mitra and Deb Dutta Film House stood still. Without the permission of Visva-Bharati, the film cannot be screened. The moment Nazrul learned of this development, he took the film reels and a projector, and was off to Shantiniketan. He would screen the songs to Tagore himself. Then he would ask his Gurudev to sign a no objection certificate. 
Rabindranath listened to the story of Visva-Bharati. Nazrul insisted he watch the songs from the film reels and then make his own decision. Rabindranath looked at Nazrul. 
"What nonsense is this? You've taught my songs. Who are they to find a fault? Do they think they understand my songs better than you? Can they honour my songs more than you?" 
Rabindranath didn't need to watch the reels. He signed the certificate; no objection whatsoever.
PART III 
In 1913, when Tagore won the Nobel Prize for Literature, Nazrul was a fourteen-year old lad. He was influenced by Rabindranath, like other young people of his time. 
The difference, however,  was that Rabindranath's influence on Nazrul was boundless. Muzzafar Ahmed and his other friends used to call Nazrul a "hafez" in Rabindra Sangeet. There was not a single Rabindra Sangeet that Nazrul could not recall from heart. When he was in the army, Nazrul carried Rabindranath's books in his trunk. 
After returning from the war, Nazrul met Haridas Chattopadhyay. Haridas was a leading Rabindra Sangeet singer of his time. He and Nazrul became instant friends. The two would sing Rabindra Sangeet in numerous programmes. 
Before Nazrul became a famous songwriter, he would teach Rabindra Sangeet to his students first, and then something else. The famous statistician and chess player Kazi Motahar Hossain learned Rabindra Sangeet from Nazrul. During one of their trips to Shantiniketan, Nazrul narrated the entire Gitabitan to the famous linguist, Muhammad Shahidullah. 
This brings our story to 1921. Nazrul, an aspiring poet, and his chance to meet Gurudev in person. 
Their meeting proved to be the first of many. Rabindranath proposed to Nazrul to spend some time at Shantiniketan, and teach music to the students. In return, he would get a music apprenticeship from Dinendranath Tagore. Dinendranath was a musicologist and the main scribe of Rabindranath's music in the Swarabitan. 
Rabindranath correctly identified Nazrul's talent as a poet and musician. Destiny had different paths for them. Rabindranath established a new path in Bangla, in his unique way. Nazrul was on the brink of doing the same, but in a different way. 
The following year, in August, Nazrul launched the fortnightly magazine Dhumketu. He was its editor. It was a literary magazine, but with a political tone. It was a platform that spoke out against the British rule. Rabindranath welcomed the fortnightly with an eight-line greeting. The last issue of Dhumketu was published in March 1923. Rabindranath's eight lines were a feature of each issue. 
After Dhumketu, Nazrul started another magazine, Langol, in December 1925. Once again Rabindranath welcomed Nazrul's magazine. This time, he did so with four lines.
PART IV
Nazrul's political views got him on the wrong side of the attention of the establishment more than once. On November 23, 1922, the British Raj arrested Nazrul in Comilla. He was arrested for his poem "Anandamayeer Agomone" (September 8, 1922); and his prose "Jugbani" (November 23, 1923). The court sentenced him to a year in jail. 
Rabindranath was deeply worried when news reached him that Nazrul was in jail and that he had decided to go for hunger till death. Rabindranath knew Nazrul was determined. He sent a telegram of eight words. 
"GIVE UP HUNGER STRIKE OUR LITERATURE CLAIMS YOU." 
The telegram never reached Nazrul. Nazrul was on Rabindranath's mind, nevertheless. 
While Nazrul was in jail, Rabindranath finished his dance drama Basanta. In his words, it was dedicated to "Sriman Kobi Kazi Nazrul Islam." This was a powerful signal. The British and the intellectuals of Bengal were surprised that Rabindranath could dedicate one of his works to a prisoner. Rabindranath's acknowledgment sealed Nazrul's fate as a poet. 
This, as one can imagine, created jealousy in Rabindranath and Nazrul's circles. Rabindranath responded to the critics that time. 
"My likings and dislikings remain with me. You have not read his poems. And yet, in your ignorance, all of you are scorning him... If today, I was young like him, my pen would chime his tune... What successfully portrays the present is not mere poetry. It is an epic."
PART V
Great artistes are great because, over time, they create a genre or "gharana" of their own. Both the critics and the masses accept and acknowledge them. Then comes the debate between their followers. 
The debate starts as: who is the better? Is it the Beatles, or the Stones? Is it Messi or Ronaldo? The truly great artistes are the ones who know how to appreciate other great artistes and give credit where credit is due. Much as their fans argue between themselves who is the better, the Beatles and the Stones had a cordial relation between them, just like Messi and Cristiano. Much as the two gharanas of Rabindranath and Nazrul debate who is the better, the two had mutual admiration for each other. 
Nazrul wrote Tirtha Pathik as a eulogy to Rabindranath. He also wrote Robihara after Rabindranath's death. Unfortunately, Nazrul became ill a couple of years after his Gurudev's demise. It was an illness from which Nazrul was unable to recover.
As Bengalis mark Nazrul's death anniversary today, the curtains draw with the following. 
It is true that Rabindranath did not watch the reels of the song adaptation in Gora when Nazrul went to visit him. Had he done so, he would have been pleasantly surprised at how Nazrul improvised "Gram Chhara Oi Ranga Matir Poth" as the introductory music to the cinema. That score was way ahead of its time. One maestro was paying homage to another, where the other did the same when he had his stage to perform. 
There is one regret, though. The two never took a photo of themselves.
Asrar Chowdhury is a professor in Economics at Jahangirnagar University. He is the author of the fortnightly column Echoes in SHOUT, The Daily Star. Email: [email protected]; or [email protected]