Resist evil forces, PM to army men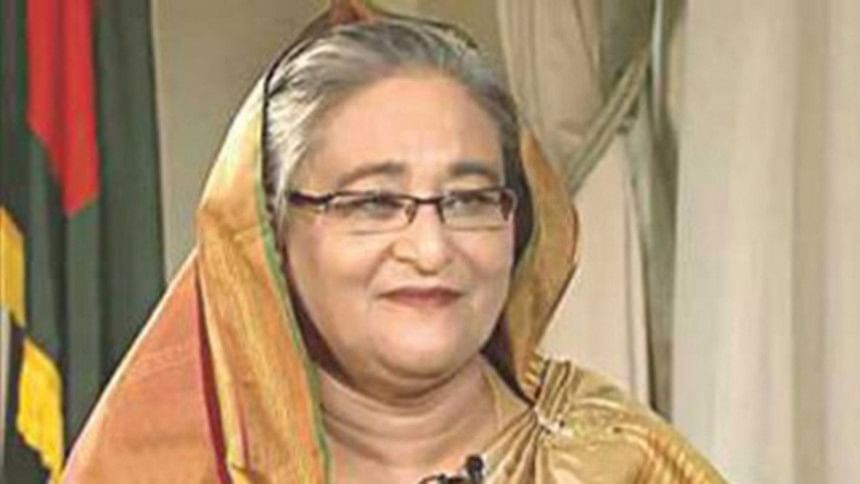 Asking members of the Bangladesh Army to gain more trust of people, Prime Minister Sheikh Hasina today hoped that they will always remain ready to resist evil forces to protect the country's independence and sovereignty.
"I'm sure Bangladesh Army is fully ready to strongly resist any kind of evil force to safeguard the country's unity...watching your efficiency in training, I can say you're truly a force built with the spirit of the War of Liberation," she said.
Sheikh Hasina said this while addressing a darbar after witnessing the winter exercise, 'Suchagro Medini' of Bangladesh Army at the Paglapir Khalia under Rangpur district.
The exercise was conducted under the overall management of 66 Infantry Division.
General Officer of Commanding of 66 Infantry Division and Rangpur Area Commander of Bangladesh Army Major General Md Masud Razzaque and Brigade Commander Brigadier General Abul Fazal Mohammad Sanaullah spoke on the occasion.
Reminding the members of army that people are the strength of the country and they (army personnel) are an integral part of these people, the Prime Minister emphasised gaining and maintaining the confidence of people.
"We all will have to earn people's confidence, trust and love...victory (in the war) could never be triumphed without the confidence and trust of people. So, you must earn the confidence and trust of people," she said.
Listing various successes and achievements of her government in various fields over the last seven years, Hasina urged all to work together so that Bangladesh could move further by keeping its head high.
The Prime Minister also hoped that Bangladesh would become a middle-income country by 2021 and prosperous developed nation by 2041.
She said her government's is pledge-bound to build Bangladesh Army as a modern and all-round force in light of the Forces Goal-2030.
The Prime Minister said 66 Infantry Division has been set up in Rangpur Cantonment, while the Father of the Nation established the Bangladesh Military Academy on March 11, 1974 to build a well trained army.
Hasina said her government has taken various steps for improving the life and livelihood of Bangladeshi Army personnel and their family members over the last seven years.
Earlier on her arrival at the venue, the Prime Minister was received by Chief of Army Staff General Abu Belal Mohammad Shafiul Haque and General Officer of Commanding of 66 Infantry Division and Rangpur Area Commander of Bangladesh Army Major General Md Masud Razzaque.
Jatiya Party chairman and PM's Special Envoy HM Ershad, Liberation War Affairs Minister AKM Mozammel Haque, Cultural Affairs Minister Asaduzzaman Noor, Primary and Mass Education Minister Advocate Mostafizur Rahman, PM's Security Advisor Major General (retd) Tariq Ahmed Siddique, State Minister for LGRD and Cooperatives Mashiur Rahman Ranga, the chiefs of Bangladesh Navy and Air Force as well as high civil and military officials were, among others, present at the darbar.