Shared cattle rearing boon for Teesta char women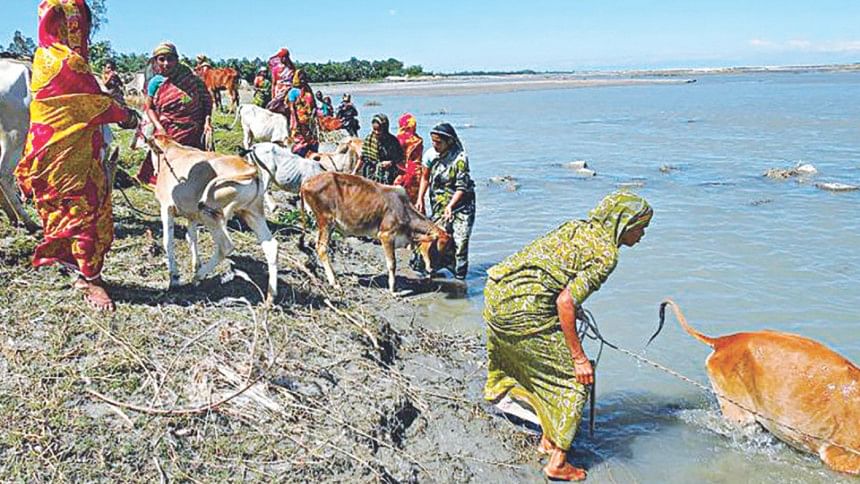 Poor women in Teesta chars under Dimla upazila are changing their lot by rearing cattle on share basis with owners of the domestic animals.
Solvent people in Uttar Kharibari, Purbo Kharibari, Kisamater Char and Kisamat Satnai chars have the ability to buy cattle but cannot rear them as they do other jobs, while a large number of poor women do not have ability to buy cattle though they are skilled in rearing cattle.
The poor char women rear the solvent people's cattle to make them fat in case of oxen or to bear calves and give milk in the case of cows. The women get 50 percent of the profit after the cattle are sold.
Visiting Uttar Kharibari char under Tepa Kharibari union on Monday, this correspondent found that many marginal women like Amiron, 51, Momena, 56, Niljan, 60, Amena, 50, have been doing this job for the last few years and changed their economic condition.
"My husband is a day labourer in Dhaka, so I started rearing cattle on share basis. I take care of the cattle after doing household chores while my children help me," said Rabeya Khatun, 55, of Kisamater Char.
Laily, 32, and Sukhiton, 28, said cattle owners invest money to buy cattle and bear the expenses, adding that the owners first realise their invested money after selling the cattle and then share the profit equally between them.
 "My sick husband cannot maintain our family, so I have been rearing eight cattle of a local rich man on share basis for the last three years. I bear my daughter's educational expense with the profit and have taken lease of 15 decimals of farmland," said Amina Begum, 40.
"Share cattle rearing women in Teesta chars have become solvent as they are blessed with a place where the cattle get sufficient green grass to eat and water to drink free of cost. Our field staff provides them with medicine and advice," said Dimla Upazila Livestock Officer Rezaul Islam.
"The government and non-governmental organisations should provide loan to char women on easy terms so that they can buy cattle on their own for rearing and get more profit," said Dimla Upazila Nirbahi Officer Nazmunnahar.