Mayor's men attack Hindu leader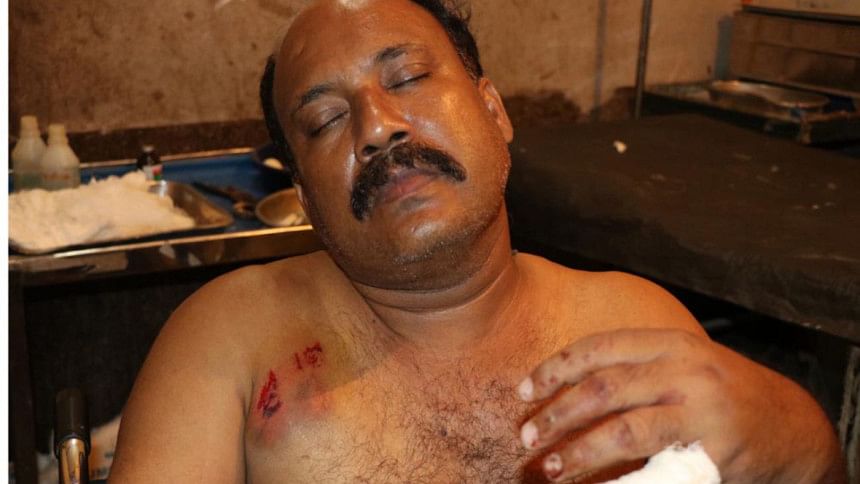 A leader of Puja Udjapan Parishad came under attack allegedly by the men of Atghoria municipality mayor on Tuesday.
Injured Nikhil Kumar Saha, 50, secretary of Atghoria upazila Puja Udjapan Parishad, is now undergoing treatment at Pabna Medical College Hospital.
Nikhil Kumar, also the president of Debottar union unit Awami League, said the men of Mayor Shahidul Islam Ratan, also president of Atghoria upazila unit AL, carried out the attack as he opposed the mayor's move to expand the municipality area.
The incident took place when he was going to the upazila headquarters in the evening, said Nikhil.  
The mayor has planned to expand municipality area destroying cultivation zones -- Paikpara, Goruri and four adjoining villages, he said.
The mayor got angry as Nikhil submitted an application to the deputy commissioner, opposing the move.
Preparation to file a case in connection with the attack is going on, said Officer-in-Charge of Atghoria Police Station Md Anwarul Islam.
Refuting the allegation, the mayor said Nikhil has been involved with various disputes in the area, so he might have been attacked over previous enmity.
Meanwhile, Hindu community leaders in the district demanded punishment of the attackers.