Jashore farmers succeed in growing turmeric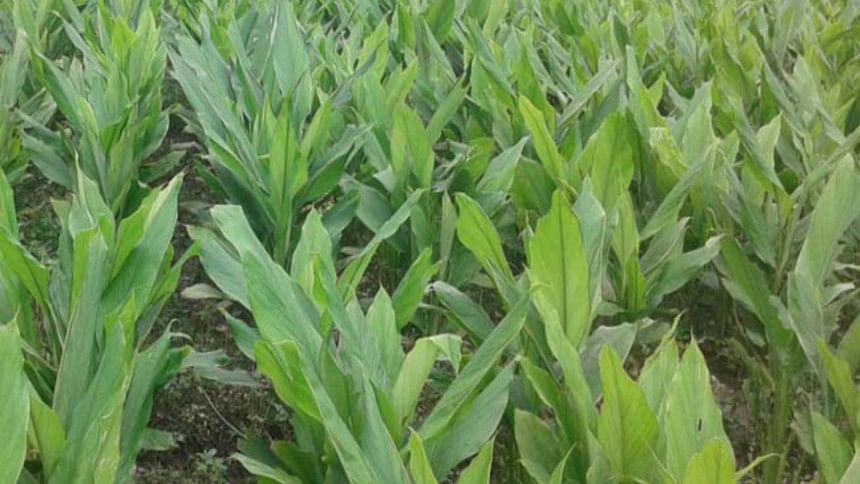 Favourable weather conditions for turmeric cultivation this year in Jashore are making farmers hopeful of reaping a good harvest.
After making continued profits from the crop in past several years, turmeric farmers in all eight upazilas of the district are increasingly getting more confidence in investing in the crop again.
This year, turmeric will be grown on more than 645 hectares of land all over Jashore and the crop is likely to be harvested within the next fifteen days, according to Department of Agricultural Extension (DAE) sources in Jashore.  
A large number of farmers who usually grow other crops in the region are also being drawn to grow turmeric in recent years. Besides, different spices including turmeric grow well in the region for its moderate rainfall as well as its suitable atmosphere and soil, the sources added.  
Turmeric farmer Bablur Rahman from Baikola village in Sharsha upazila said he has been making good profits from turmeric for the last few years and he looked forward to making good profits again this year from his cultivation of the spice on 30 decimals of land.
He prefers cultivating spices to other crops for higher profits, he also said. 
Hirak Kumar Sarkar, DAE's agriculture officer in Monirampur upazila, said compared to other crops, profit margin in turmeric cultivation is very high as around Tk 30,000 can be made in profit from one bigha of land where nearly 100 maunds of turmeric can be harvested at a cost of Tk 30,000.
Farmers are now selling each maund of the produce for Tk 6,000 at wholesale markets while each kilogram of dried turmeric now sells for Tk 100 at retail markets, he added. 
While speaking with this correspondent, DAE's Agriculture Officer in Sharsha upazila Sautom Kumar Shil said with turmeric cultivation on the rise in the area, the department has been taking measures to provide necessary support for farmers interested in cultivating turmeric and other spices.