Buddhists' biggest fest begins in Rangamati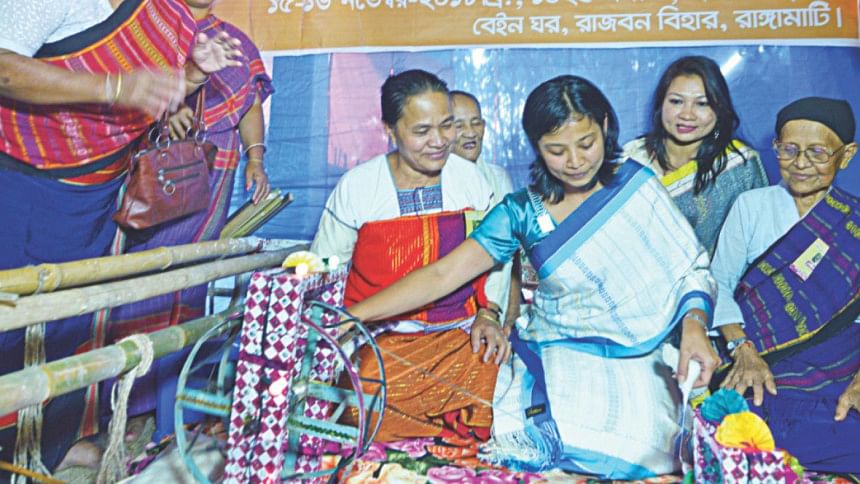 The two-day-long Kathin Chibar Dan, the biggest religious festival of Buddhist community in Chittagong Hill Tracts (CHT), began in the district yesterday through spinning wheel.
Chakma Rani Yan Yan inaugurated the 45th festival at Rajban Bihar in Rangamati around 3:00pm.
Raja Barrister Devasish Roy, chief of Chakma circle, Goutam Dewan, president of Upasjak Upashika Karjonirbahi Parishad, Amiyo Khisa, secretary of the parishad and its Information and Publicity Secretary Susmita Chakma, among others, were present at the function.
"Every year we hold this Kathin Chibar Dan with religious spirit to preserve our tradition and customs," said Raja Devasish Roy.
Buddhist devotees are always polite and sincere to people of other religions, he said.
At the time of Buddha, Bishakha (a nurse of Buddha) introduced the religious festival about 2,500 years ago to give Chibar through Goutam Buddha. Since then the Buddhist community has been celebrating the Kathin Chibar Dan every year.
Thousands of Buddhist devotees from three hill districts have gathered in and around the Rajban Bihar area since yesterday.
Goutam Deawn, president of Upashok-Upashika Karjo Nirbahi, said security has been strengthened by the district administration at all the strategic points of the area on the occasion.
Muhammad Alamgir Kabir, superintend of police in Rangamati, said over 500 police personnel have been deployed to avert any unwanted incident during the program at Raj Ban Bihar.