Boom in jute cultivation in Jashore
Growers are earning good profit by selling jute at Tk 1,900 a maund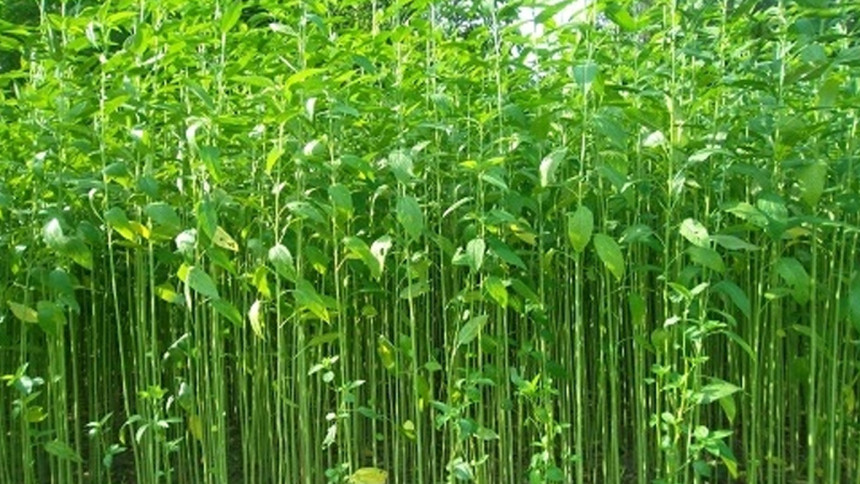 Jute acreage is increasing in the district every year as growers, inspired by higher prices, are bringing more lands under cultivation of the cash crop.
However, jute production decreased a bit at the beginning of March as there was no rain during the time. But production of the cash crop has increased again due to heavy rains in August. Eighty percent bales have already been harvested. At present, the growers are earning good profit by selling jute at Tk 1900 a maund in the markets.
According to the Jashore regional office of the Department of Agriculture Extension (DAE), in the 2018-19 financial year, forty two thousand and ten tonnes of jute were produced on 18,265 hectares of land in the district while 50,753 tonnes of the crop were got from 20,140 hectares of land in the fiscal year 2019-20. This year, 23, 575 hectares of land have been under jute cultivation.
Saheb Ali of Shalkona village in Sharsha upazila said he has planted jute on three bighas of land this year but the plants did not grow much as there was no rain at the beginning of the cultivation. However, there was no problem to rot the jute due to heavy rains in August.
He added that they are getting fair prices by selling jute in the local market. At present, jute is being sold at Tk 1900 per maund.
Bablur Rahman, another farmer from Bakra in Jhikorgachha upazila, said he has planted jute on five bighas of land. The yield has been good. He has already harvested the jute. It has been rotten too.
He said farmers are now selling jute at Tk 1700 to Tk 1900 a maund in the local market, said Babur.
Some of the largest jute markets in the southern part of the country like Seemakhali Bazar and Khajura Bazar are located on the border of Jashore and Magura. A large quantity of jute produced in Jashore and Magura is traded from these markets.
Abdur Rahim, a jute wholesaler, said "In previous years, the state-run jute mills used to buy 13 lakh bales of jute from farmers. This time there is no such scope. But there is a huge demand for the cash crop in the private jute mills. We are buying good quality of jute for TK 1900 to Tk 2000 a maund."
According to the officials of Department of Agricultural Extension (DAE), they had set a target to produce 82 lakh bales of jute in the current season across the country. Last year, 68 lakh bales of jute were produced. Of them, 13 lakh bales were purchased by the state-run jute mills.
The private mills collect jute from the local market through small traders all the year round. Afil Group has 4 units of Afil Weaving Jute Mill in Jashore.
Mahbub Alam Lablu, director of the group, said "We collect jute from Jashore district every year. The quality of jute produced here is good. This time we are buying huge quantity of jute."
Deputy Director (Acting) of Jashore DAE Birendra Nath Majumder said the district sees a good yield of jute this year.