Adieu comrade Kamal Lohani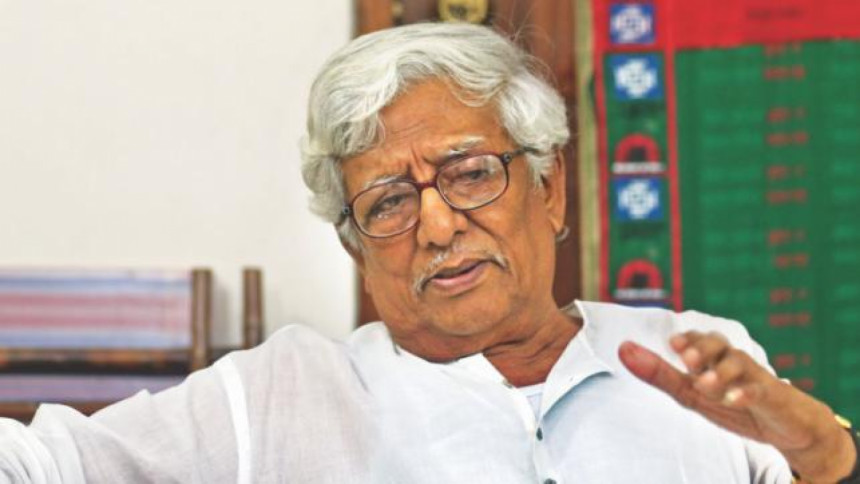 As we are living in the age of digitization, activism to bring about a change often remains confined in the virtual world but back in the 1950s, activism meant raising your voice and your hand in the air -- rendering powerful slogans and songs against injustice and unjust establishment. Kamal Lohani was a perfect example of that take-to-the-streets activism.
Lohani, a name associated with multiple adjectives, was infected with coronavirus, eventually passing away on June 20 while undergoing treatment at the ICU of Sheikh Russel Gastro Liver Institute and Hospital in Mohakhali.
With his death, Bangladesh has lost a true revolutionary, a renowned journalist, an iconic cultural organiser and a warrior who was in the frontlines during all major democratic and cultural movements including the Language Movement and the Liberation War. He upheld the core concept of secular Bangladesh till his last breath.
Kamal Lohani, truly moved by the philosophy of Marx, Engels and Lenin, always worked for the emancipation of people and raised his voice against all odds -- for which he was imprisoned several times during his lifetime.
Prison-time was then considered an "educational experience" as it was always crammed with top political leaders and activists. Lohani during several interviews said that he gained precious knowledge on journalism, politics, Marxism and several other subjects in jail. He also said that prison life had a profound effect on both his political and journalistic career.
Lohani, a valiant freedom fighter, worked at Swadhin Bangla Betar Kendra during the Liberation War of Bangladesh and was the host of the then popular show "Ognishikha" through which he boosted the morale of freedom fighters to continue their struggle against the Pakistani forces and their collaborators. He was extremely fortunate as he got the opportunity to announce the news of the nation's victory on Swadhin Bangla Betar Kendra.
Born in 1934, at Khanshanta village under Ullahpara thana in Sirajganj, Kamal Lohani lost his mother in early childhood and moved to Kolkata to live with his paternal aunt. As a young boy, Lohani closely witnessed the Second World War, recession, the drive to evict Bengalis from Assam in the name of "Bangal Kheda", and the 1946 riots in Kolkata. Lohani in several speeches said the experiences which he accumulated from Kolkata helped him flourish later in life.
After Partition, Lohani came back to Pabna in Bangladesh in 1948 and got admitted into Pabna Zila School and later passed intermediate from Edward College while he was in jail. During college life, he joined leftist politics with Chhatra Union. Apart from politics, Lohani was famous in college for his skills in arranging cultural programmes and involvement in extracurricular activities which helped him to become a top cultural organiser of the country in his later life.
In 1955, Lohani left Pabna and came to Dhaka with only Tk 15. He chose journalism as his career and started working at the daily Millat newspaper as a sub-editor. He later worked in different newspapers including daily Azad, Sangbad, Purbadesh, and Barta as a senior journalist. He made significant contribution in the country's journalism for which he was awarded Ekushey Padak in 2015.
Lohani, an advocate for press freedom, had never bowed down to any unethical force in his illustrious political and journalistic life. During the presidency of Ziaur Rahman, Lohani was invited to be a part of the presidential entourage for a foreign tour. Lohani was told by government that he had to wear a suit instead of his regular attire, which he refused. In 1991, when BNP assumed office, Lohani was made director general of Bangladesh Shilpakala Academy. He later stepped down from the post protesting the misconduct of then state minister for cultural affairs.
Kamal Lohani will live on in the hearts of freedom-loving people of the country forever.