Sexual harassment, violence against women frequent at work
Speakers say at discussion by BILS and CARE Bangladesh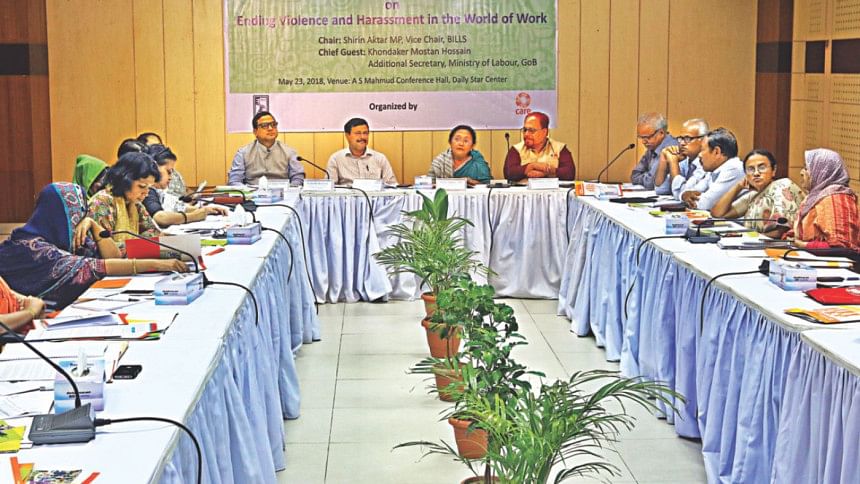 Speakers at a discussion yesterday urged the government to stress on preventing workplace violence and harassment while addressing labour issues in the upcoming International Labour Conference in Geneva next week.
They said a national-level policy will be required to tackle discrimination at workplace, adding that such policy will help ensure workers' dignity and boost their morale.
Bangladesh Institute of Labour Studies (BILS) and CARE Bangladesh jointly arranged the discussion on "ILO Convention on Ending Violence and Harassment in the World of Work" at The Daily Star Centre in Dhaka.
The 107th session of International Labour Conference, an initiative of International Labour Organisation (ILO), will be held from May 28 to June 8 in Geneva, Switzerland. Ending workplace violence and harassment is a key agenda of the conference.
A multi-ministerial delegation will represent the Bangladesh government at the conference.
Speakers said incidents of sexual harassment and violence against female workers are frequent in the country while their prevention is less.
BILS Executive Director Syed Sultan Uddin Ahmed urged the government to give utmost importance to workplace harassment at the ILO conference.
Khondaker Mostan Hossain, additional secretary to the Ministry of Labour and Employment, said 127 countries will attend this year's ILO conference where the Bangladesh government will try to raise its labour-related issues.
Bangladesh has made significant progress in improving workers' condition and emerged as a labour-friendly country, he said. He stressed the need for changing mindset to tackle workplace harassment.
Lawmaker Shirin Akhter said issues of workplace harassment, including those against women workers on public transports, have to be included as agenda in the meeting of related parliamentary committee.
Prabodh Devkota, assistant country director of CARE Bangladesh, said an incident of harassment creates negative impact on the worker and his or her family.
"Commitment from policymakers will be required to tackle workplace harassments," he said.
Bangladesh government needs to focus on implementing different labour-related international conventions which it ratified earlier, said Khondaker Golam Moazzem, research director of Centre for Policy Dialogue.
Jatiya Sramik League President Sukur Mahmud also spoke at the event.