Stop laying off media workers unethically
Journos announce tougher action if demands not met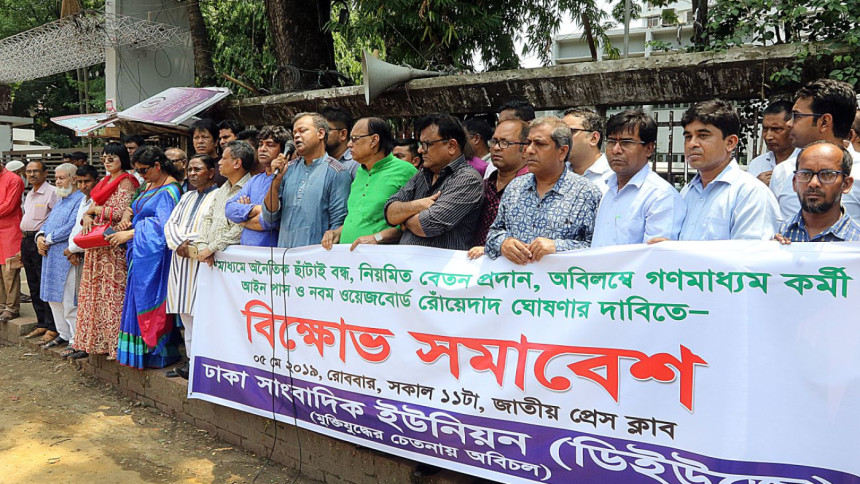 Journalist leaders yesterday threatened that they would go for tougher agitation programmes if their four-point demand, including gazette notification of the ninth wage board, is not met before Eid-ul-Fitr.
They came up with the warning during a demonstration in front of Jatiya Press Club.
The programme was organised by a faction of Dhaka Union of Journalists (DUJ).
Their other demands are: stopping unethical lay off of media workers, disbursement of regular salary and enactment of Media Employee Act, 2018.
Protesters demanded that media workers, who were sacked recently, be given all their dues as per rules of the current wage board. They also spoke out against the process of laying off media workers.
Journalist leaders also announced a bigger demonstration today at the same venue, involving most of the journalists' organisations, to press home their demands, said Mollah Jalal, president of a faction of Bangladesh Federal Union of Journalists (BFUJ).
Speaking at the programme, Shaban Mahmud, secretary general of BFUJ, said no journalists can be sacked illegally under the pressure of media outlet owners.
"Journalists are appointed through a proper process, so why should they be terminated with the excuse of profit and loss?" said Syed Istiaque Reza, vice president of BFUJ.
Stressing the importance of the Media Employee Act, DUJ President Abu Jafar Surja said electronic media owners would not be able to suddenly close down news section if the law is enacted.