Ratargul watchtower becomes 'risky', closed off to tourists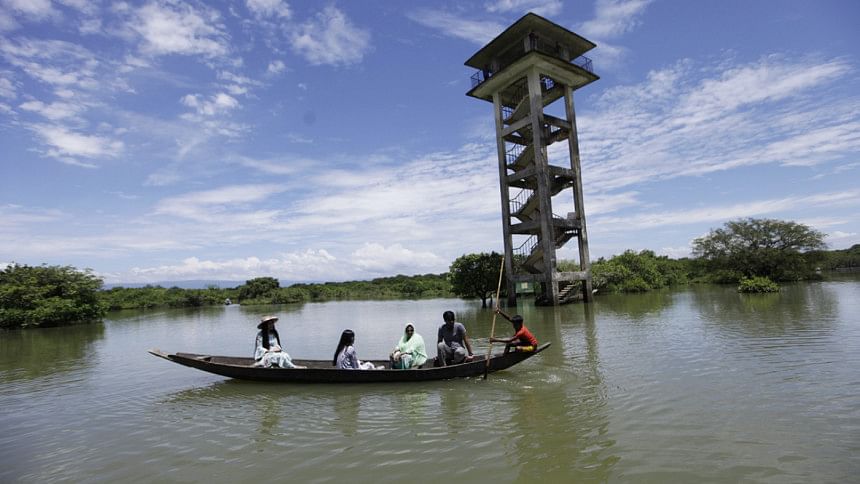 A watchtower has became risky only six years after it was constructed right in the middle of the core zone of Ratargul Swamp Forest in Sylhet.
The Forest Department yesterday banned climbing up to the tower for tourists visiting the country's most popular freshwater swamp forest.
Saad Uddin Ahmed, forester of Sylhet Forest Division, said, "It [the watchtower] has been risky for a long time and we earlier put up a signboard instructing that only four to five persons can climb up at a time."
"But, it never worked well; sometimes ten times of the instructed number of tourists climb up to the tower on a regular basis, making it vulnerable," he told this newspaper.
"That's why we have closed the watchtower for tourists and the order will be effective until further notice," Saad added.
Ratargul Swamp Forest -- sprawling 504.50 acres of land in Gowainghat upazila of the district -- was declared as "Reserve Forest" in 1973 and went into oblivion for decades.
After a few media reports published in 2012, the forest caught tourists' attention and thousands of people started visiting the spot every year to enjoy its unique biodiversity.
The increasing number of tourists poses inevitable risk to the forest and the environmentalists started protesting, but the Forest Department started cashing in on the situation.
To promote tourism, the department constructed the watchtower and several other structures in the forest at Tk 90.62 lakh, according to official records.
Anis Mahmud, an organiser of Bhoomishontan, a Sylhet based green organisation, said, "Since the very beginning, we protested the Forest Department's decision to set up the watchtower in the core zone of the forest without consulting with experts."
"Now, imposing a ban on climbing up it proves that their decision was completely wrong and meant for personal benefits," he said.
Forester Saad Uddin Ahmed said, "We will be seeking attention of the higher authorities so that they consult with engineers. We think, after repair or reconstruction, it can be reopened for tourists."