Modernise, reopen jute mills: workers' platform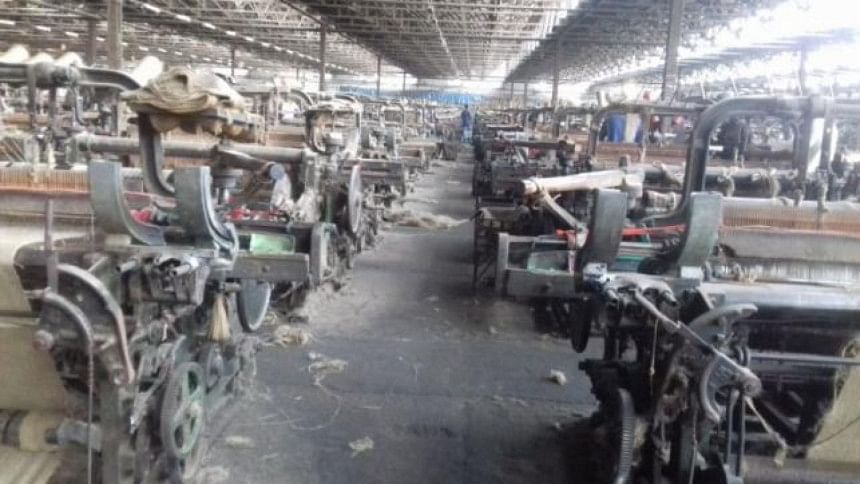 A workers' platform yesterday urged the government to immediately modernise the state-owned jute mills and reopen those, saying that resumption of the mills will ensure employment of about 75,000 workers.
Paat-Shuta O Bostro Kol Sramik Karmachari Sangram Parishad suggested that the government modernise the mills as per a proposal made by the Chinese government.
The parishad made the demand during a press conference at Dhaka Reporters Unity in the capital.
The government on July 2 last year decided to shut down production at 25 state-run jute mills under Bangladesh Jute Mills Corporation by providing cent percent dues of some 25,000 workers, says a UNB report.
The decision came at a meeting at the Gono Bhaban, with Prime Minister Sheikh Hasina in the chair.
Briefing reporters at the Prime Minister's Office, the premier's Principal Secretary Ahmad Kaikaus said cent percent dues of workers would be given at the quickest possible time and it would require Tk 5,000 crore.
He also said the 25 mills would be reopened after refurbishing those with modern technologies under different types of ventures -- PPP, G2G, joint venture or lease model.
In 2016, China agreed to fund, among others, a project for "balancing, modernisation, rehabilitation and expansion of public sector jute mills".
At yesterday's press conference, Shahidullah Chowdhury, convener of the parishad, said the government shut down the jute mills when there was a possibility of rise in global jute products demand amid the coronavirus pandemic.
"It has been six months into the closure but there is no buzz at all to reopen the mills," he said.
Only privately-owned jute mills are operational in the country at present, said Kamrul Ahsan, a joint convener of the parishad.
It is essential to take a rigorous policy to increase export-oriented jute industry production, he said, reading out a written statement.
At the event, the parishad also demanded for upgrading seven state-owned textile mills, and due payments of workers of jute and cotton mills.