Mechanism to implement Nat'l Building Code absent
Experts say buildings constructed without compliance pose threat to life and environment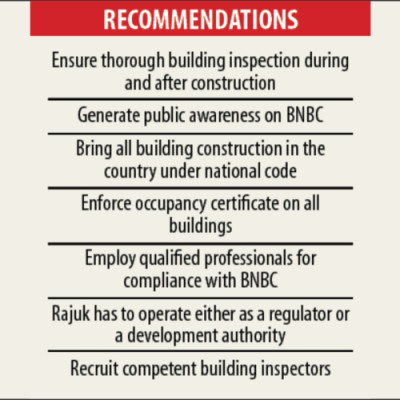 Unnumbered buildings are being constructed in the country without compliance with the National Building Code, posing threat to life, property and environment, experts said at a discussion in the capital yesterday.
This is happening in absence of a mechanism to implement the Bangladesh National Building Code (BNBC), though the code was legally made mandatory in 2006, they said.
"The foremost barrier to implementing the building code is the lack of a nationally-applicable legal framework," said M Abu Sadeque, former director of Housing and Building Research Institute.
Bangla daily Prothom Alo, along with Rajdhani Unnayan Kartripakkha (Rajuk), International Code Council and Smart Development Engineering Limited jointly organised the discussion on 'Application of building code and implementation strategy' at its Karwan Bazar office.
The amended building construction rules of 2008, meant for the capital city, is also followed by Chattogram Development Authority, he said.
The BNBC cannot be enforced across the country without building construction rules applicable nationally, said Sadeque, also a technical expert on updating the code.
At present, there are no authorities in the country to check whether the structural and electro-mechanical designs of a tall building are code-compliant, he said. How can the BNBC be implemented under the circumstances, he wondered.    
As for the capital, M Abu Sadeque said, Rajuk too cannot enforce the code as a regulatory authority as long as it remains a development authority.
That apart, there are various authorities like PWD, LGED, Cantonment Board and public universities, including Dhaka University and Buet, that approve their respective buildings, he said. "How can the code be enforced evenly across the country?" he asked.
"Repeated building disasters overwhelmed the nation time and again due to construction in violation of BNBC," said Brig Gen (retd) Ali Ahmed Khan, former director general of Fire Service and Civil Defense.     
Noted civil engineering educator and National Professor Jamilur Reza Choudhury said that tall buildings are also being constructed in rural areas nowadays, without any regulations.
So, the proposed Building Regulatory Authority has to be instituted immediately to enforce the BNBC countrywide, he said, adding that innumerable buildings will be constructed out of BNBC purview if different authorities are allowed to construct buildings at will.
While hundreds of building are being constructed at district and upazila levels, there is no obligation to abide by building code or building rules, said eminent planner-architect Salma A Shafi. Union Parshad or municipality issue a mere administrative approval for building construction, she added. "A radical positive impact may take place in the country's building construction landscape if even the existing building code is enforced accordingly," said SK Ghosh, team leader of Rajuk's Urban Resilience Project. Khan Mahmud Amanat, a professor of structural engineering at Buet, said authorised professional supervision during building design and construction is a must to make sure the structural, electrical and mechanical designs of a building are compliant.
Building construction at will without a licensed contractor must stop once and for all, he said.
It has to be clearly defined immediately whether an authorised officer or a building official, as proposed in the BNBC, is to approve a building, said Md Emdadul Islam, former chief engineer of Rajuk.       
Jalal Ahmed, president of Institute of Architects Bangladesh; FR Khan, managing director of Building Technology and Idea; Swarna Kazi, senior disaster management specialist of the World Bank's Dhaka office; and Abdul Latif Helali, project director of Rajuk's Urban Resilience Project, spoke, among others.
Prothom Alo Associate Editor Abdul Qayyum moderated the discussion.