Indigenous Communities
Lack of education, jobs pushing them to ultra-poverty: MJF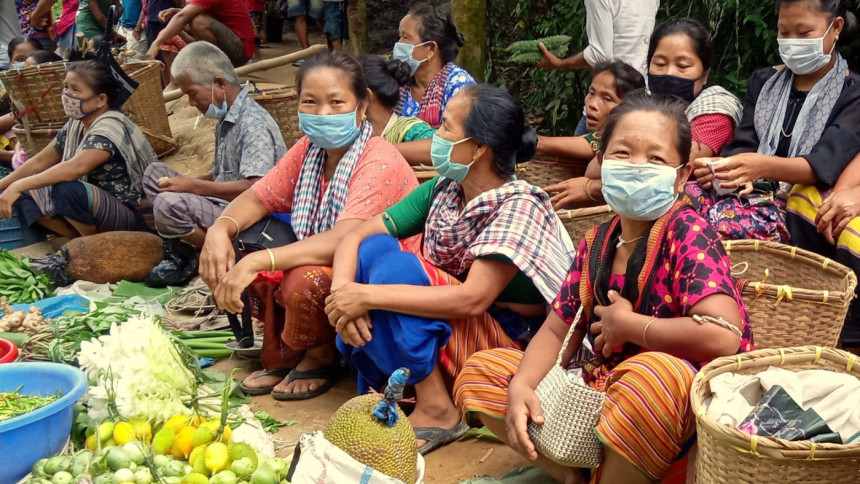 Due to lack of education, indigenous people living both in plainlands and hill tracts are continuously being deprived of job opportunities, which is pushing them to ultra poverty, a study has found.
The number of ultra-poor among indigenous people is higher than the national rate of ultra-poor, according to the study by Manusher Jonno Foundation (MJF) titled "'Understanding the Dynamics of Livelihood of the Indigenous Population: Chittagong Hill Tracts and Plain Land".
The research was conducted jointly by professor of Dhaka University Sadeka Halim, assistant professor of Dhaka University Debasish Kumar Kundu, and senior research associate of Brac Mrinmoy Samadder on 505 indigenous people of both hill tracts and plainland of five districts -- Rangamati, Bandarban, Khagrachhari, Rajshahi and Nogaon.
Most respondents of the study were males who live on agriculture, cattle farming and day labour.
According to research findings, indigenous people of plainlands are poorer than their counterparts of Chittagong Hill Tracts (CHT).
The highest of 66 percent of indigenous families in Rajshahi were found poor, followed by 62 percent families in Naogaon.
On the other hand, the percentage of poor families in Bandarban, Rangamati and Khagrachhari are respectively 39, 40 and 41.
Since the indigenous people could not cope up with the modern agriculture system, they are lagging behind in crop production.
"It has made them dependent on loans," reads the study.
On Wednesday night at in a webinar, Professor Sadeka Halim pointed out the research findings.
She said indigenous people of plainlands are less educated than their counterparts of hill tracts. About 21 percent of indigenous people from hill tracts were found to be educated, whereas the number is only 16 percent for indigenous people of plainland.
However, only three percent of indigenous people of hill tracts get opportunity to continue study at tertiary level.
"The situation is dire among the indigenous people of plainlands. Half of the respondents of Naogaon said they could not take admission at primary schools," said Prof Halim.
Researchers recommended providing motivation to indigenous people on animal husbandry and adopting modern agricultural practices.
They asked both government and private organisations to take effective measures to ensure their education and design a dedicated social safety net programme for indigenous people.
Among others, lawmaker Fazle Hossain Badsha, Pro-Vice Chancellor of Dhaka University AKM Maksud Kamal, Raja Devasish Roy, Dhaka University's Prof Dr Niaz Ahmed Khan also spoke.
MJF Executive Director Shaheen Anam delivered welcome speech at the event.