Durga Puja Amid PandemicAminul Islam, Mymensingh
Hard times for rhythmic instrument makers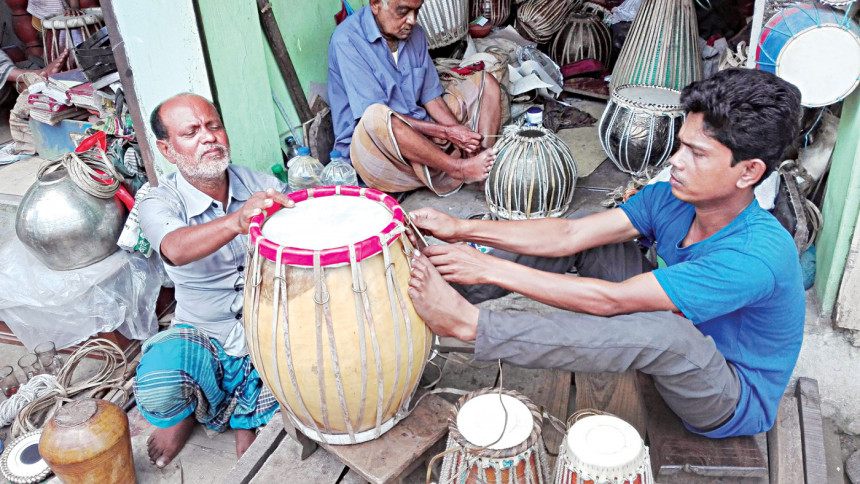 With artisans busy making and repairing musical instruments, walking around many roads in Boro Kalibari, Boro Bazar and other areas in Mymensingh city, passers-by are usually greeted with a rhythmic sound around this time of the year, ahead of Durga Puja.
But not this year though. Due to the pandemic, the festival will be celebrated on a limited scale. As a result, there is less demand for orders for dhol, dhak (big drum), mridanga (a two-faced drum played with hands), khol, dholok, dugi, khamok, naal, tabla and khonjori.
Durga Puja, one of the biggest religious festivals of the Hindu community, will be held from October 22 to 26.
Visiting the areas recently, this correspondent saw that the artisans were worried and passing time in idle.
"Usually, orders for repairing old instruments and making new ones increase in the run up to Durga Puja," said 82-year-old Narayan Chandra Das, a veteran percussion instrument maker.
He said they hardly got orders this year.
Narayan runs his workshop -- "Taal Torongo" -- in Boro Kalibari area with his son and grandson. "We have been out of work for more than five months and were hoping to cover our losses during the puja."  
Narayan informed last year they had 30 orders just for dhak. This year, it's only eight for dhak and six for dhol so far.
Before, kirtan (devotional songs) performers or kirtaniyas, who perform at different temples during the puja, used to throng the workshops to repair their old and damaged instruments. They are also struggling to get work this time around.
The price of these musical instruments is almost same like last year. A dhak is being sold at Tk 8,000-12,000; khol at Tk 2,000-5,000 while dholok at Tk 2,000 -4,000.
Artisan Sandu Das of Garpara in Manikganj said he used to remain busy with making small rhythmic instruments like dugi, khamok, naal, tabla and khanjani round the year as people bought them during fairs and other festivals. "But sales almost dropped to zero this year due to the pandemic."