Govt mulls shortened primary school syllabus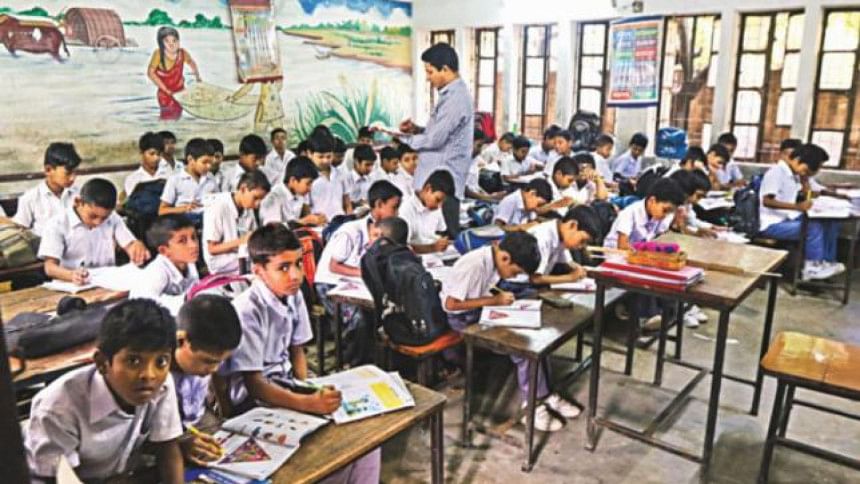 The government is planning to shorten the primary school syllabus as coronavirus pandemic is badly affecting academic activities and with no certainty over school reopening.
To this effect, the Directorate of Primary Education (DPE) and National Academy of Primary Education [NAPE] are working.
NAPE and DPE are preparing a short syllabus prioritising the important chapters and class-based basic competencies of the students, considering that the schools will reopen in September.
"We have asked the DPE and NAPE to shorten the syllabus after calculating on how many classes the students can get if the schools reopen in September," said State Minister for Primary and Mass Education Zakir Hossen yesterday.
Addressing a webinar organised by Education Reporters Association of Bangladesh on the challenge of Covid-19 on primary education, Zakir Hossen also said DPE and NAPE are working on how the Primary Education Completion and other final exams can be taken.
He said NAPE and DPE were asked to emphasise taking measures so that students can achieve class-based fundamental competence and to identify the important chapters that have co-relation with topics of next classes.
The government extended closure of all educational institutions, which have been closed since March 17, until August 6 as a preventive step against the novel coronavirus outbreak.
On April 27, Prime Minister Sheikh Hasina said the educational institutions may stay closed until September if the Covid-19 situation does not improve.
Educational activities of about 1.5 crore primary level students are being hampered due to the coronavirus crisis.
The pandemic has also caused a delay in holding the first terminal exams of primary schools.
Many guardians worry about the Primary Education Completion examination and other final exams.
"We are yet to take any decision on reopening schools," said Zakir.
"We do not want to cancel PEC exam so far. We have a plan to form a board to make exams up-to-date," he added.
Zakir said extension of academic year to the February 2021 can be another alternative option.
When contacted, NAPE Director General Shah Alam told The Daily Star that they are working on to make the syllabus shortened to ensure that the students do not lose academic year.
"Exams will be held on completion of the syllabus. If we do not get any time to ensure classes we might reduce exam marks [now 100 for each subject]," he added.
At the webinar, Primary and Mass Education Senior Secretary Akram-Al-Hossain and DPE Director General Md Fashiullah said the government is going to ensure education through radio and introduce a national toll free education hotline beside online and TV lesson, to recover academic losses.
Campaign for Popular Education Executive Director Rasheda K Choudhury said the government should consider health safety of students and other issues before reopening of schools.
She also urged the government to sit with the authorities of kindergarten schools and give them interest free loan as they are facing financial hardship amid the coronavirus crisis.