Former Ducsu VP Nur formally released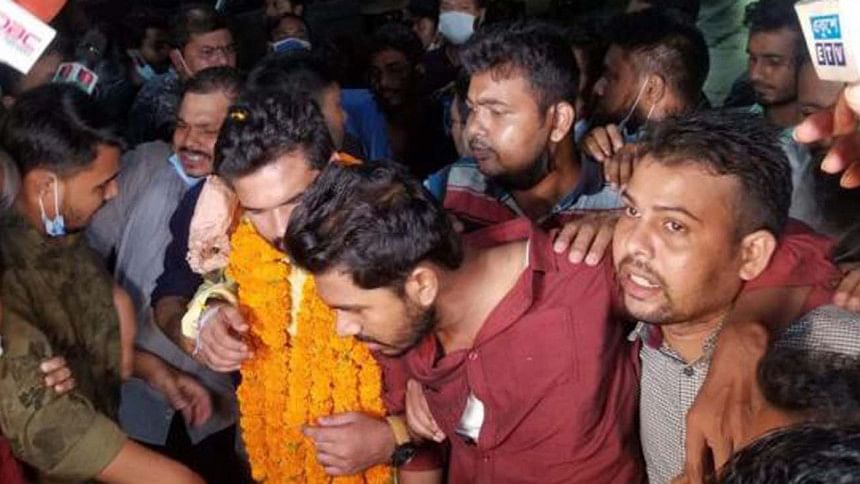 Former vice president of Dhaka University Central Students' Union (Ducsu) Nurul Haque Nur was formally released around midnight.
He had been taken by police to the Detective Branch office in the capital's Mintoo road from Dhaka Medical College Hospital (DMCH) to "complete the formalities of his release", said Walid Hossain, deputy commissioner (media) of Dhaka Metropolitan Police.
Nur reportedly fell ill following his detention by Detective Branch of Police yesterday evening.
Around 9:45pm, Nur, along with some others, came to DMCH to be treated, reports Bangla daily Prothom Alo quoting Bachchu Mia, in-charge of DMCH police outpost.
They sustained injuries during a scuffle with law enforcers, the police official said.
Contacted, Mahbub Alam, joint commissioner of the Detective Branch of Police, said all seven, including Nur, were 'officially released'.
Nur was having breathing difficulties due to his asthma and was taken to DMCH by DB personnel, Mahbub Alam said, adding that the former Ducsu VP will be escorted to his residence.
Nur, along with six members of Bangladesh Sadharon Chhatra Odhikar Songrokkhon Parishad, was detained from Matsya Bhaban area in the capital while he was protesting a rape case filed against him and six others with Lalbagh Police Station.
Nur and the others were detained for protesting unlawfully, said Walid Hossain, DC (media).
Earlier in the day, UNB reported that a rape case had been filed against six people, including Nur.
A female student of Dhaka University filed the case against them with Lalbagh Police Station on Sunday night, said Officer-in-Charge KM Ashraf Uddin.
According to the case statement, the complainant was allegedly raped by Hasan Al Mamun, convener of Bangladesh Sadharon Chhatra Odhikar Songrokkhon Parishad, reports the Bangla daily Prothom Alo.
The victim in the case statement alleged that Mamun had promised to marry her but refused later on. Nur, in the name of arbitration over the matter, 'threatened her of character assassination through posts on social media'.