Ensure alternate livelihood for fishermen during bans
Speakers urge govt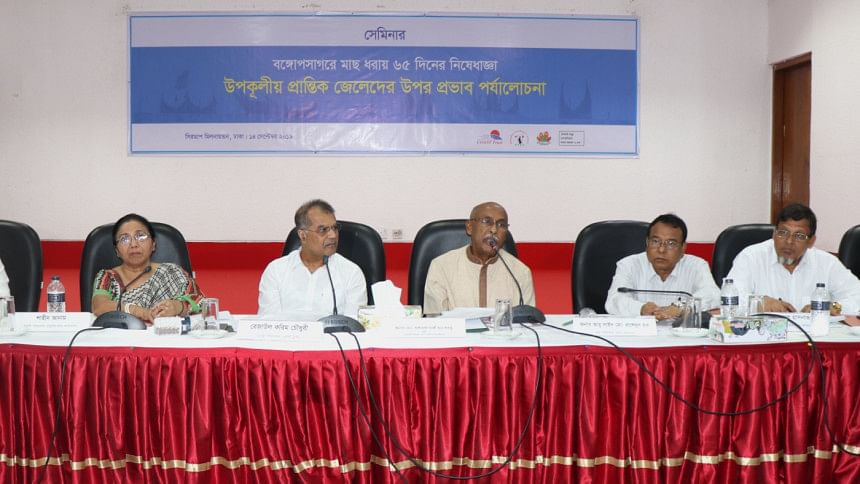 Speakers at a seminar yesterday urged the government to ensure alternative livelihood for fishermen while imposing bans on fishing, to help them lead a normal life along with their family members during those days.
There is no doubt that the bans have a positive impact on increasing the country's fish production. But during the ban, most fishermen remain jobless and pass a miserable life because of financial hardships, they said.
Coastal Association for Social Transformation (COAST) Trust, a non-government organisation, in association with Manusher Jonno Foundation (MJF) and Bangladesh Fish Workers' Alliance organised the seminar on the impacts of fishing ban at Cirdap auditorium.
The government imposes a number of bans on catching, transporting and selling fish from natural waterbodies -- like river and sea -- at different times every year to ensure safe breeding and spawning of fish and protect their fries.
Among them, a 65-day ban on fishing from the Bay of Bengal [May to July] and another 22-day ban on fishing hilsa [October] are the major ones.
Speaking at the event, Shaheen Anam, executive director of MJF, said Bangladesh has made significant progress in fish production in the recent years, and the fishing bans have a significant contribution to it.
But at the same time, the bans make a particular group of people [fishermen] suffer, which is also not expected, she added.
"We need a long-term plan to solve the issues… Ensuring alternative livelihood for the fishermen and providing them sufficient allowance can help in this regard," said Shaheen Anam.
Ashraf Ali Khan Khasru, state minister for fisheries and livestock, said the bans are imposed to increase fish production, which will ultimately benefit the fishermen more than the government.
"Many countries around the world are struggling to produce adequate fish because of unregulated collection. We don't want to fall into such a situation. So, we have to remain cautious," he said, in his speech as chief guest.
About fishing in Bangladesh's territory by Indian vessels, the state minister said a few Indian fishing boats cross the maritime border sometime, but they have been driven out.
He also said irregularities in distribution of food support to fishermen during the ban has reduced significantly in the recent times.
Abu Sayed Md Rashedul Haque, director general of the Department of Fisheries; and Rezaul Karim Chowdhury, executive director of COAST Trust, also spoke at the programme, among others.