62pc males believe women 'deserve to be beaten at times'
Reveals nationwide survey by Brac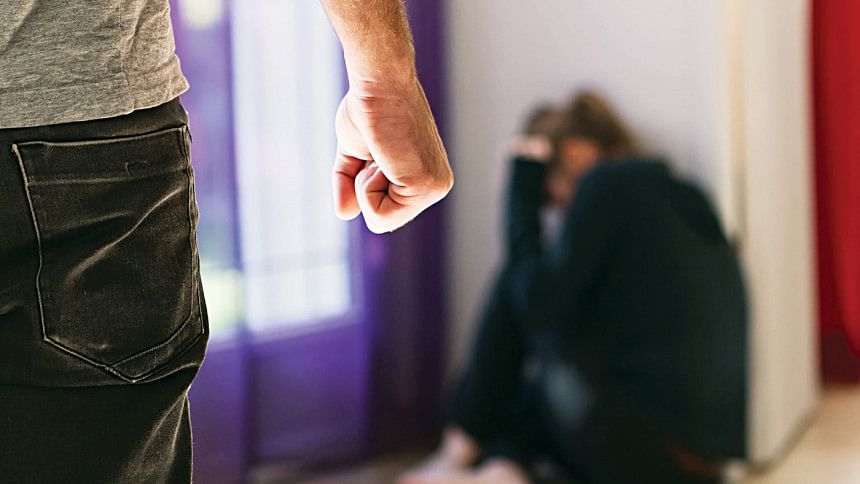 A nationwide survey has found evidence of implicit or explicit support for domestic violence against women. The all-male survey, titled "Male Youth and Their Sexual and Reproductive health and Rights (SRHR) in Bangladesh", found that 63 percent men agreed to the fact that "A man can hit his wife if she does not have sex with him", while 62 percent believe that "There are times when a woman deserves to be beaten."
The findings were shared at a webinar yesterday organised by Brac James P Grant School of Public Health.
The study was conducted through systematic random sampling from 81 urban and 289 rural clusters across 64 districts, where 11,102 male respondents aged between 15 and 24 participated.
The study also found that 30 percent young males in Bangladesh find a female smoker or drinker more readily agreeable to sexual advances.
Of the participating males, 27 percent said they had not heard the term 'family planning', while only six percent ever consulted a doctor, nurse, or health professional for sexual health-related problems at least once, while most reported their first points of contact as kobiraj, homoeopathy doctors, or the local medicine dispensary.
Besides, 28 percent of participants said that sexually transmitted diseases are a result of weak faith or the "evil eye".
The survey, funded by the Embassy of the Kingdom of the Netherlands in Bangladesh in Bangladesh was conducted to understand the perception, practices, and challenges in accessing Sexual and Reproductive Health (SRH) services for male youth and to map the existing SRH interventions and review existing SRH Rights policies.
The study also found that male SRHR issues are comparatively less elaborately discussed in textbooks compared to female SRHR issues. It also said that teachers are not adequately sensitised to these issues, which is one of the reasons why they are mostly ignored in the classrooms.
Respondents agreed to this and expressed demands to urgently tailor and implement male SRHR programs. Researchers said this requires more funds, more training programs, and more skilled SRHR personnel in the field level.
The study also recommended all-inclusive national policies for male SRHR issues. Besides, more community-based research on males to generate evidence for policymaking, inclusive SRHR laws, teachers' training, a comprehensive SRHR chapter in the national curriculum was some other recommendations for the policymakers.
Sabina Faiz Rashid, SRHR researcher and dean of BRAC James P Grant School of Public Health, and Mushfiqua Zaman Satiar, senior policy adviser, SRHR and Gender, Embassy of the Kingdom of the Netherlands in Bangladesh urged journalists to take these findings to policymakers and the public so that they can realise the importance of male sexual and reproductive health rights.