StanChart to launch 'Symphony' band music competition for corporates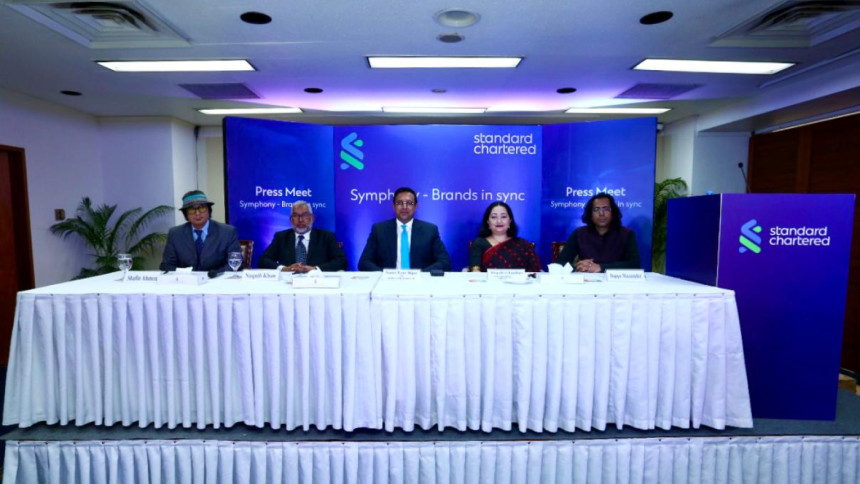 Standard Chartered Bangladesh will soon launch a band music competition "Symphony- Brands in Sync" exclusively for their corporate clients to help them showcase their musical talents. 
Naser Ezaz Bijoy, chief executive officer of Standard Chartered Bangladesh, made the announcement at a press conference at the Pan Pacific Sonargaon Dhaka today.
"We are proud to unveil our newest initiative 'Symphony- Brands in Sync', a platform that we believe will help the participants showcase their musical talents and creativity and give us all an opportunity to connect with a new vigour and passion in new normal world," said the bank's CEO.
"I urge all our corporate client bands to register for this competition, and we will set a stage for you to showcase your talents."
Popular musicians Bappa Mazumder, Naquib Khan and Shafin Ahmed will be associated with this platform as mentor and judge.
"We should try to nurture our passions and make time for pursuing them despite our other commitments. I am excited to be a part of Symphony and look forward to discovering new talents," said Naquib Khan.
"This competition will allow the corporate musicians to express their creativity and fulfil their love for music. I hope we will be able to help these talented musicians from the 'Symphony - Brands in sync' competition keep their dreams alive," said Bappa Mazumder.
"It's wonderful that Standard Chartered is launching a unique platform, and I am really pleased to be a part of it. I hope that this platform will see several talented musicians bringing their passion to the national band music stage," said Shafin Ahmed.
Corporate clients of Standard Chartered can register their in-house band through the relationship managers of the bank. 
The competition is divided into two segments, where the lender's corporate clients can register bands and submit their pre-recorded audio tracks.
Shortlisted bands will have mentoring sessions with the musicians before their live performance in the grand finale to be held in January.
The winner, runner-up of this competition will be awarded with trophy and medals.
There will also be awards for winners of individual performance category-- best vocal and best drummer.
Bitopi Das Chowdhury, country head of corporate affairs, brand and marketing of the bank, was present at the press conference.