Remittance hits $2b mark for third straight month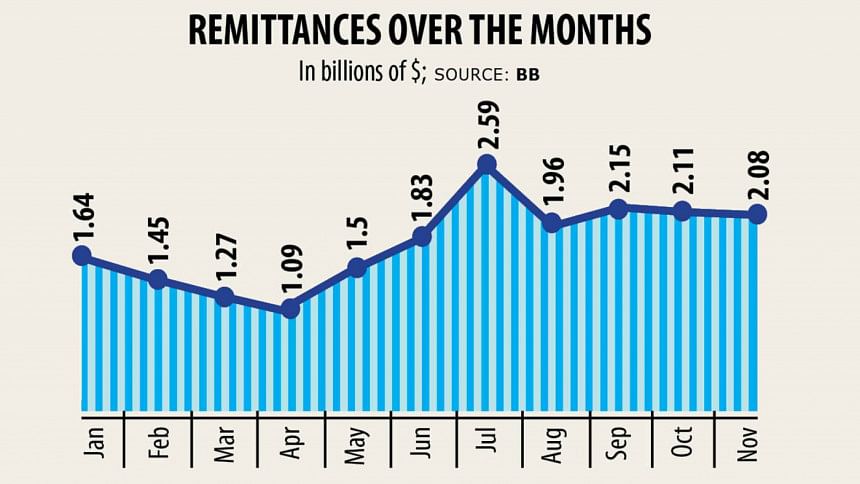 Bangladesh has once again gone past the $2-billion mark in remittance income as migrant workers continued to send home a massive amount for the third straight month.
In November, migrant workers remitted $2.07 billion, up 34 per cent year-on-year, showed Bangladesh Bank data.
However, last month's figure is slightly lower compared to the previous month when the inflow stood at $2.11 billion.
The Bangladeshi diaspora continues to prefer the formal channel in sending their money due to the global hundi cartel turning ineffectiveamidst the coronavirus pandemic, said experts.
The increasing trend in remittance has given a huge respite to the government with regard to managing its external sector from the ongoing economic hardship.
Experts hope that the trend would be maintained in the coming months given the global economic scenario and the initiatives taken by the government.
The country's workforce export has almost come to a halt since April because of the pandemic, which forced both Bangladesh and the destinations, where its workers are based, to impose lockdowns and restrictions on movement to keep the deadly flu at bay.
Between January and March this year, a total of 181,218 Bangladeshi citizens went abroad, according to data from the Bureau of Manpower, Employment and Training (BMET).
No data is available on the BMET website for April onwards.
On average, the country sends workforce abroad in the range of 7 to 8 lakh people per year. Last year as much as 700,159 workers went to different countries to manage job.
The stagnation of hundi, an illegal cross-boundary financial transaction, has pushed the country's remittance up, said Zahid Hussain, a former lead economist at the World Bank's Dhaka office.
The act of sending workers to foreign nations has almost come to a stop due to the ongoing business slowdown, he said.
"The financial transaction for the export process of workers is usually settled through hundi," he said.
In addition, money laundering through imports has been almost brought to an end in recent months, he said.
A vested quarter usually dodges taxes by way of under-invoicing while settling imports, Hussain said.
This was echoed by Ahsan H Mansur, executive director of the Policy Research Institute of Bangladesh.
A good number of migrant workers will not go back to the hundi system after the pandemic as they now feel secure and comfortable by way of using the formal channel.
Diversion to formal channels for difficulties in carrying money under travel restrictions amid the pandemic and recent flood damages helped Bangladesh bring remittance flow back to the positive in 2020, according to a recent World Bank statement.
In addition, the widespread use of digital technologies now encourage migrant workers in sending money through formal channels as well, said Mansur, also a former high official of International Monetary Fund.
The platform of mobile financial service (MFS) is gradually turning into one of the pivotal centres for transferring money from foreign nations, he said.
"Along with the migrant workers, some expatriate Bangladeshis, who run businesses abroad, may also have transferred funds to the country as part of their portfolio investment," he said
A portfolio investment is an ownership of a stock, bond, or other financial assets with the expectation that it will earn a return or grow in value over time, or both.
It entails passive or hands-off ownership of assets as opposed to direct investment, which would involve an active management role.
"Many countries in North America and Europe have already entered into the deadlock of a zero per cent interest rate. A country usually will take several years to get rid of such a situation," Mansur said.
This has also created a deflation in the countries in the two continents.
Given the experiences of countries that had earlier faced deflation, an economy requires at least three to four years for the moribund state of affairs to fade away.
So the Bangladeshi diasporas now send money as the interest rate on deposit products offered by local lenders is much higher than those in the countries they are now based in.
Mansur went on to express the hope that the upward trajectory of remittance will continue for at least five to six months.
The two per cent cash incentive introduced by the government last year has also encouraged the expatriate Bangladeshis to send more money through the formal channel, said Syed Mahbubur Rahman, managing director of Mutual Trust Bank.
Between July and November, remittance hit $10.90 billion, up from 41.32 per cent year-on-year.
This has had a great impact on the country's foreign exchange reserve.
The reserve stood at $41.18 billion as of November 25 in contrast to $31.72 billion one year earlier.