COMMERCIAL OP-ED
Pioneering change: the inspiring stories of Kamal Quadir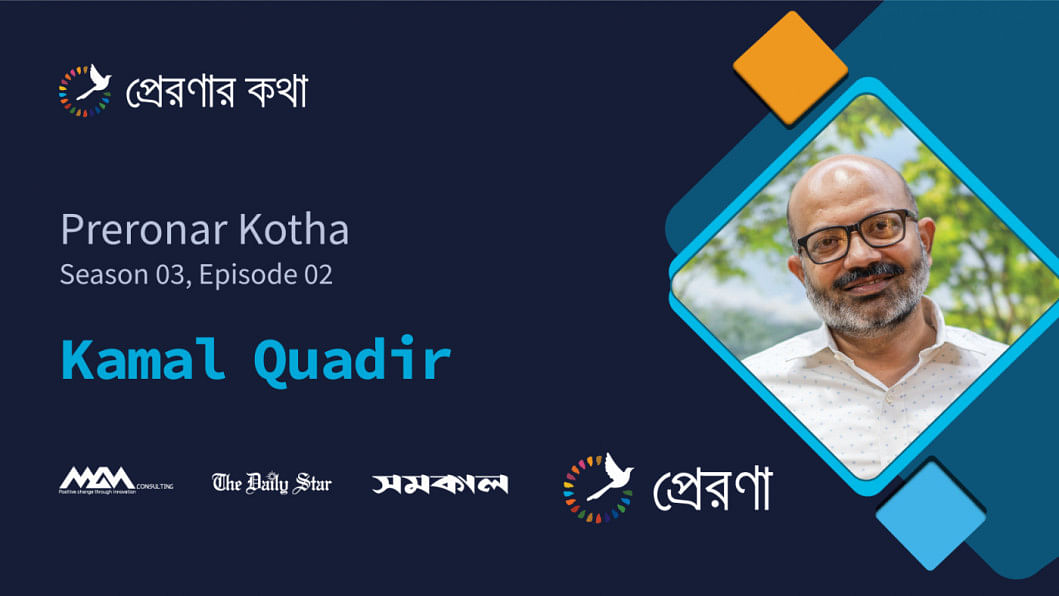 Even a few years ago, financial transactions through mobile phones seemed like an unthinkable, far-fetched idea for Bangladesh.
The guest of Preronar Kotha Season 03, Episode 02 is a person who has not only done the impossible, but has been a catalyst in transforming the landscape of the country's financial sector, enabling 50 million Bangladeshis gain access to financial services through their mobile phones.
The person in question is Kamal Quadir, the founder and chief executive officer of the country's pioneering mobile financial services (MFS) company, bKash.
Kamal Quadir founded bKash in 2010, as a subsidiary of Brac Bank, with just 37 employees. Under his leadership, bKash has now grown to be one of the top fintech companies in Bangladesh with a workforce of more than 1,700 employees and 300,000 agents.
Recently, bKash has also become the first unicorn startup company of Bangladesh.
The staggering growth of bKash, its stellar successes in the last 11 years are stories of an awe-inspiring journey by Kamal Quadir and his bKash team.
In his interview with Preronar Kotha, Kamal Quadir shared with us the remarkable stories of how bKash came to be, along with stories about his own childhood, the passion that drives him, and words of inspiration for the youth of Bangladesh.
Kamal Quadir was born in 1971, the same year Bangladesh gained its independence. He grew up in Jashore, the youngest in a family of ten siblings.
His father had passed away in 1972, and after that, his mother raised the family with a strict code of discipline.
About his childhood, Kamal Quadir reminisced, "For us, the rule was to return home before the evening prayer of Maghrib. And I have never stayed outside home after the Maghrib prayer. . . "
"Since childhood, I have never stayed asleep after six in the morning. In Jashore, I studied in a local Catholic school . . . The teacher who used to tutor me at home, Tarapad Das, had a profound influence on me . . . Jashore city has a public library . . . It was established in 1857, and maintains a very good catalogue of books. The public library had a very important role in my life."
After completing his education in USA, with degrees in economics and arts, Kamal Quadir returned to Bangladesh, with an intention to make an impactful contribution to the progress of his homeland.
With regard to forgoing the prospects of a formidable career and the quality of life abroad, Kamal Quadir said, "I have always carried Bangladesh in my heart. Not that I left the country at a young age. I was in my late teens. So, life in Bangladesh always had a place in my mind. The affection for home was there, and the heart always yearned the same."
"I had the chance to know people, who were instrumental in building this country. Their influence had made me want to follow in their footsteps. I also realised that my area of interest could create a huge impact, if I start working in Bangladesh."
bKash started out as a result of innovative thinking. Today, his brainchild is the country's largest mobile financial service provider.
While discussing his plan in establishing a technology-based platform in Bangladesh, he said, "When studying abroad, I found myself in a place where discussion on technology was frequent and so was the exposure to it."
"There are few basic technologies that are ubiquitously available to everyone. Mobile phone is definitely one of those few. The concept of bKash was built on the idea of optimising the use of mobile phones by the mass people."
bKash, however, was not the first entrepreneurial venture by Kamal Quadir. Before bKash, he was associated with CellBazaar, one of the first e-commerce enterprises in Bangladesh and the most used online marketplace to buy and sell, at the time.
"Earlier, in 2005, I had been with a company called CellBazaar. I started with the company while still a student . . . From my experience of CellBazaar, I had realised that everyone owns a mobile phone, and it does not matter if the handset is a cheap one worth USD 10 or an expensive one- if we can design a product or service around this technology, which also serves the customers' needs, it is possible to offer a financial service to everyone, regardless of the price of the phone itself."
"So, we thought of creating a platform along this concept. That is how, after CellBazaar, the concept evolved into the idea of bKash. A similar service was already available in Kenya. I had been to Kenya a few times between 2008 and 2009. Then I spoke to Sir Fazle Hasan Abed. He proposed to use BRAC as a platform," said Kamal Quadir.
In talking about how the bKash we know today came about Kamal Quadir acknowledged the hard work his team had put to make this project possible.
"I would have to acknowledge the willpower of some of my colleagues, their eagerness in nation-building that made all of this possible. They have worked days and nights behind this."
"And I think, if we had not done this back in 2010, somebody else would have done it anyway. Why would something like this not happen in Bangladesh? In a country where everyone has access to mobile phones, people have basic education, a country that has a national database and where information can be used to identify customers– an innovation like bKash would have happened at some point in time. And I am happy and thankful to the Almighty Allah that I had the opportunity to work and make this happen," he said.
In discussing the challenges of translating business ideas into business ventures, Kamal Quadir shared a valuable lesson for the young entrepreneurs, "Idea represents only 1 percent, 99 percent is about implementation. There could often be stumbling blocks in the way of good ideas, but life is full of obstacles anyway. So, there is no need to feel disheartened."
"If one idea does not work, another will. And sometimes, you would be working on an idea, only to find out there is someone else working on the same idea. This is normal. It is improbable to assume that only you can brainstorm ideas, and others cannot."
When asked whether having a foreign academic degree determines the success of an entrepreneur looking to raise funds for their venture, Kamal Quadir replied, "Off the 500 Fortune companies in USA, perhaps the CEOs of at least 100 businesses do not possess a formal degree from college. So, your academic qualifications, your degrees are not necessarily the most important factors when it comes to doing business."
"The basics of your education start from your home, and that is where you develop your ability to think and rationalise ideas. But, well. I do not want to undermine the advantages of getting started off with a good school. It definitely is beneficial, but it does not mean, one cannot make do otherwise."
In his Preronar Kotha interview, Kamal Quadir shared his opinion on how today's youth can adapt to the prevailing technological advancements and prepare themselves better with essential skillsets.
He said, "I think Business Administration is a very good subject. But I do not suggest everyone to follow this discipline. Studies involving Science and Humanities should be considered instead. Business Administration has been a relevant subject for long. The country is making progress now. The economy is growing. It is important that we highlight our achievements. And after a certain level, we have to start focusing on the fundamentals. We would have to prioritise developing our scientific knowledge."
He further added, "A few decades back, a foreign investor interested in Bangladesh would seek information on acquiring land, getting the utility facilities right. Now, they will seek information on what courses of Computer Science are being taught here in the universities. I think these are the fundamental subjects that we need to focus on to upskill our future generations."
Talking about the values he follows in his life and as reflected in his work, Kamal Quadir said, "There is no alternative to hard work. No matter how talented you are, you cannot substitute the need for hard work."
The interview was conducted by Dr Melita Mehjabeen. The interviewer is a professor of the Institute of Business Administration under the University of Dhaka as part of "Preronar Kotha", a thought leadership broadcast by Prerona Foundation.