Overseas investors back to stock markets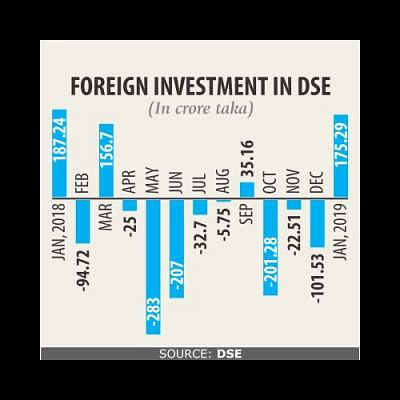 Net foreign investment in the Dhaka Stock Exchange bounced back in January as investors shook off the election jitters.
Last month, foreign investors bought shares worth Tk 495.19 crore and sold shares worth Tk 319.90 crore, taking their net investment to Tk 175.29 crore.
In December, it stood at Tk 101.53 crore in the negative, as fears of political uncertainty centring the national polls on December 30 reigned supreme.
"Foreign investors have started gaining confidence after the 11th parliamentary elections," said Khairul Bashar Abu Taher Mohammed, secretary general of the Bangladesh Merchant Bankers Association.
They would have moved their investment to other countries if the political environment had worsened in Bangladesh.
"But they pounced right after the polls to exploit the low prices of good stocks," said Bashar, also the chief executive officer of MTB Capital.
He went on to forecast a rise in investment in the coming days thanks to the political calm.
Yesterday, the DSEX -- the benchmark index of the bourse -- declined 27.82 points, or 0.47 percent, finishing the day at 5,800.24.
The turnover fell 20.51 percent from the previous day to Tk 706.66 crore, with 17.19 crore shares and mutual fund units changing hands on the DSE floor.
Of the traded issues, 104 advanced, 214 declined and 29 closed unchanged.
United Power Generation dominated the turnover chart with its transaction of 13.81 lakh shares worth Tk 55.39 crore, followed by Monno Ceramics, Bangladesh Submarine Cable, Simtex and Premier Bank.
Dulamia Cotton was the day's best performer with a 9.80 percent gain, while Prime Insurance was the worst loser, shedding 8.2 percent.
Chittagong stocks also declined with the bourse's benchmark index, CSCX, shedding 70.91 points, or 0.65 percent, to finish at 10,728.49.
Losers beat gainers as 187 declined, 64 advanced and 29 finished unchanged on the Chittagong Stock Exchange.
The port city bourse traded 86.09 lakh shares and mutual fund units worth Tk 25.14 crore.