Onion prices drop in Ctg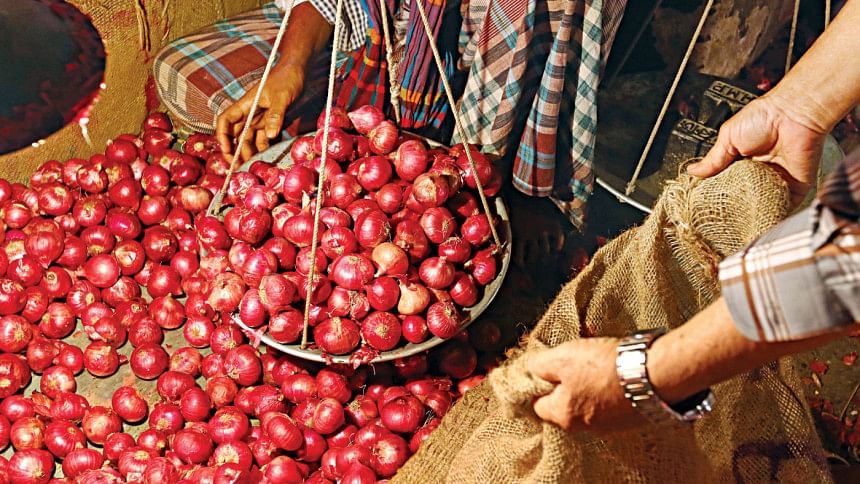 Onions became Tk 20-25 cheaper per kilogramme (kg) in the last three days thanks to declining prices at the Khatunganj wholesale hub and increased efforts from traders to import the kitchen staple from eight countries.
At various retail markets, onions were sold at Tk 60 to Tk 65 per kg yesterday, down from Tk 80 to as high as Tk 100 from three days back.
"In Khatunganj, the wholesale prices hovered between Tk 50-55 per kg yesterday against Tk 65-70 a few days back," Habibur Rahman, a retail trader of the Kazir Dewri kitchen market, told The Daily Star.
Prices skyrocketed when India stopped shipping onions to Bangladesh on September 14, pushing the wholesale price to Tk 80 per kg while it was Tk 90-95 per kg for retail.
An increasing number of letters of credit opened by traders to import onions from countries other than India helped tame the price, according industry insiders.
As of yesterday, some 65 traders sought permission to import 118,727 tonnes of onion from China, Egypt, Pakistan, the Netherlands, Myanmar, Turkey, Thailand and New Zealand, as per data from the Plant Quarantine Centre at Chattogram Port.
The imports are scheduled to reach Chittagong Port by the first week of October, various traders said.
Since the Indian export ban, onion prices increased by around $100-120 per tonne to hit $350-360 at international markets, said Omar Faroque, an importer.
Onions will cost around Tk 41-44 per kg to reach Chattogram port and an additional Tk 3-7 per kg will be needed to send those to the wholesale market, he added.
In the two-and-a-half-months lead up to the ban, around 100 importers brought in 122,000 tonnes of onion in 2,105 consignments from India, according to data from the National Board of Revenue.
The average price of the onions imported through the Hili, Sonamasjid, Bhomra and Benapole land ports was Tk 15.13 per kg back then.