NRBs can now park their funds in FDR, DPS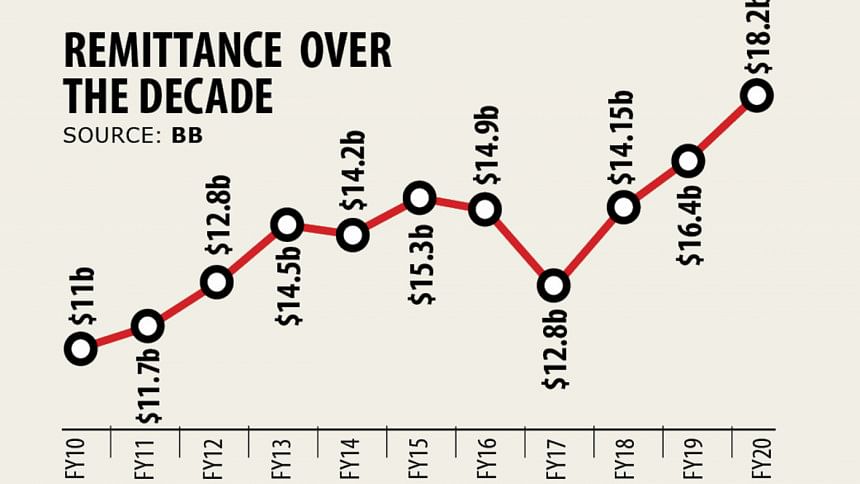 Non-resident Bangladeshis (NRBs) can now keep their funds in the form of Fixed Deposit Receipts (FDR) and Deposit Plus Schemes (DPS) with local lenders following a central bank directive yesterday.
The move comes as part of the government's efforts to channel in $3-$5 billion in additional remittance from expatriate Bangladeshis this fiscal year from fiscal 2019-20's record-setting $18.2 billion.
This fiscal year already started on a strong footing: $2.6 billion flew in July, which is a record for a single month. Finance Minister AHM Mustafa Kamal credited the 2 per cent cash incentive on remittance that he introduced last fiscal year for the surge in inflows that are beating all odds.
Last week, the finance ministry said all steps would be taken to bring in higher remittance through the legal channel. This latest notice from the central bank, it appears, is part of the drive.
Banks will have to introduce dedicated NRB deposit products for the Bangladeshi diaspora so that they can keep their hard-earned money in banks on a long-term basis at attractive interest rates.
The deposit accounts will have to be opened in the form of a savings accounts for a minimum of one year, according to a notice from the Bangladesh Bank.
The accounts can also be opened without any initial fund for people who are set to go abroad for employment purposes.
Earlier, the NRBs were allowed to open savings or current accounts with banks but did not get favourable interest rates against their fund.
With this backdrop, they were compelled to make deposits through relatives, leading to complexities for the NRBs in many cases when attempting to securely avail the funds, said a central bank official requesting anonymity.
Now, however, the Bangladeshi expatriates can deposit their money as FDRs if they transfer the fund by way of declaring it as Foreign Money and Jewellery (FMJ) or completing the foreign currency declaration form.
Any amount of foreign currency may be brought in by an incoming passenger with the declaration to the relevant customs authority in FMJ form.
However, no declaration is required for amounts of up to $5,000 or equivalent in other currencies.
The central bank has asked banks to provide competitive interest or profit against the deposit products.
Banks were previously allowed to extend loans to non-resident account-holders if they had met their personal requirements on funds placed in a deposit account.
Once mature, banks could pay the proceeds of the deposits, including interest or profit, to the beneficiaries or nominees of the account.
If account-holders that reside abroad see fit, the proceeds from their matured accounts could be credited into interest or profit bearing FDR accounts that bear their names.
If the NRB decides to move to Bangladesh permanently, the proceeds can be made available to them through either a one-time settlement or pension style monthly or quarterly settlement.
NRBs can also continue to maintain the deposits from local sources following their return to Bangladesh.
The BB notice included an option to repatriate payments abroad from the balances held in the deposits on maturity or before maturity for meeting subsistent needs with permission from the central bank.
The initiative will help NRBs to create a safety net in Bangladesh, the BB official said.
They will not face financial difficulties following a permanent return to Bangladesh as the deposited fund will help them meet their expenses.
This is a time-befitting initiative beyond doubt, said Syed Mahbubur Rahman, managing director of Mutual Trust Bank. This will also encourage NRBs to send their money home using formal channels, he added.