No price hike in fertiliser now even if global rates rise by four times: Razzaque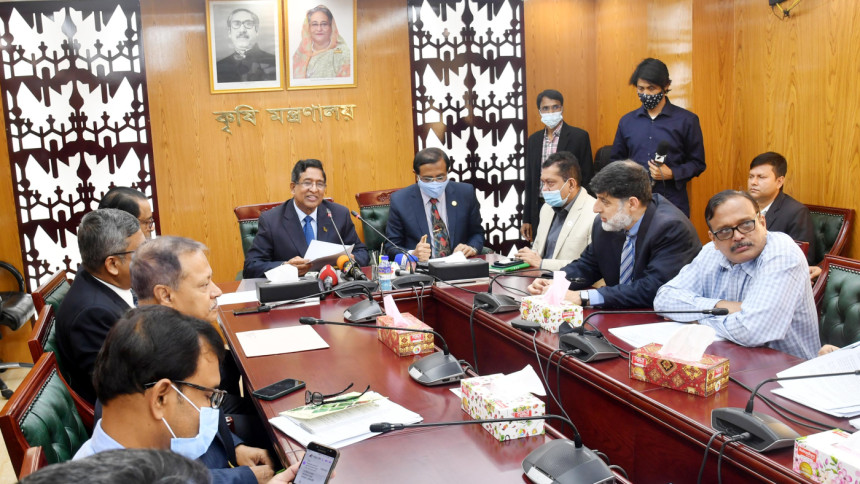 The government will not increase fertiliser prices at this moment even if its prices rise by four times in the international markets, Agriculture Minister Muhammad Abdur Razzaque said today.
He also said the government has no plan now to subsidise diesel prices for farmers now.
The process of subsidising diesel for irrigation to farmers is quite complicated, he said.
It is used in pumps or elsewhere in the name of irrigation, he claimed.
He made the comments in a press briefing at the conference room of the ministry on the outcome of his November 9-19 visit to the Netherlands and the United Kingdom.
The minister said the Netherlands will send a trade mission to Bangladesh in March next year as a part of its efforts to enhance trade relations and cooperation in the agriculture sector.
Besides, the Western European country will also provide technical assistance for setting up international standard labs, conservation of onion and potato, innovation of climate-tolerant crop varieties and construction of greenhouses and glasshouses in Bangladesh, Razzaque said.
Razzaque said the country's private sector will also assist in advanced agriculture production technology, technical support for making machinery and training and higher education for developing human resources.
To this end, a memorandum of understanding (MoU) would be signed with Wageningen University and Research soon, he said.
Besides, another MoU would be signed between the Food Standards Agency of the United Kingdom and the Ministry of Agriculture for providing technical assistance for setting up of international standard laboratories, inter-laboratory testing validation, he said.
In addition, the process of training collaboration with the University of Greenwich and the market connection will be created with the British superstores Saintbury, Azda, Tesco through the British Bangladesh Chamber, Razzaque said.
"We want to make the agriculture sector profitable and commercial. In order to do this, it is necessary to expand the local and international market by increasing the export of agricultural products, setting up and processing agro-processed industries in the country," he said.
This will ensure that the farmer gets a fair price and profit during the production season, Razzaque said. "With these objectives in mind, we have visited the Netherlands and the United Kingdom."