MFS transactions hit all-time high in July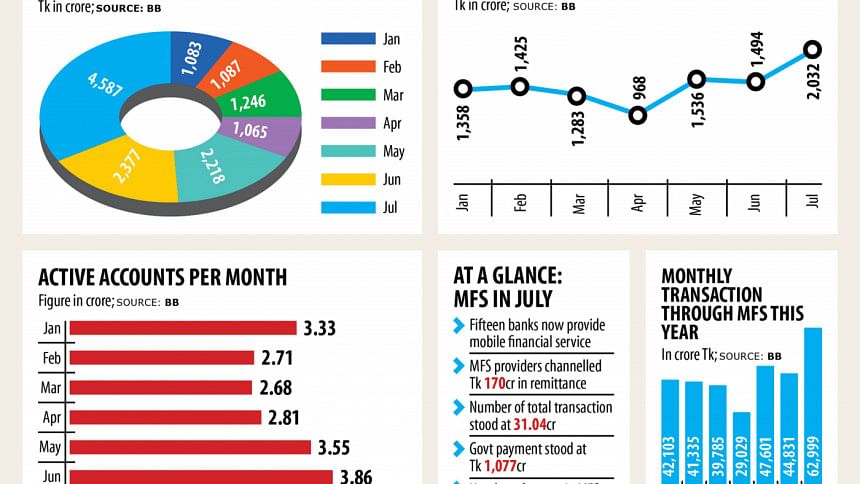 Transactions through mobile financial services hit an all-time high of Tk 62,999 crore in July as an increasing number of people, businesses and government agencies are turning to the channel to avail digital services to keep the deadly coronavirus at bay.
July's figures are 40.5 per cent higher than that a month earlier and 68 per cent higher than recorded in the same month a year ago, according to data from the central bank.
This was the first time that monthly transactions through the country's 15 MFS providers have gone past Tk 50,000 crore since the country introduced the MFS nearly a decade ago. The previous highest of Tk 47,601 crore was posted in May.
"This is a reflection of the collective efforts put in place by both the MFS providers and the regulator," said Kamal Quadir, chief executive officer of bKash, the country's largest MFS provider in terms of transaction and number of accounts.
"The magnificent transaction record has also indicated that the economy is gradually recovering from the financial meltdown that has been storming the whole globe for a few months," he said.
The number of active accounts rose 27.46 per cent year-on-year to 4.27 crore in July as people prefer the digital financial tool more than ever before to do banking from home.
The daily average transaction was up 36 per cent to Tk 2,032.24 crore in July compared to June and the number of total transactions in the month went up by 21.2 per cent in a month to 310,442,380, BB data showed.
People are preferring digital financial platforms for daily spending and this has given a boost to July's transaction, said Tanvir Ahmed Mishuk, managing director of Nagad, the country's fastest-growing MFS provider.
"Consumers are getting accustomed to buying products through the contactless transaction," he said, adding that the Covid-19 has played an important role in pushing shoppers towards the digital platform.
Digital financial inclusion was a development priority before the Covid-19 emergency; now it is indispensable for both short-term relief and as a central element of the broad-based, sustainable recovery effort, according to a World Bank paper.
Access to technology is the foundation of digital financial service (DFS) and this starts with access to key digital tools such as mobile phones for consumers and digitisation of business processes for small and medium enterprises, the paper said.
And the central bank's data showed that Bangladesh is on the right track in its fight against the financial recession by embracing DFS.
Both the government and the central bank have out emphasis on the DFS just after the country had plunged into the economic hardship in March.
Many garment industries disbursed wages and salaries in advance and festival bonus for Eid-ul-Azha, one of the largest religious festivals for Muslims that was held on August 1, putting a positive impact on the transaction, Quadir said.
"A good number of people avoided travelling to celebrate the festival to avoid coronavirus. But they sent money to their near and dear ones through the MFS channel," he said.
Salary disbursement from businesses to persons advanced 93 per cent to Tk 4,586.97 crore in July compared to a month ago.
Government payment through MFS stood at Tk 1,076 crore in July, up 200 per cent from one month earlier and 158 per cent year-on-year, riding on the social protection payments made through the digital channel.
"Transactions through MFS will increase more in the days ahead as people now emphasise branchless banking," said Abul Kashem Md Shirin, managing director of Dutch-Bangla Bank, which owns Rocket, another MFS provider.
"The module of the DFS will spur the economic growth as well," he said.
The digitalisation of small businesses strengthens productivity and improves their access to finance and markets, the WB paper said.
It also quoted a study conducted by International Data Corporation covering more than 3,200 SME CEOs from 11 different countries. The study found that 49 per cent of the CEOs believe that technology levels the playing field for small businesses versus larger corporations.
From a macroeconomic perspective, the digitalisation of SMEs can also enhance a country's economic activity, the WB paper said.
In most countries, digital payments services are evolving into digital lending, as companies accumulate users' data and develop new ways to use it for creditworthiness analysis, according to an article of the International Monetary Fund.
In Bangladesh, BKash and City Bank have already taken a joint effort to disburse loans to their clients by using the MFS tool.
A select group of bKash users will be able to get collateral-free loans of up to Tk 10,000.
Because of the digital lending model, loan-seekers no longer need to go through a physical process to avail a loan. The whole process is done digitally and paperless and the service delivery is cashless and all of this is done in a few minutes.
City Bank and bKash inked an agreement on July 21 to provide the service on a pilot basis. Upon successful completion of the trial run, the product would be rolled out on a wider scale.
The collateral-free, instant digital loan may bring transformative impact among marginalised people, micro-entrepreneurs and students to meet their emergency personal or business needs.
The number of MFS agents crossed 10 lakh to stand at 1,003,005 at the end of July.
Digital financial inclusion is also associated with higher GDP growth, the IMF article said.
During the Covid-19 lockdowns, digital financial services are enabling governments to provide quick and secure financial support to "hard-to-reach" people and businesses.
"This will help mitigate the economic fallout and potentially strengthen the recovery."