Land phone connection free from next week
Joy launches a number of products, services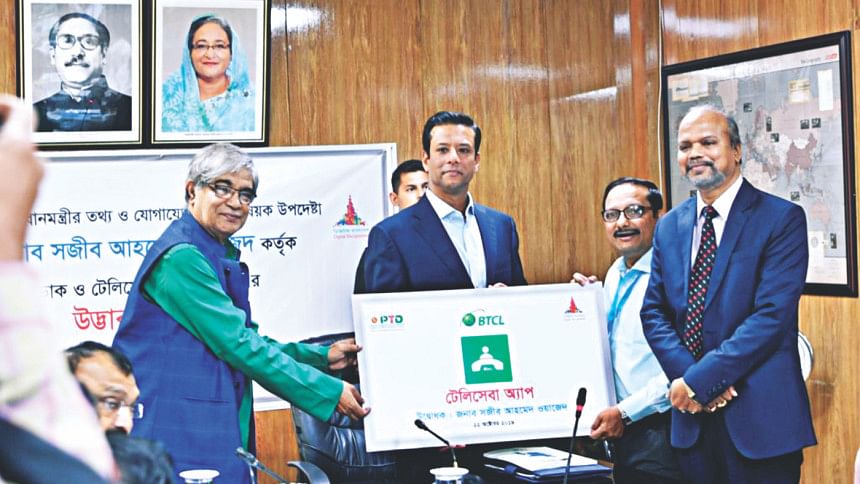 Getting a new landline connection would be free of cost from next week as the government looks to bring users back to wire-connected telephony and give a shot in the arm to struggling Bangladesh Telecommunications Company Ltd.
The decision came at a meeting at the post and telecommunications division attended by Prime Minister's ICT Affairs Adviser Sajeeb Wazed Joy.
Joy also inaugurated a series of telecom services and ICT-related products to mark the celebration of the Mujib year in 2020.
The adviser opened a payment service mobile application of Teletalk and another app of BTCL that will enhance the two state-run telecom companies' services.
At the same time, he inaugurated a laptop and a smartphone assembled by another state-owned company Telephone Shilpa Sangstha (TSS).
He launched one-minute digital savings account service opening of Nagad, the mobile financial service of the postal department, with another new mobile app 'Porichoy'. Previously, it took a minimum of five days to open an account.
After the meeting, Telecom Minister Mostafa Jabbar said they are working to expand public services in the telecom sector and hence the decision to make land phone connection and re-connection free was taken.
"Land phone connection is gradually declining in the country and the waiving of new connection and re-connection charge will encourage users to come back to landlines again," he said.
Currently, the connection and re-connection fees are Tk 1,000 in Dhaka, Tk 500 in Chattogram, and Tk 300 in other parts of the country.
Earlier, BTCL withdrew the monthly line rent for using land phone.
Using land phone is cheaper than mobile phone and with it users also can get broadband internet connection, Jabbar added.
Currently, there are less than 6 lakh active land phone connections in the country, whereas the total capacity is more than 13 lakh, according to BTCL.
Jabbar said through BTCL's mobile app, users can pay landline bills and place complaints about connection.
Telecom Secretary Ashoke Kumar Biswas and senior officials of the different state-run telecom companies were also present.
After the meeting, Fakhrul Haider Chowdhury, managing director of TSS, said high-quality laptops will be assembled at the plant.
The smartphone assembled at the plant will sell at Tk 12,000.
Meeting sources said BTCL also placed a project 'Digital Hub' involving about Tk 9,000 crore and Joy turned down the idea as it seems "outdated".