Govt okays purchase of 6 container scanners
Cabinet Committee on Government Purchase yesterday approved a proposal for purchasing six container scanner systems from Nuctech Company Ltd worth Tk 327.1 crore..According to the Internal Resources Division (IRD), The National Board of Revenue (NBR) in October 2019 planned to buy 14 conta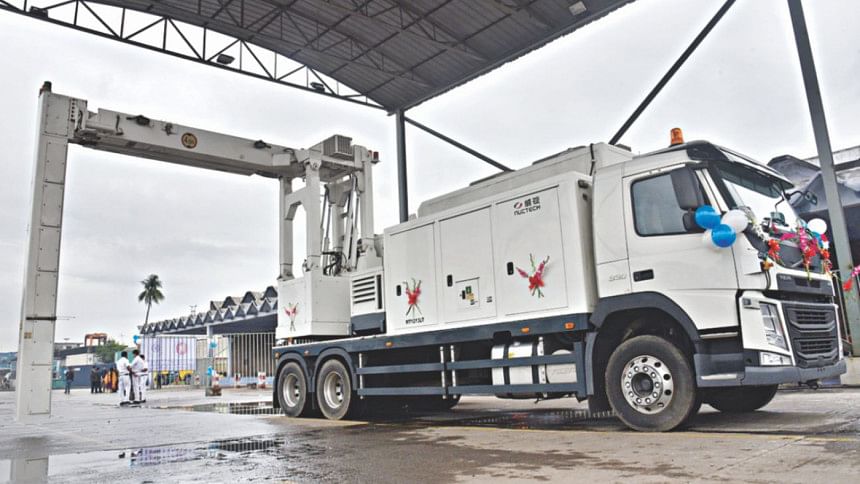 Cabinet Committee on Government Purchase yesterday approved a proposal for purchasing six container scanner systems from Nuctech Company Ltd worth Tk 327.1 crore.
According to the Internal Resources Division (IRD), The National Board of Revenue (NBR) in October 2019 planned to buy 14 container scanners to boost the inspection of export and import consignments and curb evasion of duties through false declarations.
According to the NBR, it published two notices in 2019 and 2021 in this regard, but failed to complete the tender. The third tender notice was published in June this year. Three companies attended it.
Currently, customs has a total of seven scanners -- including four at the Chittagong port -- which can scan 15-20 percent of the import consignments, said a customs official.
NBR officials said they made scanning of all containers mandatory in 2009 to prevent imports through misdeclaration. The measure was also taken to prevent the smuggling of arms and ammunition.
However, NBR couldn't impose the rule due to scanner shortage. Till date, 58 percent of import-export containers remain unchecked.
Finance Minister AHM Mustafa Kamal presided over the meeting where four more proposals worth Tk 977.03 crore were also approved.
The approved proposals include—importing of 50,000 metric tons Muriate-of-Potash (MOP) fertiliser from Canadian Commercial Corporation worth Tk 414.13 crore by the agriculture ministry.
Meanwhile, three other proposals have been approved under the Ministry of Industries. They are importing 30,000 metric tons bulk granular urea worth Tk 188.93 crore from UAE's Fertiglobe Distribution Ltd, another 30,000 metric tons bulk granular urea from Qatar's Muntajat worth Tk 188.93 crore; and purchasing 30,000 metric tons of bagged granular urea worth Tk 185.13 crore from Karnaphuli Fertilizer Limited.