Most banks have sound capital base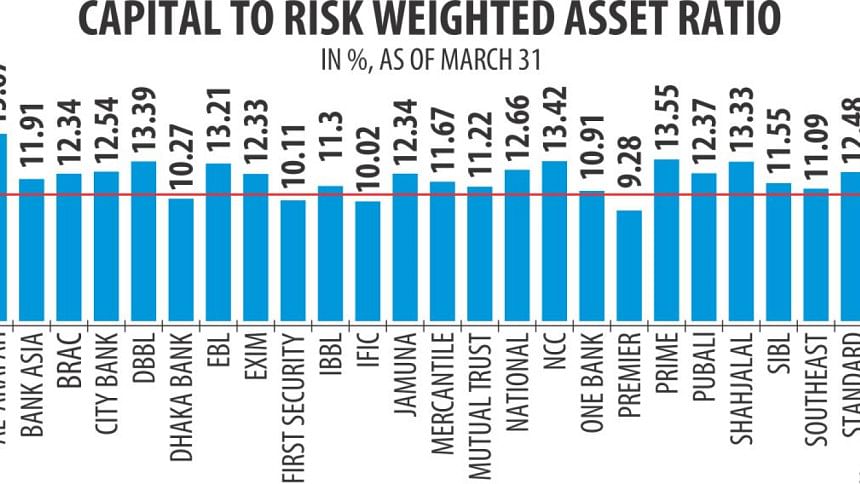 Most of the private and foreign commercial banks succeeded in maintaining the new international standard capital adequacy ratio.
On March 31 this year, the banks' average capital to risk weighted asset ratio or CRAR was 10.62 percent, which is similar to the latest requirement.
CRAR is a measure of a bank's capital and is used to protect depositors and promote the stability and efficiency of financial systems around the world.
The CRAR of the private banks was 11.96 percent and that of the foreign banks 25.99 percent. However, the average CRAR of the state banks was 6.50 percent.
Bangladesh Bank last year took an initiative to improve banks' financial health by increasing their CRAR in line with Basel III standards, which was introduced in January this year.
Basel III is a comprehensive set of reform measures, developed by the Basel Committee on Banking Supervision, to strengthen regulation and supervision and reduce risks of the banking sector globally.
Last year, the central bank decided to implement the Basel III framework and conducted a quantitative impact study.
On the basis of the study, they also sent a roadmap to the banks on how they would implement the framework.
From January 1 to March 30, the BB evaluated the banks' capital adequacy as per the BASEL III standards.
Until December 31, 2015, the banks had to maintain their capital adequacy at 10 percent of their CRAR.
But from 2016 to 2019, the banks will have to maintain their capital at 0.625 percent in addition to 10 percent of their CRAR.
As per the new standard, 48 out of the 56 banks could maintain their capital, as per the BB report.
Eight banks -- Sonali, Rupali, BASIC, Krishi Bank, Rajshahi Krishi Unnayan Bank, Bangladesh Commerce Bank, Premier and ICB Islamic Bank -- failed to maintain minimum capital.
At the end of March, the total capital of the banks was Tk 75,612 crore, which was Tk 75,352 crore in the previous quarter, according to central bank statistics. 
At the end of March, the overall capital requirement was Tk 74,528 crore, meaning the total surplus capital during the period was Tk 1,084 crore.
The capital shortfall of the six state banks was Tk 4,736 crore.
The private banks did not have any shortfall; rather, their surplus was Tk 8,478 crore. The foreign banks' surplus was Tk 5,156 crore.