Adani issue a 'storm in a tea cup'
Says India govt, claims country has 'robust economy'; ruckus continues in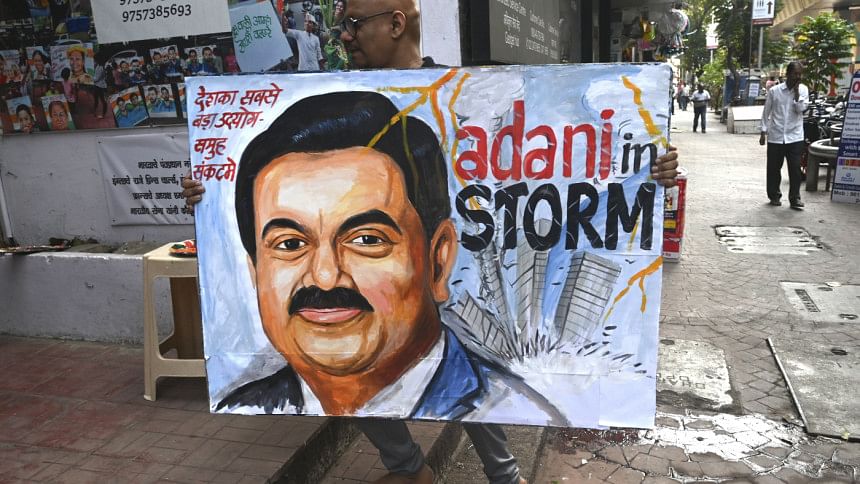 The Indian government yesterday termed the stock market turmoil sparked by a sharp fall in the values of Adani Group a "storm in a teacup" as a ruckus over the issue disrupted the proceedings of both Houses of the Indian parliament for the second successive day.
Parliament was adjourned for a second straight day yesterday after opposition lawmakers again demanded that the government grant a debate on Adani and Indian financial institutions' exposure to the group. The ensuing disruption forced the Speaker to adjourn the parliament till Monday, reports our New Delhi correspondent.
Indian Finance minister Nirmala Sitharaman said Indian markets were well regulated and the controversy would not affect investor confidence.
"One instance, however much talked about globally, I would think is not going to be indicative of how well Indian financial markets have been governed," she told broadcaster News18.
Indian Finance Secretary T V Somanathan, in the first public comments by the government on the issue, termed the stock market turmoil sparked by the crisis as a "storm in a tea cup" from a macroeconomic point of view and maintained that India's public financial system is robust.
He also said that movements in the stock market per se are not the government's concern and there are independent regulators to take necessary actions, reports our New Delhi correspondent.
"There is absolutely no concern from the point of view of financial stability, either for depositors or for policyholders or for anyone holding shares in these institutions. The share of any one company is not such as to create any impact at the macro level and so there is absolutely no concern from that point of view," he said.
Meanwhile, Gautam Adani, the Indian tycoon in the eye of the storm, yesterday denied that his rise to become Asia's richest man -- a title he has lost in a phenomenal stock rout -- was due to Prime Minister Narendra Modi.
His listed units' combined market capitalisation has collapsed by around $120 billion -- about half of the group's value -- since US short-seller Hindenburg Research, which makes money by betting on shares falling, released an explosive report last week.
It accused Adani of accounting fraud and artificially boosting its share prices, calling it a "brazen stock manipulation and accounting fraud scheme" and "the largest con in corporate history".
Critics say Adani's close relationship with Modi, who is also from Gujarat state, has helped him win business and avoid proper oversight.
"These allegations are baseless," Adani told India Today television yesterday, adding that their shared origins made him an "easy target" for such claims.
"The fact of the matter is that my professional success is not because of any individual leader," he insisted.
His comments came as shares in his flagship firm Adani Enterprises went on a rollercoaster ride on the Bombay Stock Exchange, hitting multiple trading stops as they fell by 30 percent before recovering to close up 1.25 percent on the day. Since January, the Bombay Stock Exchange Sensex has slumped by over 1,000 points largely driven by a sell-off in Adani group stocks.
Adani has seen his fortune plummet by tens of billions of dollars, dumping him from third to 17th on the real-time Forbes rich list.
The 60-year-old school dropout's operations expanded at breakneck speed, with Adani Enterprises shares soaring more than 1,000 percent over the past five years. However, in recent weeks, the stock price of Adani Enterprises fell by over 70 percent from its peak of Rs 4,190 in December.
On late Wednesday his main firm cancelled a $2.5-billion stock sale meant to help reduce debt levels -- long a concern -- restore confidence and broaden its shareholder base.
Big banks including Credit Suisse and Citigroup have stopped accepting Adani bonds as collateral for loans to private clients, according to Bloomberg News, fuelling worries about how the conglomerate will raise fresh funds.
Bonds nonetheless rallied slightly yesterday after Goldman Sachs and JPMorgan bankers told clients that parts of Adani's portfolio remained strong, Bloomberg reported, citing unidentified sources.
Fitch Ratings said in a statement there was "no immediate impact" on rated Adani entities' credit profiles from the Hindenburg report.
According to Hindenburg Research, Adani has artificially boosted the share prices of its units by funnelling money into the stocks through offshore tax havens.
The group had benefited from what it called a "decades-long pattern" of government leniency, and that "investors, journalists, citizens and even politicians have been afraid to speak out for fear of reprisal".
Adani said it was the victim of a "maliciously mischievous" reputational attack and issued a 413-page statement on Sunday. The statement claimed Hindenburg's claims were "nothing but a lie".
Adani said in his interview yesterday only 32 percent of his firms' loans were owed to Indian banks, with almost half their debt obtained through international bonds.