Foreign funds in stocks jump on bright data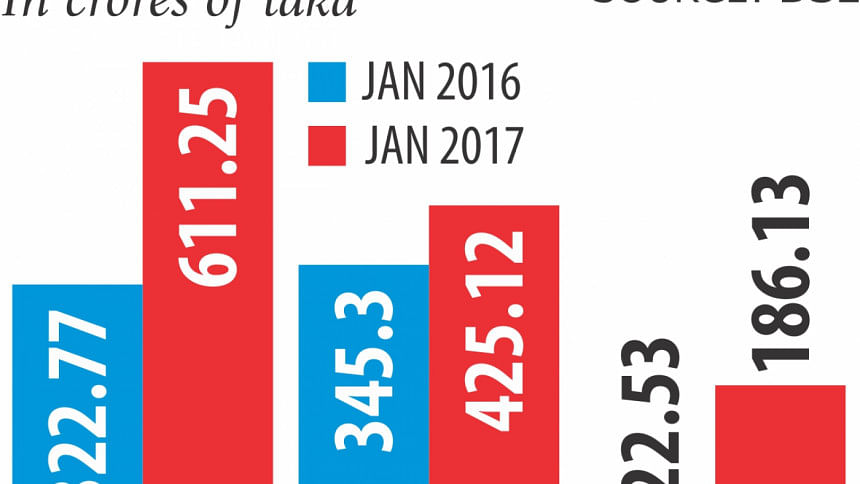 Net foreign investment in the capital market soared more than nine times year-on-year in January, as overseas investors kept up their buying spree of Bangladeshi shares for five months.
Foreign investors bought shares worth Tk 611.25 crore and sold shares worth Tk 425.12 crore to take their net investment to Tk 186.13 crore in January, according to data from the Dhaka Stock Exchange.
But the sales outstripped purchases during the same period a year ago, resulting in a negative position. The investors bought shares worth Tk 322.77 crore and sold shares worth Tk 345.3 crore in January last year.
Foreign investors continued to inject more funds into Bangladesh, a frontier and emerging market in the region, analysts said.
"If we analyse the economic factors -- first, in the way that they affect interest rate and overall market liquidity, and second, in the way that they affect company earnings -- conditions are very friendly for the foreign equity investors," said Md Ashaduzaman Riadh, strategic portfolio manager of LankaBangla Securities, which deals with foreign investment.
He said extreme anxieties that persisted in the previous years from both the fiscal, monetary and political frontiers were not seen in the last one year that gave huge comfort to foreigners.

A sustained revival of the foreign interest was backed by the rising corporate profitability and increasing consumption level of Bangladesh, he said.
Also among the frontier markets, Bangladesh did better in terms of declining interest rate, strong currency and GDP growth.
Riadh expected that big-cap companies with attractive valuation on which foreigners have high interest will strongly come back with top and bottom line growth in 2017 and Bangladesh market is expected to get higher weight from foreign investors.
Banks are the foreign investors' preferred sector, followed by non-bank financial institutions, power and energy, pharmaceuticals, multinationals, telecoms and IT.
Global investment banks such as Morgan Stanley, JPMorgan and Goldman Sachs, and asset management firms such as BlackRock have presence in Bangladesh.
Also known as portfolio investment, foreign investment accounts for only 1 percent of the premier bourse's total market capitalisation, which stood at Tk 367,325 crore at the close of trade yesterday.
Net foreign investment in 2016 was Tk 1,340.7 crore, up from Tk 185.5 crore the previous year.