Foreign funds shoot up in Dhaka bourse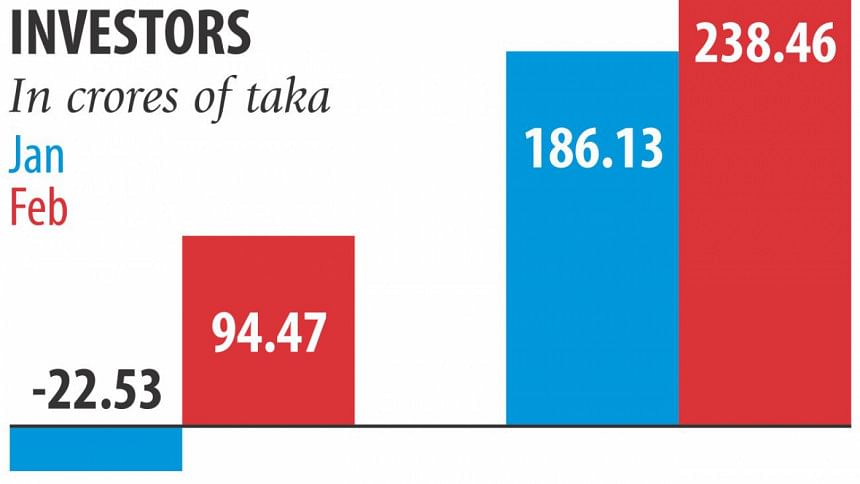 Net foreign investment in Dhaka Stock Exchange soared two and a half times year-on-year to Tk 238.46 crore in February, as the Bangladesh stockmarket is gradually becoming lucrative for investment.
Overseas investors bought shares worth Tk 435.67 crore and sold shares worth Tk 197.21 crore in the month, according to Dhaka Stock Exchange.
Many international fund managers see the Bangladesh stockmarket as an emerging one in the region and that is why more funds are being injected here.
The Government Pension Fund Global, the world's biggest wealth fund, invested $112 million in the Bangladesh's stockmarket in 2016 -- a six-fold rise from the previous year. The Norwegian sovereign wealth fund invested in 15 companies that are listed on the premier bourse.
The wealth fund first made an investment in Bangladesh in 2015 with a modest amount of $19 million, according to the Norwegian embassy in Dhaka.
"The Bangladeshi economy is maturing and companies are regarded as promising investments," Norwegian Ambassador Sidsel Bleken said in a statement last week.
The ambassador also pointed out that global investors, such as the pension funds, are looking for a stable and predictable business environment. A local stockbroker said foreign investors are expanding their footprint in Bangladesh. "Positive macroeconomic indicators, including a declining interest rate and a stable exchange rate, and political calm boosted foreign investors' confidence," the stockbroker said.
Banks are the foreign investors' preferred sector, followed by non-bank financial institutions, power and energy, pharmaceuticals, multinationals, telecoms and IT.
Global investment banks such as Morgan Stanley, JPMorgan and Goldman Sachs, and asset management firms such as BlackRock have a presence in Bangladesh.
Also known as portfolio investment, foreign investment accounts for only 1 percent of the premier bourse's total market capitalisation, which stood at Tk 375,913 crore at the close of trade yesterday.